NFL
Ross Tucker's Week 2 NFL Betting Advice
The former NFL offensive lineman and current broadcaster reveals his favorite Week 2 bet
By Ross Tucker - Sep 12, 2019, 2:32am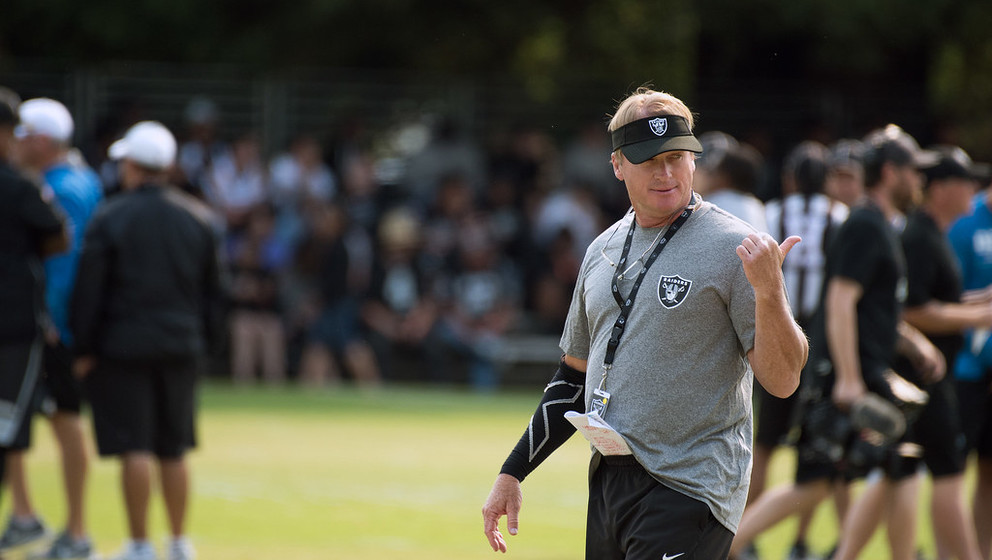 Alright, we are 1-0 with my picks here on BetQL. If you missed out on the Colts play vs. the Chargers last week, that is on you. Don't let it happen again.  
Each week, I will give you a bet or two that I like.  Sometimes, it will be pure analysis and observations of the matchups and an edge that I feel I am able to identify. Other times, it will be my instincts as a former player. And hopefully a lot of times, it will be like this week when it is a combination of both.
This week I like the Raiders getting seven points from the Chiefs for four different reasons.
Chiefs vs. Raiders Week 2 Preview
The Chiefs are missing their most dynamic player.
Yes, I am aware that wide receiver Sammy Watkins had a huge game against the Jaguars on Sunday, catching nine passes for 198 yards and three touchdowns. There is a big difference between having that kind of day when the opponent's defensive game plan was designed to stop your teammate and doing it when you will be the focus of their coverage and see a plethora of double teams.
Electric superstar Tyreek Hill is out for the game and the foreseeable future which makes Watkins the focal point of the Raiders secondary. That means Chiefs rookie Mecole Hardman will have to step up and in only his second game ever and I have my doubts he'll be up to the challenge. 
In addition to Best Bets from our proprietary NFL Model, BetQL Premium members get full access to our Odds, Public Betting, Line Movement and Sharp Picks Dashboards!
The Raiders might actually be pretty good.  
Given the drama surrounding the Antonio Brown situation that dominated the last month, I really didn't anticipate the Raiders looking nearly as good as they did against the Broncos on Monday night, but they were really impressive.
"The Raiders were one of my favorite teams in week one," top-rated fantasy analyst Joe Dolan told me on the Fantasy Feast Podcast. "Tyrell Williams, Darren Waller, Josh Jacobs, and Derek Carr all played at a high level and put up big fantasy numbers."
He's got a point. Even if you don't care about fantasy, you have to acknowledge that the Raiders' skill really played well. But that's not as important as the next point.
Oakland's offensive line is no longer a huge liability.  
They allowed a whopping zero sacks and zero quarterback hits to Denver's dynamic duo of Von Miller and Bradley Chubb off the edge. Nada.
A one-game sample size is not enough for me to say the offensive line is "fixed" or "good" but it's also the only game we have to go off of so far and they clearly made great strides by shutting out arguably the most dangerous pair of edge rushers they will see all season. That's a great sign.
BetQL's NFL Model lists 12 different ★★★★★ bets for the Week 2 slate. Find out what teams made the cut!
The Chiefs will be road weary.
Kansas City's first game was all the way on the East Coast in Jacksonville. Now they must travel to the Black Hole in Oakland on the West Coast without Hill and with their MVP quarterback Mahomes nursing a bad ankle.
That place was electric on Monday night and was fueled by the team playing so well. That will only add to the rage that Raiders fans are bringing every week in their last season in Oakland.  Plus, this is their chance to boo the Chiefs for one last time.
There's one piece of bad news for the Raiders, though.
If you want to fade me, the negative information this week involves Raiders rookie safety Jonathan Abram. He tore his labrum and rotator cuff and is expected to be out for the season. That's a big loss. On the flip side, the Raiders do expect to get corner Gareon Conley back, which is significant.  
About Ross Tucker 
Ross Tucker played in the NFL for seven years as an offensive lineman after graduating from Princeton University in 2001. As a broadcaster, he works for Radio.com, CBS Sports, and Westwood One.  He also owns and hosts his own podcast network including the Ross Tucker Football Podcast all available at RossTucker.com. Follow him on Twitter and Instagram @RossTuckerNFL.