NFL
Ross Tucker's Divisional Round Betting Advice
The former NFL offensive lineman and current broadcaster reveals his favorite Divisional Round bet
By Ross Tucker - Jan 9, 2020, 2:31pm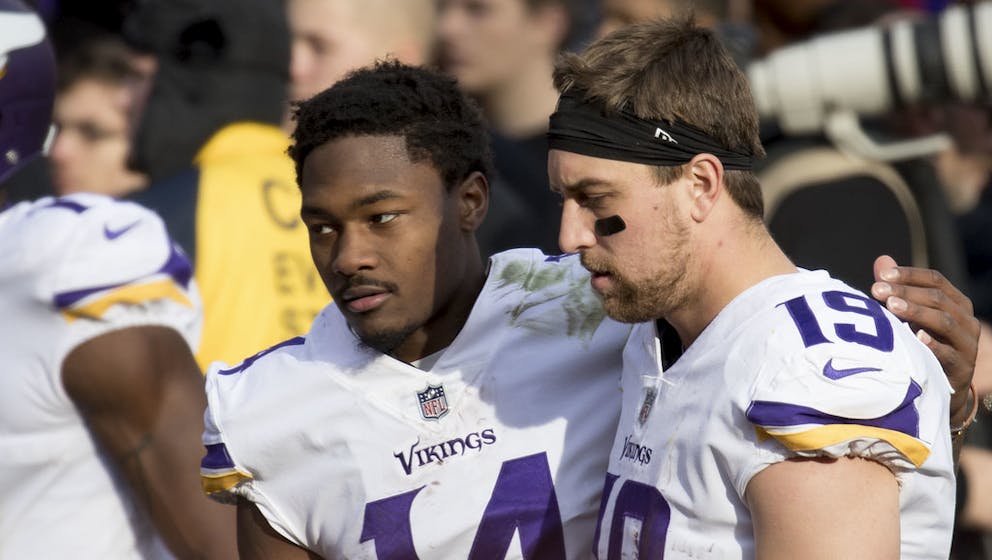 Betting on the NFL in general is hard. Betting on the NFL playoffs is even tougher. But darn, if it isn't fun! I was even for Wildcard Weekend on the bets I gave out on my "Even Money" podcast but unfortunately my Buffalo Bills couldn't get it done for my best bet here in my BetQL column. Pretty hard to believe, considering they thoroughly dominated the first 40 minutes of action and were up 16-0, but a little Josh Allen carelessness and a lot of Deshaun Watson magic and the next thing you know a Bills +2.5 bet doesn't cash. Gross.
Each week I give you my best bet for that week. Sometimes, it will be pure analysis and observations of the matchups and an edge that I feel I am able to identify. Other times it will be my instincts as a former player. And hopefully a lot of times it will be a combination of both.
That is the case again this week. This week I like the Minnesota Vikings getting 7 points from the San Francisco 49ers for three reasons:
PLAYOFF INEXPERIENCE
The 49ers are not your typical #1 seed. For one, they had to win their last game in heart-stopping fashion, otherwise they would have been the #5 seed, which is obviously a world of difference.  Secondly, most of the time, a No. 1 seed has some playoff pedigree, some recent playoff success, and has worked their way into that position. Not the Niners. They were 4-12 and 6-10 the last two seasons and, as such, most of their team has never played in a playoff game before. That includes their quarterback, Jimmy Garoppolo, who has fared very well in several crucial games down the stretch of the regular season. Can he do it in the postseason? That's one of the questions that will be answered on Saturday.
View BetQL's exclusive sportsbook offers!
NOT THE SAME NINERS
The other concern as it relates to San Francisco is that they aren't playing nearly as well as they were earlier in the season. For the first half of the year, their running game was dominant. That has not been the case recently. Their defensive line was a wrecking crew during the first half of the season and has trailed off a bit in that regard. That's been reflected in the outcome of games as they lost to the Falcons at home while narrowly defeating the Saints, Rams, and Seahawks in the last quarter of the season. Now, a win is a win and all three of those teams are good ones, but this is not the same group that embarrassed the Packers on Monday Night Football in November.
VICIOUS VIKINGS
I don't get it. Last week the Vikings were 8-point underdogs. This week they are getting 7 points from the Niners. Have the folks who set those lines checked out the Vikings roster? For one, they are battle-tested, as much of this group has played in a number of playoff games together the last few years. Secondly, what happened Sunday in New Orleans was no fluke; they thoroughly beat up the Saints on both sides of the ball. In fact, if it weren't for some Taysom Hill heroics, the game wouldn't have even been close. Most importantly, they are loaded and for some reason we have lost sight of that. Kirk Cousins is a top 10 quarterback in the NFL. Dalvin Cook is a top five running back. Adam Thielen and Stefon Diggs are a top five wide receiver duo. Everson Griffen and Danielle Hunter proved yet again against the Saints how devastating they can be defensively. Eric Kendricks is one of the best linebackers in the league.  I mean, I could go on and on. The point is, they are good. And they didn't get enough respect last week and aren't getting enough this week, so let's profit from it. Vikings +7!
Check out every best bet for the Divisional Round on BetQL!
About Ross Tucker 
Ross Tucker played in the NFL for seven years as an offensive lineman after graduating from Princeton University in 2001. As a broadcaster, he works for Radio.com, CBS Sports, and Westwood One.  He also owns and hosts his own podcast network including the Ross Tucker Football Podcast all available at RossTucker.com. Follow him on Twitter and Instagram @RossTuckerNFL.