TB
Buccaneers
Sun 1/24, 8:05 PM
GB
Packers
GB -3.5 O/U 51
BUF
Bills
Sun 1/24, 11:40 PM
KC
Chiefs
KC -3 O/U 54
NFL
Ravens-Bills Betting Trends And Postseason Futures Odds
Oddsmakers have this game as the tightest on paper, as Buffalo is favored by just 2 points at home
By Nick Ballistreri - Jan 12, 2021, 11:00pm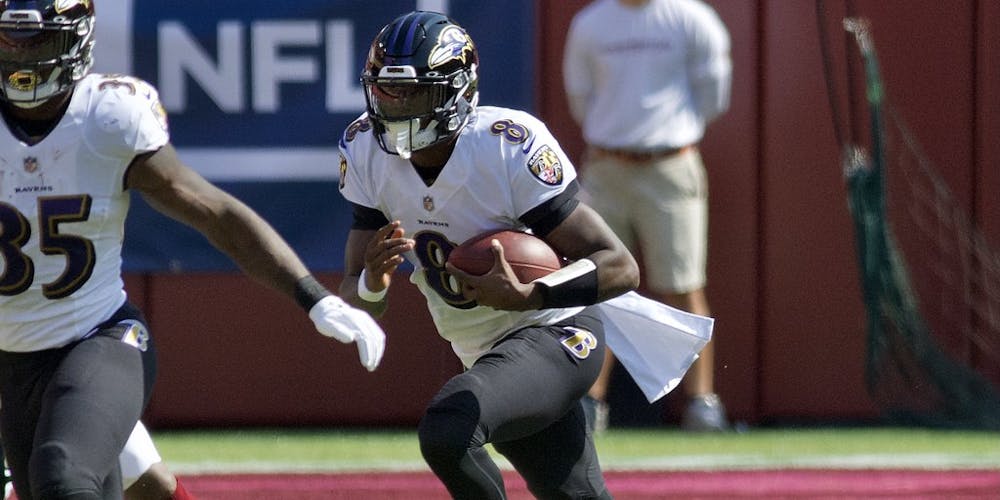 As expected, the two favorites won their opening round games and will now meet in the Divisional Round. The Buffalo Bills opened the playoffs with a 27-24 victory over the Indianapolis Colts. While the game was closer than they wanted, it was their first playoff win since 1995. They now face the Baltimore Ravens, who are coming off an impressive 20-13 victory over their nemesis, the Tennessee Titans.
Get all of BetQL's best bets for the NFL Playoffs! Dating back a full calendar year, our five-star (max-value) bets have won 61% of the time!
It wasn't easy, and it definitely made some people sweat down the stretch, but the Bills finally did it, winning their first playoff game in 26 years. It was well worth the wait for Buffalo fans, as this team looks to have the horses to potentially go all the way. They have a young quarterback, a solid receiving group, and an opportunistic defense that can take the ball away. The Bills have the formula, and they'll have an opportunity on their home field to clinch a berth in the AFC Championship Game.
The Bills (+290) are currently the second-favorite to represent the AFC in the Super Bowl according to FanDuel Sportsbook.
Josh Allen played like an MVP candidate once again. In his first playoff win, Allen threw for 324 yards and two touchdowns, adding a touchdown with his legs. He accounted for nearly 400 yards and showed confidence against a solid Colts defense. Allen looks poised to make noise going forward, and he has plenty of help from his superstar wide receiver, Stefon Diggs. 
Allen (+225) is favored to lead all quarterbacks in passing yards this postseason according to DraftKings Sportsbook. Diggs (+275) is also favored to tally the most receiving yards in the playoffs.
Diggs continues his otherworldly season. In his first year in Buffalo, he's done wonders for this offense. His outburst continued in the Wild Card Game, as he caught six passes for 128 yards and a touchdown. Nobody has been able to cover Diggs this season, and he'll look to continue his success against Baltimore. Expect the Ravens to pay plenty of attention to him, potentially freeing up Cole Beasley and Gabriel Davis.
It's worth noting that Zack Moss will miss the remainder of the postseason due to an ankle injury. This leaves Devin Singletary as the workhorse, but the club just signed Devonta Freeman to their practice squad.
Play DFS? Be sure to get a 3-day free trial on RotoQL to check out our projections!
Defensive Stand
At long last, Lamar Jackson finally silenced the critics by winning a playoff game. It wasn't easy, as their 20-13 victory was hard-fought and wasn't clinched until under the two minute warning. After proving to be Baltimore's kryptonite dating back to last season, the Ravens defeated the Titans for the first time in three games. They effectively shut down Derrick Henry, holding the 2,000-yard rusher to only 40 yards on 18 carries. It was a truly impressive performance from this defense that had to be coming in with a chip on its shoulder after Henry sent them home last season.
Offensively, the Ravens dominated and controlled the clock on the ground. As a team, the Ravens ran for 236 yards, and their combination of chunk plays and short conversations took the wind out of Tennessee's sails. Jackson, in particular, had plenty of rushing lanes. His 48-yard touchdown on the ground knotted the game up before halftime, and he finished with 136 rushing yards. Whenever the team needed a play, his legs stepped up. While still inconsistent in the passing game, if the Ravens can run the ball like this against the Bills, they'll be hard to beat.
The Ravens (+400) are considered third-favorites to represent the AFC in the Super Bowl according to BetMGM. Jackson (+350) is considered the second-favorite to finish the postseason with the most rushing yards, per DraftKings Sportsbook.
Don't forget to check out our NFL player props!
Betting Trends
In my opinion, this is the most interesting game of this weekend. Both of these teams feel they have the horses to win the Super Bowl, and with a win, they'll most likely face the defending champion Kansas City Chiefs.
This should be a very close game with contrasting styles on each side. The Ravens will try to get pressure on Allen and make his life uncomfortable, while the Bills are going to do everything in their power to make Jackson beat them with his arm. While both plans are sound in theory, they're harder to execute during live action. Expect plenty of fireworks in this highly anticipated matchup.
ATS trends are challenging in this battle. Baltimore has covered in seven-straight contests, while Buffalo has covered in eight of their last nine. The Bills (-2) have gone 7-4 ATS as favorites this season and the Ravens (+2) have gone 2-0 ATS as underdogs.
Buffalo's over/under record stands at 11-4-2 this season. Over their last four contests, they've posted a 3-0-1 over/under record. Baltimore has hit the under in three-consecutive thanks to their stellar defense. Over the Ravens' last four games, they've allowed just 10.7 points per battle.