ATL
Falcons
Fri 10/30, 12:20 AM
CAR
Panthers
CAR -3 O/U 49
IND
Colts
Sun 11/1, 6:00 PM
DET
Lions
IND -2.5 O/U 50
TEN
Titans
Sun 11/1, 6:00 PM
CIN
Bengals
TEN -5.5 O/U 54.5
PIT
Steelers
Sun 11/1, 6:00 PM
BAL
Ravens
BAL -3.5 O/U 46.5
NYJ
Jets
Sun 11/1, 6:00 PM
KC
Chiefs
KC -19.5 O/U 48.5
NE
Patriots
Sun 11/1, 6:00 PM
BUF
Bills
BUF -3.5 O/U 43.5
LAR
Rams
Sun 11/1, 6:00 PM
MIA
Dolphins
LAR -4 O/U 46.5
MIN
Vikings
Sun 11/1, 6:00 PM
GB
Packers
GB -6.5 O/U 54.5
OAK
Raiders
Sun 11/1, 6:00 PM
CLE
Browns
CLE -2.5 O/U 53.5
LAC
Chargers
Sun 11/1, 9:05 PM
DEN
Broncos
LAC -3 O/U 44
SF
49ers
Sun 11/1, 9:25 PM
SEA
Seahawks
SEA -3 O/U 54
NO
Saints
Sun 11/1, 9:25 PM
CHI
Bears
NO -4 O/U 45
DAL
Cowboys
Mon 11/2, 1:20 AM
PHI
Eagles
PHI -7.5 O/U 43.5
TB
Buccaneers
Tue 11/3, 1:15 AM
NYG
Giants
TB -10.5 O/U 46.5
NFL
Rams vs. 49ers Week 6 Preview
Los Angeles (-185) is favored by 3.5 points over San Francisco (+155) with the over/under set at 50.5 total runs
By Bryan Zarpentine - Oct 13, 2020, 1:26pm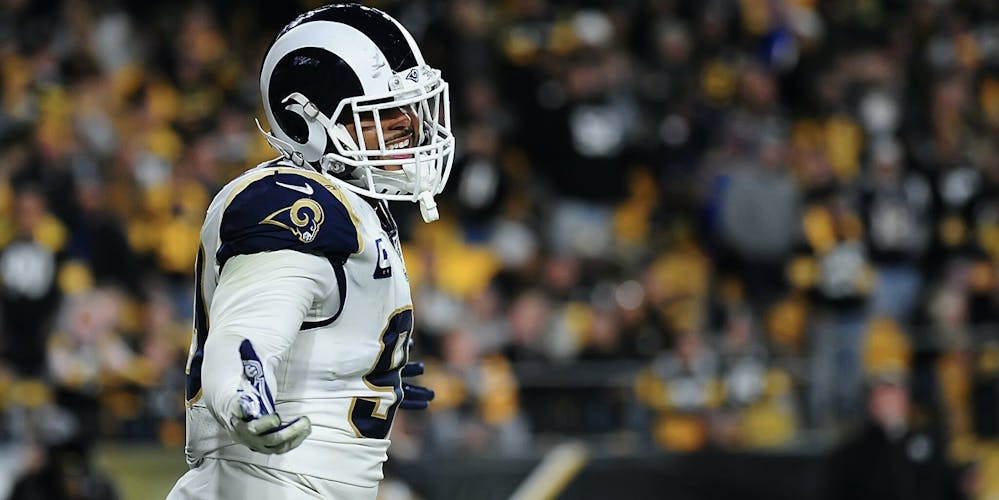 Quick-Hitters
In a stark reversal of recent trends, the San Francisco 49ers are home underdogs this week against the Los Angeles Rams.
Jimmy Garoppolo struggled last week against the Miami Dolphins and was ultimately benched, creating even more uncertainty about San Francisco's quarterback situation. It's worth noting that the game was out of hand and Garoppolo was taking some hits.
Garoppolo could return to the starting lineup this week, although he may not be at full strength coming off a high ankle sprain in Week 2.
Amidst several injuries, the San Francisco defense is no longer the dominant force that it was last season.
Get all of BetQL's best bets for the upcoming NFL season! Dating back a full calendar year, our five-star (max-value) bets have won 61% of the time!
A Horrific Showing
The San Francisco 49ers being underdogs for the first time since last season's Super Bowl is undoubtedly related to the benching of Jimmy Garoppolo last week. Garoppolo suffered a high ankle sprain in Week 2, but was deemed healthy enough to play in Week 5 after San Francisco went 1-1 without him. Garoppolo had what could have been the worst half of his career, completing 7-of-17 passes for 77 yards, throwing two picks, and getting sacked three times. With C.J. Beathard struggling against a mediocre Miami Dolphins defense, there are legitimate concerns about the San Francisco offense moving forward.
If you want to roster any Rams or 49ers players in your DFS lineups tonight, be sure to get a 3-day free trial on RotoQL to check out our projections!
Health Concerns
Despite the poor performance and health concerns, there's a chance that Garoppolo could play against the Los Angeles Rams this week. Kyle Shanahan explained that he benched the quarterback because Garoppolo's ankle injury limits his mobility. With San Francisco being down 30-7 at half, they were forced into an obvious air attack, and Miami was likely to rack up some hits on him. Given the nature of high ankle sprains, Garoppolo isn't likely to be at full strength if he plays in Week 6. That could lead to similar problems against Aaron Donald and a defense that's averaging 4.0 sacks per game.
Home Dogs
The San Francisco defense is no longer the dominant unit that carried the 49ers to the Super Bowl last year. A slew of injuries to key players has taken a toll. The 49ers were able to overcome those injuries against challenged offensive teams like the New York Jets and New York Giants, but with the Philadelphia Eagles and Dolphins scoring enough points to beat San Francisco the last two weeks, there's skepticism. The Rams are averaging 27.2 points per game. The end result is the 49ers being a home underdog, a situation that would've been hard to believe before the season.