NFL
Week 1 NFL Preview: Raiders vs. Broncos
The divisional opponents will square off on Monday Night Football
By Brandon Barbour - Sep 9, 2019, 12:03am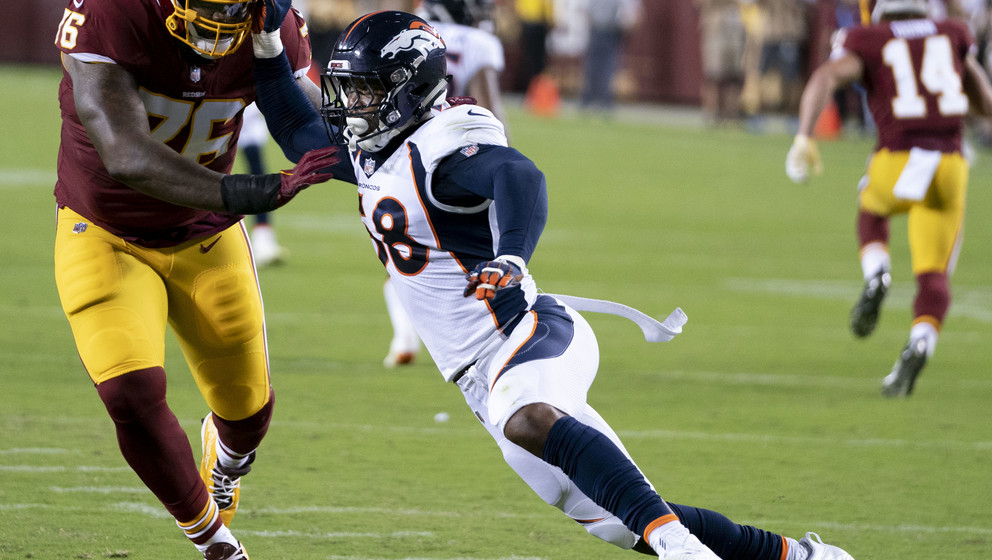 Without Antonio Brown, the Raiders offense could struggle to move the ball
The addition of head coach Vic Fangio makes the Broncos defense an enticing group to watch
Expect Denver to come out on top
Monday nights are exciting once again and football fans should enjoy a competitive divisional battle in Week 1. Football is the number one sport in America that's wagered on. The drama and anticipation has built in recent weeks leading up to kickoff. 
The Oakland Raiders have been in the news constantly this offseason, from the cameras following them on Hard Knocks to the sideshow that Antonio Brown brought.
After putting up with countless prima donna moves, the Raiders finally cut ties with the controversial wideout. Brown's antics ultimately led to the receiver posting on Instagram that he wanted out, and Oakland granted him his wish after days of utter absurdity. Despite the frostbitten feet, threats to retire over his personal helmet preferences, poor social media behavior, and bagging on Ben Roethlisberger all offseason, the New England Patriots decided to take in the troubled star, signing him to a one-year, $15 million deal ($9 million guaranteed). 
The subtraction of Brown changes the potential outcome of this game drastically. Here is your guide to success for this matchup.
Denver Broncos @ Oakland Raiders
Spread: Broncos (-2.5)  
Monday 9/9, 10:15 pm ET
Raiders Offseason
Coming into Jon Gruden's second season at the helm of the Raiders, there's something to be proven. This squad looks very different from what we saw in 2018, given that coach Gruden has had time to implement his own influence on this franchise. Older players have been sent packing for youth and some interesting playmakers have been added.
The Raiders elected to shore up their offensive line, spending big on Trent Brown this offseason after he won a Super Bowl with the New England Patriots. Brown will guard Derek Carr's right side and could help drastically improve his protection. Carr tied for 38th in average time to throw last season (minimum 128 pass attempts), so he'll gladly take the upgrade.
Unfortunately, not all went well (AB). There is no silver lining for the silver and black in this scenario, as they gave a third and fifth round pick to acquire a player that caused a lot of issues and left after contributing in no way.
Use BetQL's ★ rating system to identify the Best Bets every week of the NFL season!
The Raiders will have to use new receiver Tyrell Williams and J.J. Nelson is questionable for the game, as he is coming off of a minor ankle injury. Fifth-round pick Hunter Renfrow, veteran Ryan Grant, and veteran backup Dwayne Harris round out the rest of the wide receiving corps, making them one of the worst groups in the league on paper.
Points should be hard to come by for Oakland in this match, especially with the last-minute nature of Brown's release. The Raiders will have to do something to address this incredibly weak unit, but in Week 1, they'll have to roll with what they have. The experience that this group has is limited and they won't be doing Derek Carr many favors. Carr had a hard enough time last season and he's due for more woes with the lack of playmakers around him.
Broncos Revamped Offense
Divisional battles are always tight and this shouldn't be an exception. The Broncos acquired Flacco in a trade and look forward to his leadership on the field. This is a major boost to the Denver offense, as Flacco is just 34 years old and is coming off his highest quarterback rating in a season since 2014. Flacco ranked 14th in Football Outsiders' DYAR (Defense-adjusted Yards Above Replacement) last season, while 2018 Broncos quarterback, Case Keenum, ranked 29th.
Flacco has two great receiving weapons in the stout, route-running ability of Emmanuel Sanders and the large, athletic Courtland Sutton. Sanders is said to look terrific after undergoing surgery on a torn Achilles just seven months ago and Sutton could be primed for a huge sophomore season. Flacco's presence should help open more lanes for second-year running backs Phillip Lindsay and Royce Freeman.
The Broncos spent pretty big on offensive tackle Ju'Wuan James and then spent a second-round pick on Dalton Risner, boosting their offensive line. This offense isn't garnering enough credit around the league, and Flacco's negative perception has made them an afterthought. 
Outcome
Ultimately, the Broncos should come out ahead at the end of this game. The team has improved tremendously on both sides of the ball and they should impose their run game on the Raiders. Oakland allowed the third-most rushing yards in the league last season and you can be sure that Denver will pound the rock hard with their two young backs.
It's very hard to feel confident in the Raiders offense right away. Brown's antics really threw off everything. The Raiders are left with minimal weapons after cutting Brown and should rely more heavily on Richard in the pass game. Jacobs looks very promising, but there's a lot that we need to see out of him and Gruden's scheme before going all in on him. The rusher was the first tailback off the board in the 2019 Draft and he possesses all the skills that should make you excited. But, Denver should stack the box and force Carr to beat them, especially given the lack of receiving threats.
Access BetQL's Public Betting Dashboard for ticket %, money % and sharp % data!
Denver's upside is all there and this is a game that you'll want to be on their side in. A 2.5-point spread shouldn't scare you off from betting heavily on Denver. As of Monday morning, 62 percent of tickets were written on the Broncos, while 77 percent of the money was bet on them.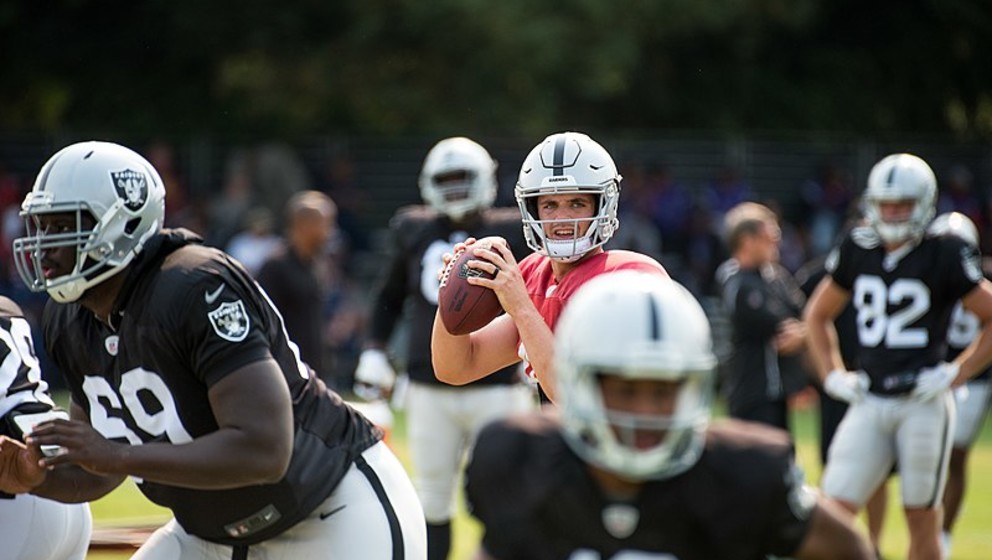 O/U 42.5 Points
Oakland's 2018 Ways
The Raiders got poor production out of Carr last season. The quarterback posted the 21st-best DYAR, the 22nd-best DVOA (Defense-adjusted Value Over Average), and the 29th-best quarterback rating. These are disgusting numbers for a franchise quarterback, even with minimal protection. 
It's hard to have large expectations for the Raiders early on in 2019. There are so many question marks about chemistry and time together that it might be easier to tread with caution. The team will improve offensively at some point, but don't expect a drastic turnaround right away with a rookie running back leading their rushing game and a cast of dull wide outs.
Denver's Defense
The Broncos made a major splash by signing Vic Fangio to be their new head coach this offseason. Fangio was snagged from the Chicago Bears after he took their defense to new heights, shutting down many top offenses last season. Fangio will work with a similarly-dominant defensive pass rush headlined by Von Miller and Bradley Chubb. The team combined to log 44 sacks last season, but that number is sure to rise under Fangio. Denver's adjusted sack rate of 8.0 percent ranked tied for seventh-best in the NFL in 2018.
The Broncos traded away Aqib Talib last season and Bradley Roby regressed in a big way. The team was relegated to playing guys like Jamar Taylor and Tramaine Brock as a result. Thankfully, John Elway addressed this secondary's issue by adding Kareem Jackson and Bryce Callahan. The two physical defensive backs are interchangeable in man and zone schemes and should fit in nicely with stud cornerback Chris Harris Jr.
Monday's Offensive Output
The Broncos have a secondary that's capable of shutting down great passing offenses and they'll likely come out strong on Monday. With AB out of the picture, Fangio will have the opportunity to send various secondary blitzes at Oakland. Their defensive backs should blanket Oakland's dismal receivers, making offense hard to come by.
Fangio will send some diabolical rushes at Carr and will certainly test Oakland's new offensive line all game long. Carr will likely be under heavy pressure all game.
Both teams should employ a run-first offense in this matchup. That could keep the clock moving, resulting in the potential for fewer points. It wouldn't be a shock if Oakland didn't crack double-digits. What that being said, it makes sense to bet under the 42.5-point total.
Don't miss out in Week 2! Get full access to the slate's Best Bets!