NFL
Public Bettors, BetQL Users Not Overly Confident In The Patriots Against The Titans
Over the course of the last two decades, betting against New England at home (or in the playoffs) hasn't paid off
By Dan Karpuc - Jan 4, 2020, 4:33am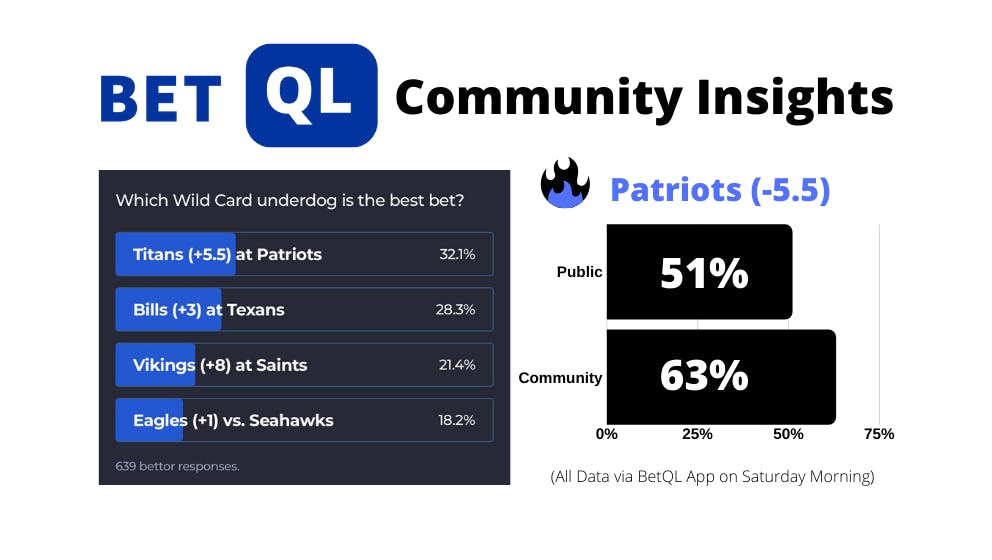 Titans (9-7) at Patriots (12-4)
Saturday 1/4, 8:15pm EST
VIEW LIVE ODDS, BETTING DATA & MORE!
The New England Patriots (12-4) host the Tennessee Titans (9-7) in the Wild Card Round of the AFC Playoffs. The Patriots enter this matchup with the following records: 12-4 overall, 9-7 against the spread, 6-2 at home (5-3 ATS) and they were the favorites in all 16 of their regular-season games. The Titans enter this matchup with the following records: 9-7 overall, 8-7-1 against the spread, 5-3 on the road (5-3 ATS) and 3-3 as underdogs (3-3 ATS). 
As of Saturday morning, just under 650 votes have been cast on our app's NFL feed, and it's clear that the Titans (+5.5) are receiving quite a bit of interest, as indicated by the fact that 32.1% of BetQL users labeled them as the best underdog bet against the spread out of the four Wild Card options.
Further, just 51% of public tickets have been wagered on the Patriots (-5.5) at home, which is shocking, given their history. For instance, Tom Brady has more playoff wins under his belt than every other quarterback in the playoffs combined. Think about that for a second.
The BetQL Community is leaning towards New England, but not in an overwhelming fashion. The Patriots have attracted 63% of our Community Likes.