ATL
Falcons
Fri 10/30, 12:20 AM
CAR
Panthers
CAR -3 O/U 49
IND
Colts
Sun 11/1, 6:00 PM
DET
Lions
IND -2.5 O/U 50
TEN
Titans
Sun 11/1, 6:00 PM
CIN
Bengals
TEN -5.5 O/U 54.5
PIT
Steelers
Sun 11/1, 6:00 PM
BAL
Ravens
BAL -3.5 O/U 46.5
NYJ
Jets
Sun 11/1, 6:00 PM
KC
Chiefs
KC -19.5 O/U 48.5
NE
Patriots
Sun 11/1, 6:00 PM
BUF
Bills
BUF -3.5 O/U 43.5
LAR
Rams
Sun 11/1, 6:00 PM
MIA
Dolphins
LAR -4 O/U 46.5
MIN
Vikings
Sun 11/1, 6:00 PM
GB
Packers
GB -6.5 O/U 54.5
OAK
Raiders
Sun 11/1, 6:00 PM
CLE
Browns
CLE -2.5 O/U 53.5
LAC
Chargers
Sun 11/1, 9:05 PM
DEN
Broncos
LAC -3 O/U 44
SF
49ers
Sun 11/1, 9:25 PM
SEA
Seahawks
SEA -3 O/U 54
NO
Saints
Sun 11/1, 9:25 PM
CHI
Bears
NO -4 O/U 45
DAL
Cowboys
Mon 11/2, 1:20 AM
PHI
Eagles
PHI -7.5 O/U 43.5
TB
Buccaneers
Tue 11/3, 1:15 AM
NYG
Giants
TB -10.5 O/U 46.5
NFL
Packers vs. Buccaneers Week 6 Preview
Green Bay (-110) and Tampa Bay (-110) are set as a pick'em with the over/under set at 54.5 total points
By Lorenzo Archer - Oct 15, 2020, 1:05pm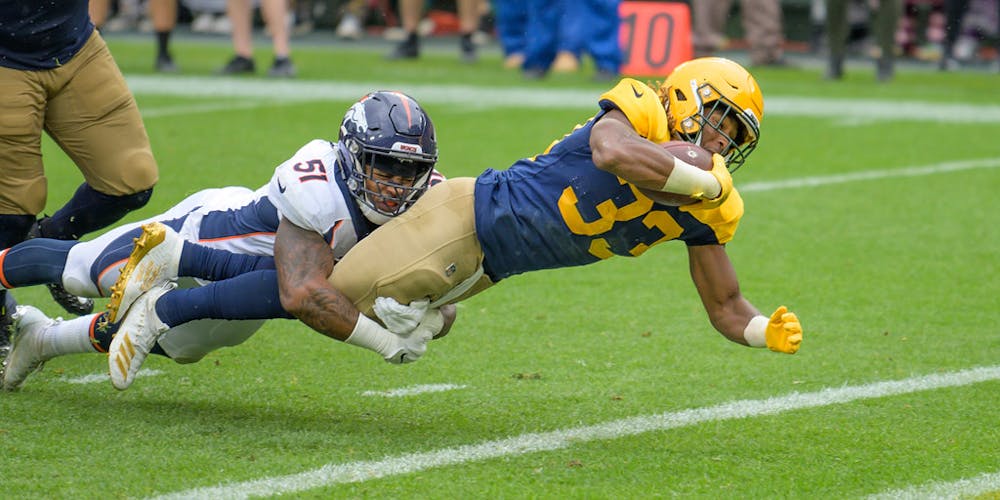 Quick-Hitters
The Tampa Bay Buccaneers have been the kindest team to over bettors during the past three years. A whopping 64.9 percent of their games have gone over the point total since the beginning of 2018.
The Buccaneers are a team that features plenty of turnovers, both in terms of takeaways and giveaways. This has contributed to their large total of overs.
The Green Bay Packers have an explosive offense that ranks first in both yards per play and scoring. Green Bay quarterback Aaron Rodgers is playing some of the best football of his career.
Get all of BetQL's best bets for the upcoming NFL season! Dating back a full calendar year, our five-star (max-value) bets have won 61% of the time!
Hammering The Over
The first thing a bettor might want to do when looking at a Tampa Bay Buccaneers game is look at the point total. The Buccaneers have been the best team in the NFL when it comes to hitting the over, and by a wide margin. The over has gone 24-13 in Tampa Bay's games since 2018. That equates to a 64.9 conversion percentage and is by far the highest rate of any team in the NFL over that time. The next closest team to Tampa Bay in the over department is the Dallas Cowboys, who have seen overs hit in 59.0 percent of their games in the same timespan.
If you want to roster any Packers or Buccaneers players in your DFS lineups tonight, be sure to get a 3-day free trial on RotoQL to check out our projections!
Turnovers Galore
Overs have gone 3-2 in the Buccaneers' five games this season, including 12-4 in the season prior. Much of this has to do with the amount of turnovers you can find in Tampa Bay's games. While turnovers can kill drives with scoring potential, they more often lead to teams getting short fields or even defensive scores.
One game that illustrated this perfectly was last year's game against the Los Angeles Rams. Tampa Bay won the game 55-40, which flew past the over/under total of 49 points. The Buccaneers forced four turnovers, including a 37-yard fumble return for a touchdown. It consistently set the offense up with good field position and allowed for easier scoring opportunities.
More Betting Trends
Last season, Tampa Bay led the NFL with 41 giveaways on offense. Much of this had to do with former quarterback Jameis Winston throwing 30 interceptions. With Tom Brady running the show in his debut season with the Buccaneers, it is reasonable to ask if something like this would carry over to 2020.
Quarterbacks in their first year working with Bruce Arians have a history of throwing a high number of interceptions. Carson Palmer, Andrew Luck, and Jameis Winston all had high interception totals in their first season with Arians. The coach's offensive style is an aggressive one that calls for quarterbacks to throw the ball deep down the field. Brady has thrown four interceptions so far, tying him for the eighth-highest total in the league. When paired with Todd Bowles' blitz-heavy defensive style, you have a formula that makes for final scores that sail over the betting total.
The Green Bay Packers also have a penchant for playing games with high scores. Overs have gone 3-1 in Green Bay games this season. Each of their first three contests notched at least 63 points or more and went over the betting total by at least 12 points. The Packers lead the NFL in both yards per play (6.8) and scoring per game (38.0). It's difficult for teams to get them off the field on third down, as well. The Packers rank fourth in third down conversion percentage, converting on 51.1 percent of their third down attempts. Aaron Rodgers is playing at a high level, and defenses are having a tough time keeping up.