ATL
Falcons
Fri 10/30, 12:20 AM
CAR
Panthers
CAR -2.5 O/U 49
IND
Colts
Sun 11/1, 6:00 PM
DET
Lions
IND -2.5 O/U 50
TEN
Titans
Sun 11/1, 6:00 PM
CIN
Bengals
TEN -5.5 O/U 54.5
PIT
Steelers
Sun 11/1, 6:00 PM
BAL
Ravens
BAL -3.5 O/U 46.5
NYJ
Jets
Sun 11/1, 6:00 PM
KC
Chiefs
KC -19.5 O/U 48.5
NE
Patriots
Sun 11/1, 6:00 PM
BUF
Bills
BUF -3.5 O/U 43.5
LAR
Rams
Sun 11/1, 6:00 PM
MIA
Dolphins
LAR -4 O/U 46.5
MIN
Vikings
Sun 11/1, 6:00 PM
GB
Packers
GB -6.5 O/U 54.5
OAK
Raiders
Sun 11/1, 6:00 PM
CLE
Browns
CLE -2.5 O/U 54
LAC
Chargers
Sun 11/1, 9:05 PM
DEN
Broncos
LAC -3 O/U 44.5
SF
49ers
Sun 11/1, 9:25 PM
SEA
Seahawks
SEA -3 O/U 54
NO
Saints
Sun 11/1, 9:25 PM
CHI
Bears
NO -4 O/U 45
DAL
Cowboys
Mon 11/2, 1:20 AM
PHI
Eagles
PHI -7.5 O/U 43.5
TB
Buccaneers
Tue 11/3, 1:15 AM
NYG
Giants
TB -10.5 O/U 46.5
NFL
OPINION: Early Week 3 Opening Spread Bets To Target
Hammer these NFL lines before early bettors do
By Sloan Piva - Sep 22, 2020, 3:00am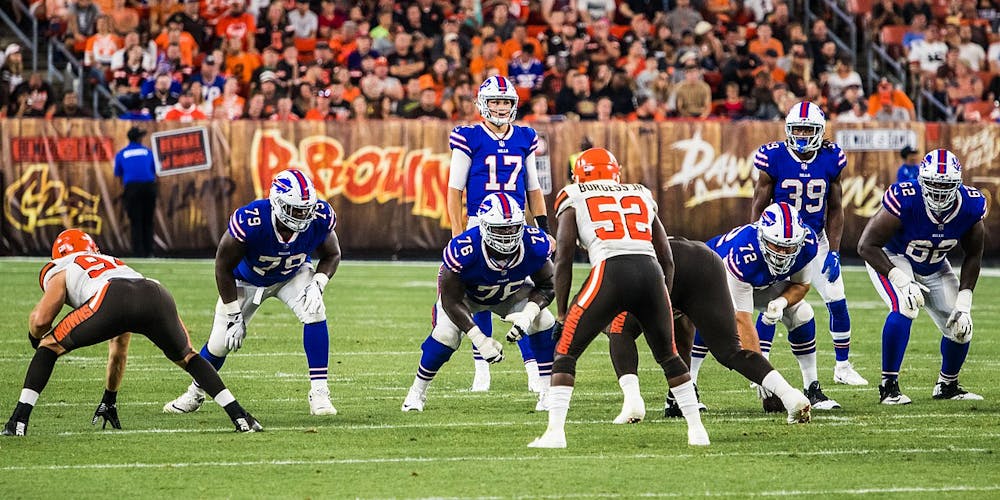 Quick-Hitters
Get all of BetQL's best bets for the upcoming NFL season! Dating back a full calendar year, our five-star (max-value) bets have won 61% of the time!
Miami Dolphins (+3) @ Jacksonville Jaguars (-3)
Hopefully alert bettors capitalized on the opening line, which had the Jacksonville Jaguars as a mere 1-point favorite. The market righted itself in no time, jumping to -3 within hours. The Jaguars have come out of the gates strong thanks to second-year quarterback Gardner Minshew II, and narrowly missed the opportunity to start 2-0 when they lost to the Tennessee Titans Sunday in a 33-30 nail-biter.
Minshew and this young offense have no quit in them. After winning a close 27-20 battle with veteran quarterback Philip Rivers and the Indianapolis Colts in Week 1, the Jags found themselves trailing big multiple times at Nissan Stadium in Tennessee. They trailed 14-0 in the first quarter, then 21-7 in the second, then 30-17 in the third. Miraculously, they rallied back and outscored Tennessee 13-3 in the fourth quarter, giving themselves a chance to win the game.
The skilled and confident Minshew has had some help on offense. The 24-year-old has a workhorse running back in rookie James Robinson, who just turned 22 in August and set a record in Week 1 for best debut ever by an undrafted running back. He got 100 percent of Jacksonville's carries in the opening-week victory over the Colts and added 16 carries for 104 yards and a touchdown in Week 2 against the Titans.
Jacksonville also dons a plentiful batch of receiving options. D.J. Chark, a Pro Bowler in his 2019 sophomore season, turns 24 years old Wednesday and has caught all seven targets for 109 yards and a touchdown through two games. The great hands of 27-year-old Keelan Cole lines up on the other side and has nabbed 11-of-12 targets on the season for 105 yards and two touchdowns. Rookie back Laviska Shenault Jr., a Swiss Army knife in the backfield, ran five times for 37 yards and had three catches for 35 yards.
If Jacksonville's defense can apply even a little pressure on Ryan Fitzpatrick in Week 3, their linebacking core and secondary shouldn't get as roasted as they did against the Titans. The Jags simply failed to contain Ryan Tannehill in Week 2, allowing him to go 18-of-24 for 239 yards and four touchdowns. Tight end Jonnu Smith feasted, catching 4-of-5 targets for 84 yards and two touchdowns, and wideouts Adam Humphries and Corey Davis combined for another 84 yards and two scores.
Fitzpatrick has some weapons at his disposal, but he looked overmatched by a strong New England Patriots defense in a 21-11 Week 1 loss. Fitzpatrick was outdueled by breakout third-year Buffalo Bills quarterback, Josh Allen, in a 31-28 slugfest. Go with the Jaguars if this early line holds at -3.
Pick: Jaguars (-3)
Los Angeles Rams (+3) @ Buffalo Bills (-3)
The aforementioned Bills have just dazzled through two weeks, with Allen playing like a legitimate early MVP contender. This kid just battles, slinging the ball all over the field with his canon of an arm and mixing in his speed, strength, and athleticism on runs. The 24-year-old registered his first 300-yard passing game in a Week 1 thumping of the New York Jets, then promptly followed that with his first 400-yard passing game in the Bills Week 2 victory over the Dolphins. Two division opponents up, two division opponents down.
Week 2 presents a different kind of foe: a talented Los Angeles Rams squad just a year and a half out of a Super Bowl appearance. Coach Sean McVay has his squad playing at a high level once again, with a 20-17 Week 1 win at home against the Dallas Cowboys and a Week 2 road thrashing of the Philadelphia Eagles 37-19. The Rams have a plethora of offensive options, including a healthy wide receiver tandem of Cooper Kupp and Robert Woods, as well as emerging tight end Tyler Higbee.
The Rams running game has also survived the departure of Todd Gurley, and they have barely even unleashed rookie halfback Cam Akers. Veteran bruiser Malcolm Brown took 18 carries for 79 yards and two touchdowns in Week 1 and Darrell Henderson rushed 12 times for 81 yards and a score in Week 2.
If Buffalo's defense shows up like it did most of the 2019 season—as well as in Week 1 against the Jets—then Allen and his strong offense should be able to take care of business at home against the Rams. Except for some second-half gaffes in Week 2, Allen has looked superb. He has great chemistry with his wide receivers—veteran John Brown has shined in his second year in Buffalo (152 yards and two scores through two games), and shiny new offseason acquisition Stefon Diggs has scorched the earth in his first two games in Buffalo (16 catches, 239 yards, one touchdown). Add the talented young 1-2 punch of Devin Singletary and Zack Moss out of the backfield, and you're looking at a new contender out of the AFC East. Look out, LA—regardless of the weather at kickoff this coming Sunday, the Rams may be facing a cold reception in Buffalo.
Pick: Bills (-3)
Green Bay Packers (+3.5) @ New Orleans Saints (-3.5)
So, let's paint a picture. Aaron Rodgers has arguably looked like an MVP candidate (with respect to Russell Wilson) two games into the season. The New Orleans Saints will likely play again without Drew Brees' favorite target, superstar Michael Thomas (high ankle sprain). Rodgers enjoys a 70.0 career completion percentage against the Saints, second-highest of all opponents he has faced in his illustrious career. Still, the Packers are listed as 3.5-point underdogs in a Sunday Night Football game? Color us interested.
Rodgers opened the season by blistering the Minnesota Vikings on the road, going 32-of-44 for 364 yards and four touchdowns. He and the Green Bay Packers then doubled up the Detroit Lions at home (42-21) in Week 2, racking up 240 yards and two scores before letting running back Aaron Jones handle the rest (Jones gashed the Lions for 236 all-purpose yards and three touchdowns).
The 36-year-old signal caller with the best career QB rating of all time (102.6, two spots above Drew Brees' 98.4) has looked to be in vintage form this season, spreading the ball to a myriad of targets. Chief among those is perennial beast Davante Adams, who caught 14-of-17 Week 1 passes for 156 yards and two touchdowns, but young receivers Allan Lazard and Marquez Valdes-Scantling have also continued to evolve in Green Bay's offensive system.
He faces a huge opportunity to upset the Saints in primetime without New Orleans' biggest weapon. Thomas ranked first in the NFL in three major stat categories last season: targets (180), receptions (149), and receiving yards (1,725). He also finished third in touchdown catches with nine.
To make matters worse, Brees hasn't looked great this season with or without Thomas. He opened the season at home against the Tampa Bay Buccaneers going 18-for-30 with only 160 yards, registering a measly 5.33 yards per pass attempt (Rodgers' Y/A in Week 1 was 8.27). Alvin Kamara looked like a shell of himself in Week 1 as well. The three-time Pro Bowler, who has averaged 5.13 yards per carry since he burst onto the scene in 2017, carried the rock 12 times for 16 yards against Tampa's front seven.
Bettors are better off jumping on the Packers +3.5 before the outcome of the Saints Monday Night Football tilt with the Las Vegas Raiders evens the line out. Without Michael Thomas, and against a young, confident, and well-coached Raiders squad, the Saints could have some trouble at the end of Week 2, and will definitely have some trouble toward the end of Week 3. Roll with the younger former MVP over the older former MVP—the Packers will at least cover against the Saints and at best will beat them outright.
Pick: Packers (+3.5)