ATL
Falcons
Fri 10/30, 12:20 AM
CAR
Panthers
CAR -3 O/U 49
IND
Colts
Sun 11/1, 6:00 PM
DET
Lions
IND -2.5 O/U 50
TEN
Titans
Sun 11/1, 6:00 PM
CIN
Bengals
TEN -5.5 O/U 54.5
PIT
Steelers
Sun 11/1, 6:00 PM
BAL
Ravens
BAL -3.5 O/U 46.5
NYJ
Jets
Sun 11/1, 6:00 PM
KC
Chiefs
KC -19.5 O/U 48.5
NE
Patriots
Sun 11/1, 6:00 PM
BUF
Bills
BUF -3.5 O/U 43.5
LAR
Rams
Sun 11/1, 6:00 PM
MIA
Dolphins
LAR -4 O/U 46.5
MIN
Vikings
Sun 11/1, 6:00 PM
GB
Packers
GB -6.5 O/U 54.5
OAK
Raiders
Sun 11/1, 6:00 PM
CLE
Browns
CLE -2.5 O/U 53.5
LAC
Chargers
Sun 11/1, 9:05 PM
DEN
Broncos
LAC -3 O/U 44
SF
49ers
Sun 11/1, 9:25 PM
SEA
Seahawks
SEA -3 O/U 54
NO
Saints
Sun 11/1, 9:25 PM
CHI
Bears
NO -4 O/U 45
DAL
Cowboys
Mon 11/2, 1:20 AM
PHI
Eagles
PHI -7.5 O/U 43.5
TB
Buccaneers
Tue 11/3, 1:15 AM
NYG
Giants
TB -10.5 O/U 46.5
NFL
OPINION: Early Week 3 Opening Moneyline Bets To Target
Hammer these NFL lines before early bettors do
By Dave Kovaleski - Sep 22, 2020, 2:59am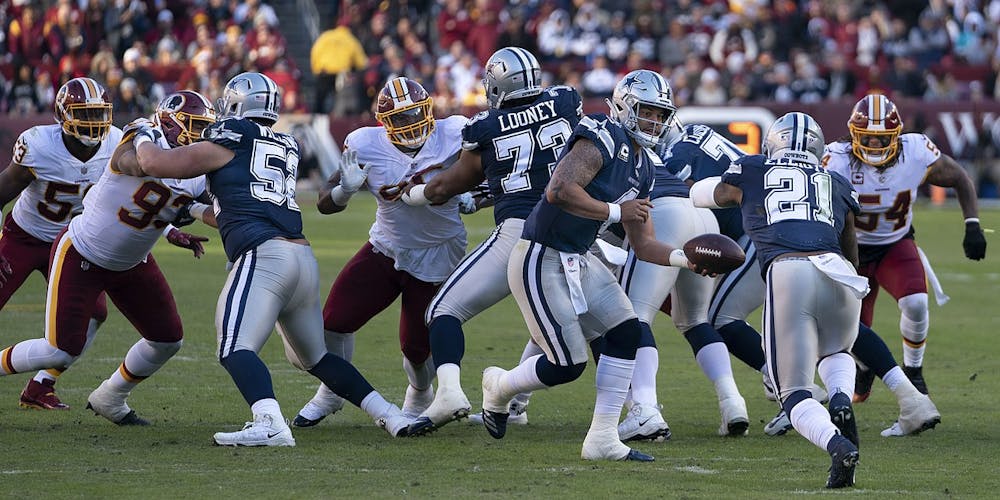 Quick-Hitters
Get all of BetQL's best bets for the upcoming NFL season! Dating back a full calendar year, our five-star (max-value) bets have won 61% of the time!
Green Bay Packers (+160) @ New Orleans Saints (-190)
This is one of the Week 3 games that could be a preview of the conference championships. The opening moneyline on this game has the New Orleans Saints (-190) favored over the Green Bay Packers (+160). The Packers are intriguing in this spot for a few reasons.
One, the Saints are at home, but in this new COVID-19 era, home field doesn't mean as much as it normally would. Two, New Orleans is coming off a short week, having faced the Las Vegas Raiders on Monday Night Football. Three, the Saints will be without All-Pro receiver Michael Thomas, who's out with a high ankle sprain. The Packers offense is firing on all cylinders and should be able to outlast the Saints in a high-scoring shootout.
Pick: Packers (+160)
Kansas City Chiefs (+170) @ Baltimore Ravens (-200)
The Baltimore Ravens have looked like the best team in football over the first two weeks, blowing out the Cleveland Browns and Houston Texans in successive weeks. Last week, they pulled away from Houston in the second half to win 33-16, but Houston is a team on the decline.
The Ravens haven't faced a true test yet this season, but they will Sunday against the defending Super Bowl Champions. Both teams are 2-0, with the Kansas City Chiefs coming off a 20-17 overtime win over the Los Angeles Chargers. The Ravens have the league's top defense, but the pass defense showed some vulnerability last week against Deshaun Watson and the Texans. This game will come down to the final minutes and it's tough to bet against Patrick Mahomes in a close game.
Pick: Chiefs (+170)
Dallas Cowboys (+185) @ Seattle Seahawks (-225)
Yup, going with all the road 'dogs this week, mainly because there's not much of a home field advantage for any team this year. The Dallas Cowboys lost to a resurgent Los Angeles Rams team in Week 1 and came back to win a thriller over the Atlanta Falcons in Week 2. The Week 2 win, after being down 29-10 in the second half, should jumpstart the Cowboys.
The Seattle Seahawks are 2-0, but the defense looked shaky in giving up 30 points at home to a newly-constructed New England Patriots offense. Seattle will likely struggle to stop Dallas, so it'll be a shootout. Dallas' offensive weapons gives them a chance to outgun Seattle.
Pick: Cowboys (+185)