NFL
Opening Line Reactions: Week 16
A look at two surprising opening lines for Week 16 of the NFL season
By Dan Karpuc - Dec 16, 2019, 9:07pm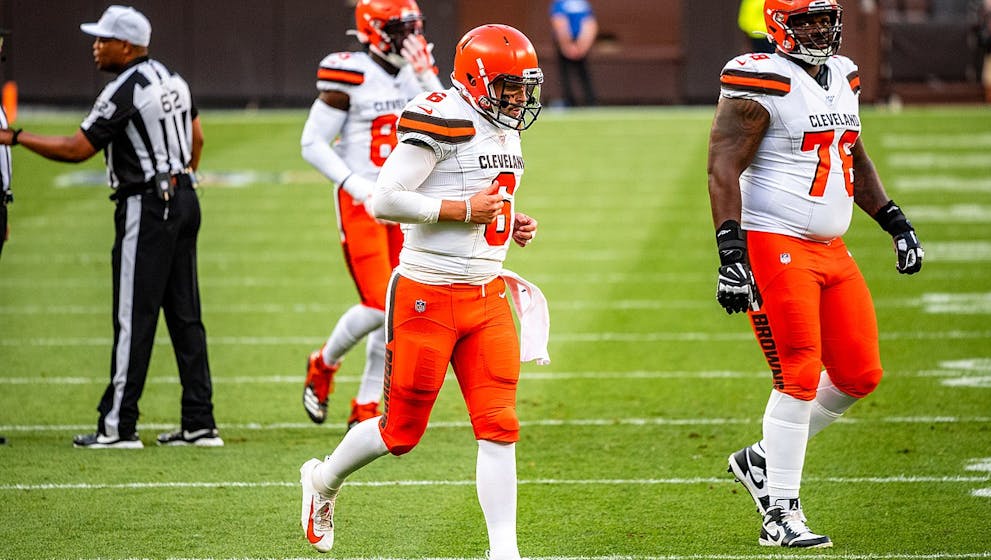 Ravens (12-2) at Browns (6-8)
BAL - 10, O/U 48, Sunday 12/22, 1:00pm EST
The Browns had an opportunity to improve their record to 7-7 last week, but the Cardinals (4-9-1) easily embarrassed them, winning 38-24 in Arizona. Arguably the most concerning aspect of the loss (other than the fact that it'd now take a miracle for Cleveland to get into the playoffs) was that they allowed 226 rushing yards, including 137 to Kenyan Drake, who also scored four touchdowns. The Ravens lead the NFL in rushing by a wide margin, amassed 218 yards on the ground as a team in their 42-21 victory over the New York Jets on Thursday Night Football and continued their historic offensive production, as five of Lamar Jackson's 15 passes went for touchdowns. 
Get one free week of BetQL VIP access when you claim this MGM offer!
While this, on the surface, looks like it has the makings of another Cleveland massacre, it's important to point out that the Browns were one of the two teams that beat the Ravens earlier in the year. Not only did they come out on top in that Week 4 game (40-25), but they did so in Baltimore and with some cushion. It seems like an eternity ago, but Baker Mayfield threw for 342 yards and a touchdown while Nick Chubb dominated and took 20 carries for 165 yards and three touchdowns. Odell Beckham Jr. was limited to just two catches for 20 cards in that contest, but Jarvis Landry had a big day in the slot, catching eight passes for 167 yards. Plus, Kareem Hunt was still suspended and didn't suit up in that contest. Although the times have clearly changed and both teams moved in two completely different directions, the must-win desperation that the Browns will feel in front of their home crowd might be an appealing aspect of this contest for bettors, especially as double-digit dogs. 
Texans (9-5) at Buccaneers (7-7)
HOU -3, O/U 51, Saturday 12/21, 1:00pm EST
Did you know that 10 of the last 11 Buccaneers games have hit the over? That's pretty incredible. While a 51-point total is nothing to scoff at, considering the explosive potential of both offenses, it seems like it's a bit too low, even though five of Houston's last seven games finished under the total. The main reason for so many of Tampa Bay's games hitting the over has been the recklessly-aggressive way that Jameis Winston has been playing quarterback. Winston leads the NFL with 4,573 passing yards and has thrown 30 touchdown passes this year, but has turned the ball over an astounding 29 times (24 interceptions). Nonetheless, Bruce Arians' offense has passed the ball 62.09% of the time this season and has stuck by Winston in a contract year. Winston's preference to sling the ball all over the field at will has led to some crooked numbers for Tampa's offense, but has also allowed opposing offenses to capitalize on beneficial field positions. It's easy to imagine the Bucs putting up 30 points and being one-upped by Deshaun Watson, DeAndre Hopkins, Will Fuller, Carlos Hyde and company in this matchup (or for the game to simply shoot out). 
Track the movement of these lines (and every Week 16 line) on BetQL's Line Movement Dashboard!