LIVE
CLE
Browns
27
FINAL
JAX
Jaguars
25
CLE -7.5 O/U 48.5
MIA
Dolphins
20
FINAL
NYJ
Jets
3
MIA -7.5 O/U 46
ARI
Cardinals
17
FINAL
NE
Patriots
20
ARI -1 O/U 50.5
NYG
Giants
19
FINAL
CIN
Bengals
17
NYG -6.5 O/U 45
OAK
Raiders
6
FINAL
ATL
Falcons
43
OAK -3.5 O/U 53
TEN
Titans
45
FINAL
IND
Colts
26
IND -3 O/U 51.5
LAC
Chargers
17
FINAL
BUF
Bills
27
BUF -4.5 O/U 51
CAR
Panthers
27
FINAL
MIN
Vikings
28
MIN -3 O/U 50
SF
49ers
23
FINAL
LAR
Rams
20
LAR -5 O/U 44.5
NO
Saints
31
FINAL
DEN
Broncos
3
NO -17 O/U 36.5
KC
Chiefs
27
FINAL
TB
Buccaneers
24
KC -3.5 O/U 56
CHI
Bears
3
2nd Q
GB
Packers
20
GB -8 O/U 44.5
SEA
Seahawks
Tomorrow, 1:15 AM
PHI
Eagles
SEA -6.5 O/U 48.5
BAL
Ravens
Wed 12/2, 12:10 AM
PIT
Steelers
PIT -10 O/U 41
NFL
One Betting Trend Stands Out Ahead Of The Patriots vs. Texans Game
Houston's contests have followed a particular pattern
By Bryan Zarpentine - Nov 17, 2020, 4:46am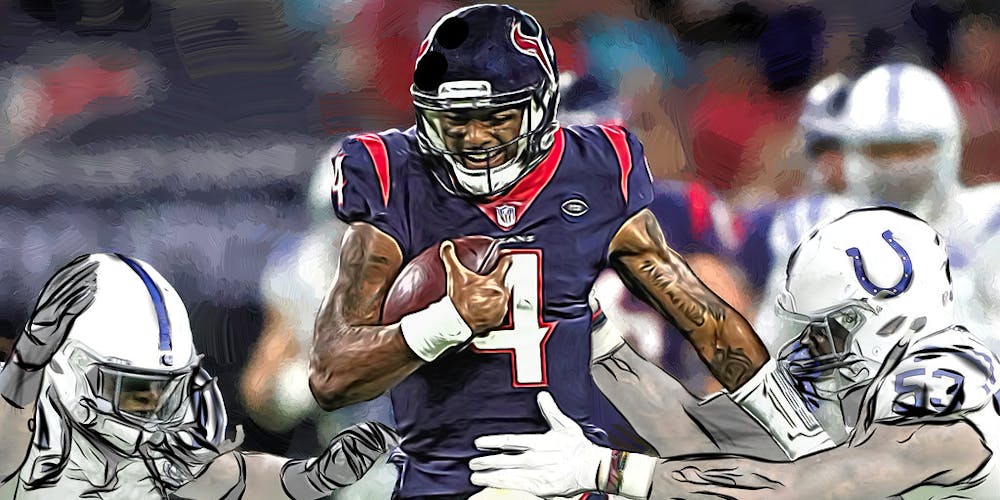 Quick-Hitters
The Houston Texans have an over/under record of 6-2-1. Last week's battle with the Cleveland Browns in poor weather conditions made the under a near lock.
The New England Patriots (+1600) stayed alive in the AFC East race, per FanDuel Sportsbook. The Patriots are +410 to make the playoffs overall.
The Patriots have lacked any consistency ATS this season, going 4-5.
Get all of BetQL's best bets for the upcoming NFL season! Dating back a full calendar year, our five-star (max-value) bets have won 61% of the time!
Houston's Betting Tendency
At 2-7, the Houston Texans' season is all but over. It feels as though they'd have to win the rest of their games to have any hope of reaching the playoffs. Houston has lost every game that hasn't been against the Jacksonville Jaguars. Four of their seven losses have come by one score, so there's an opportunity to cover from time to time.
The ironic part of Houston's failures is that Deshaun Watson is still having a standout campaign. Last week's windy day at the Cleveland Browns aside, Watson has been outstanding this season. He's on pace to throw for over 4,500 passing yards and throw over 30 touchdowns. Watson has been forced to do it with a subpar offensive line, but he makes it work. The Texans are also without leading rusher David Johnson, who has been placed on IR.
Houston's biggest problem this year has been the play of the defense. Again, they benefited from playing the Browns under blustery conditions last week, but prior to that, the Texans had conceded at least 25 points in all but one game this season. Even when they knew that Cleveland were going to run the ball the majority of the time, the Houston defense allowed 231 yards on the ground.
Despite the elements creating a point total that resulted in the under hitting last week, Houston's over/under record on the season stands at 6-2-1.
If you want to roster any Patriots or Texans players in your DFS lineups tonight, be sure to get a 3-day free trial on RotoQL to check out our projections!
Patriots Spark Playoff Talk
Just when people were starting to count out Bill Belichick, the New England Patriots came up with a huge win over the Baltimore Ravens. Last week's win was New England's second in a row, helping to stabilize themselves after a four-game losing streak. The caveat is that New England is still just 4-5 and 2.5-games behind the Buffalo Bills. If the Patriots want to keep their streak of division titles intact, they need to keep the wins coming.
New England (+1600) stayed alive in the AFC East race, per FanDuel Sportsbook. The Patriots are +410 to make the playoffs overall.
There have been some signs of life from the New England offense in recent weeks, specifically with the running game. Damien Harris is averaging 98.0 ground yards per game over his last three games. That's been a big help for Cam Newton, who isn't exactly lighting it up through the air right now. However, there's also a glimmer of hope for the New England passing game with the emergence of Jakobi Myers in recent weeks. The Pats are slowly piecing things together. There's hardly any over/under consistency with a 4-5 record this season.
On the other side of the ball, the Patriots' defense is showing that they're capable of playing well. One week after getting lit up by Joe Flacco, the Patriots were able to handle Lamar Jackson, albeit in a downpour. The New England defense is lacking game-changers, but with the right scheme, they can hold their own and at least give their offense a fighting chance.
Line Watching
All eyes will be on the Patriots' defense this week. New England hasn't proven that they have the kind of pass rush that can take advantage of a porous Houston offensive line. That could make it difficult to contain Watson. Of course, the Patriots should feel confident about their chances of doing some damage against the Houston defense.
New England's slower pace of play and heavy ground game could really chew up clock in this one. The 48-point over/under is one to keep an eye on throughout the week.