NFL
NFL Public Betting Report: Week 13
The betting public and BetQL's community are all over these teams a few hours before kickoff
By Dan Karpuc - Dec 1, 2019, 4:05pm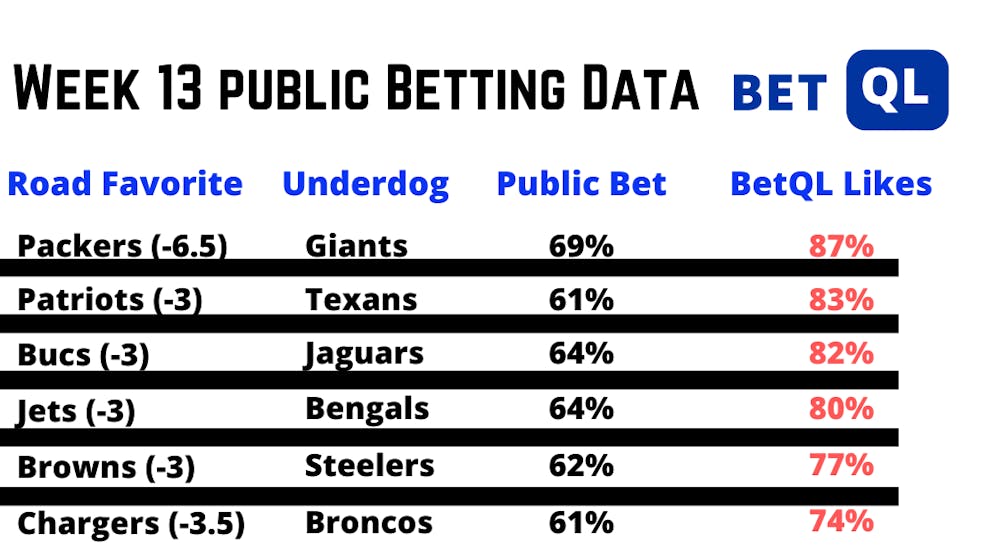 This is shaping up to be quite the chalky week. Interestingly, all six of the favorites above are on the road.
The public is all over Aaron Rodgers and the Green Bay Packers (8-3) as they travel to the Meadowlands to take on rookie Daniel Jones and the New York Giants (2-9), as evidenced by the slate-high 69% of tickets coming in on them. Further, a slate-high 87% of BetQL Community Likes have been allocated to Green Bay in this matchup.
DraftKings is offering a special promotion for BetQL users. Claim it and enjoy some risk-free bets!
The New England Patriots are also getting some love from our community and the public as a whole as they'll travel to take on the Houston Texans on Sunday Night Football. As you can see, the Tampa Bay Buccaneers (64% public, 82% community), New York Jets (64% public, 80% community), Cleveland Browns (62%, 77% community) and Los Angeles Chargers (61% public, 74% community) are all garnering heavy attraction from the masses. 
Curious about the current Week 13 BetQL Community data? Download the BetQL app, select "NFL" as the sport, click on the "Games" tab and give a 👍 to your favorite bets. Then head over to the "My Picks" tab, click "Community" and see the live percentages! We'd love your feedback about the Community Likes feature!