NFL
NFC East Futures Preview
Can Dallas be the first repeat NFC East champion since 2004?
By Shawn Burns - Jun 17, 2019, 4:40pm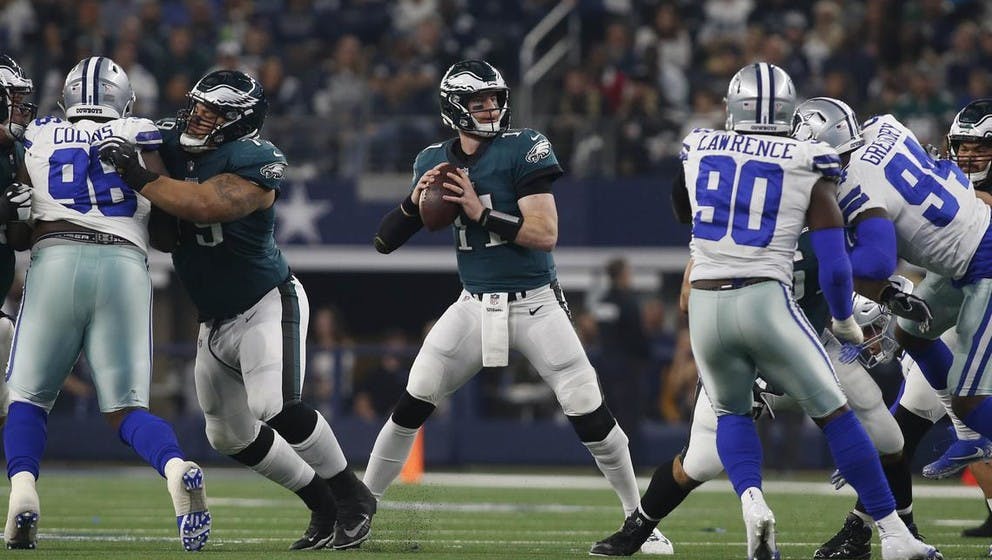 The odds to win each division have been released, and I have my eye on a few teams that can cause some damage. We'll start in the NFC East which looks to be a two team race between the Eagles and Cowboys.
The Favorites
Philadelphia Eagles (-110)
Philadelphia has a legitimate chance to represent the NFC in the Super Bowl for the second time in the last three seasons. Carson Wentz has more weapons this season than he did two years ago when he was on his way to winning the MVP before injury derailed his season. Philly traded for DeSean Jackson, who is the deep threat that last season's team lacked. The addition of Jackson will open up even more space for Zach Ertz and Dallas Goedert in the middle of the field. When you include Alshon Jeffrey and Nelson Agholor into the equation, you have a passing offensive that should be one of the best in the league.
However, the defense will need to replace Chris Long and Michael Bennett on the defensive line as they were both key contributors and had over 15 sacks between them. Philly had an underrated free agent signing in MLB Zach Brown. He will fill a huge need at middle linebacker and is a talented player who has only missed three games in his six year career. One of the reasons they decided not to resign last season's starter Jordan Hicks in free agency was due to his inability to stay healthy.
The Eagles and Cowboys should battle in for the division title all season long and barring injuries, Philadelphia is the rightful betting favorites at -110 odds.
Dallas Cowboys (+140)
Dallas won the NFC East last season and have the talent to make a deep run in the playoffs this year. Everything starts with Ezekiel Elliott, who is an elite talent and is one of the best running backs in football. The addition of receiver Amari Cooper last season was key for the development of Dak Prescott and the offense. Dallas signed slot receiver Randall Cobb in the off-season and he should become a security blanket on third down for Prescott and fills the void left by the departing Cole Beasley. Bringing back potential Hall of Fame tight end Jason Witten is an interesting decision. He was a disappointment in the booth on Monday Night Football and I'm not sure how much he has left in the tank after taking a year off from the game.
The Cowboys should again have a great defense with defensive end DeMarcus Lawrence and rising stars Leighton Vander Esch and Jaylon Smith at the linebacker positions. Dallas has the talent to repeat as NFC East champions, but you aren't getting a lot of value on their +140 odds given the lack of playmaking pieces that they added in the offseason.
Longshot
Washington Redskins (+800)
Washington was playing great football last year until Alex Smith had his unfortunate leg injury, which will knock him out for this season as well. After Smith went down, everything fell apart and the Skins finished with a 7-9 record. Adrian Peterson was a pleasant surprise as he rushed for over 1,000 yards and then re-signed with the team this off-season. The Redskins made a huge investment in safety Landon Collins with a 6-year, $84 million contract. The former Giant was a three time pro-bowler during his tenure in New York and will make an instant impact in the Washington secondary.
With Alex Smith not able to play this season, the quarterback position will most likely come down to Case Keenum or first round draft pick Dwayne Haskins. Haskins is a big time prospect who has great size and a big arm. Overall, Washington had a good draft and if they hit on Haskins, it could be a franchise changing draft. Derrius Guice, last year's second round pick, is coming off an ACL injury. Guice has great potential and should help ease the workload of Adrian Peterson. While Washington is an interesting value at +800, the question mark at quarterback makes them nothing more than a punt play for bold bettors. This is a team on the rise and it wouldn't surprise me if the snuck into the playoffs, but they are still a clear third place in terms of roster talent to both the Eagles and Cowboys.
Maybe Next Year  
New York Giants (+1200)
The Giants had a wild offseason that started when they traded all-pro wide receiver Odell Beckham Jr. to the Cleveland Browns. General manager Dave Gettleman then drafted quarterback Daniel Jones with the sixth overall pick. Some draft experts didn't even have Jones rated as a first round pick, so the choice was interesting to say the least. Eli Manning is still the starter, but at some point this season I expect Jones to see significant playing time.
The Giants did improve their offensive line and they do have Saquon Barkley, who soon will be the best running back in football. Barkley had an incredible rookie season and is a threat every time he touches the ball. While New York still has some talented players, the other teams in the NFC East have much more complete rosters. Even at +1200, there is no value on taking New York in the NFC East with the current roster that they have put together. This year is all about building for the future for the Giants.
Best Bet: Philadelphia Eagles (-110)
The last time the NFC East had a repeat divisional champion was in 2004. I think that trend continues with the Eagles winning the division this year. They have the best overall roster, quarterback and head coach in the division. Philly and Dallas will face each other in Week 16 at Lincoln Financial Field in a game that could decide the division and have playoff seeding implications. While Philadelphia is the favorite at -110, that number is still a value compared to what some other divisional favorites are.