NFL
NFL Futures: Previewing the Chiefs and Patrick Mahomes' MVP Chances
With Questions Surrounding the Chiefs Offense, Can Mahomes Repeat as MVP?
By Phil Naessens - Jun 23, 2019, 1:42pm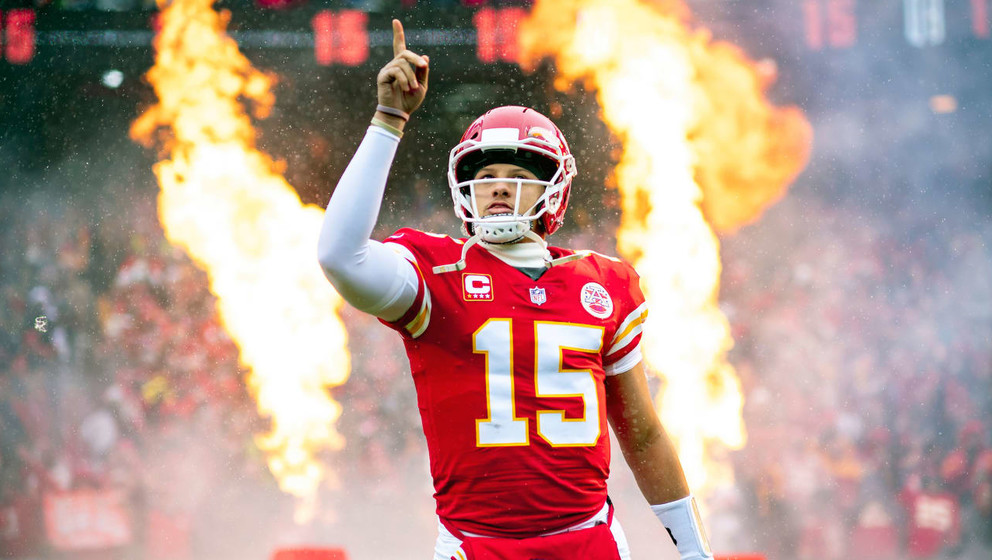 Kansas City Chiefs QB Patrick Mahomes took the NFL by storm in 2018, throwing for 50 touchdowns and over 5000 yards en route to being named the 2018 AP NFL MVP. Before we look at the chances of Mahomes repeating, let's take a look at what he accomplished last season and what the offense might look like in 2019.
2018 Was A Historic Season for Mahomes
Patrick Mahomes came into 2018 with big expectation and was replacing longtime starter Alex Smith. The second-year QB proceeded to become just the second QB in NFL history, alongside Peyton Manning, to throw for 50 touchdowns and over 5,000 yards in a 16-game season, finishing with a 113.8 QB Rating and only 12 interceptions. Mahomes received 41 out of 50 votes to be named AP NFL MVP, joining Kurt Warner, Dan Marino, Earl Campbell and Jim Brown (twice) to win the prestigious award in either their first or second season in the NFL.
2019 Kansas City Chiefs Offensive Preview
Kansas City led the NFL in total yards (6810) and points per game (35.3) in 2018, but those offensive numbers belonged in part to the production of RB Kareem Hunt and WR Tyreek Hill. Hunt was dismissed from the team after 11 games, but rushed for an impressive 824 yards and 7 touchdowns in that span. Hill hauled in 87 of his 137 targets for 12 touchdowns and his status for this season is up in the air due to legal reasons.
19 touchdowns will be difficult to replace and leads to the elephant in the room; who will step forward and make up for the lost production?
The offensive line allowed just 26 sacks in 2018 and helped the Chiefs to convert 83 of their 176 third downs and a remarkable 12 of their 15 fourth downs last season. This season, Kansas City has revamped its offensive line after three departures via free agency; center Mitch Morse, backup center Jordan Devey and left guard Jeff Allen have all left for greener pastures. The new line features LG Andrew Wylie, C Austin Reiter, RG Laurent Duvernay-Tardif, LT Eric Fisher and RT Michael Schwartz as the projected starters, with Cameron Erving and rookie Nick Allegretti adding depth.
Hunt was a valuable member of the 2018 offense, but legal troubles made it necessary to release him in the middle of the season. Damian Williams was a little-used RB in Miami before replacing Hunt, and after a slow start, finished the regular season with 203 rushing yards over his last three games. Make no mistake, Williams isn't as dynamic as Hunt, nor as explosive, but he demonstrated that he can not only run with the football, but his 14 receptions over the final 3 games showed he can be dynamic in the passing game. Williams also rushed for 159 yards with 91 receiving yards on 10 receptions in 2 postseason games. He has  proved more than an adequate replacement for Hunt. Kansas City acquired Carlos Hyde, drafted a running back in Darwin Thompson, and Darrel Williams returns to round out what could be an above average backfield group to support Mahomes and the passing game.
Tyreek Hill is the main cog in the Chiefs' pass catching engine and without him out there to stretch the field, the Chiefs offense isn't likely to put up the numbers they enjoyed in 2018. Hill is the biggest deep threat in the NFL and teams can't load the box against the Chiefs with him on the field. This in turn affects the running game and also doesn't open up the middle of the field for TE Travis Kelce. Kelce is usually in single coverage with Hill on the field and it is likely major contributor as to why he is the premier TE in the NFL, with 3 consecutive seasons with over 1000 receiving yards. If Hill is out, WR Sammy Watkins could be the deep threat that opens things up for the offense, but he has shown an inability to stay healthy, missing 15 games over the last 3 seasons. Second round pick Mecole Hardman is another guy that could fill in if Hill has a significant suspension and the Chiefs will return fourth-year WR Demarcus Robinson, who caught 22 of 33 targets for four TD's. Make no mistake, losing Hill would be a huge blow to this offensive.
2019 Season Outlook
Kansas City has a difficult schedule with stiff competition from the Chargers in the AFC West. Kansas City has tough home games with Baltimore, Indianapolis, Green Bay, Minnesota and a Monday Night Football home game with San Diego. They will also face difficult road games at New England, Chicago, and San Diego, so they will have to earn every inch this season. The Chiefs defense was poor in 2018 and doesn't project to be much better for 2019. If the Chiefs are to repeat as AFC West Champions, they will certainly need another monster season from Mahomes.
Can Mahomes Repeat as NFL MVP?
Mahomes would join Peyton Manning, Brett Favre, and Joe Montana as the only other back-to-back MVPs in NFL history if he is able to repeat in 2019. That's a lofty group for sure, but with Mahomes as the +500 favorite, the books sure like his chances.
Without knowing the status of Tyreek Hill, it might be difficult to bet on Mahomes, but if Mahomes is your choice, I would pull the trigger at +500 before the status of Hill becomes available, which could drop his odds to the +400 range.
I'm going with Mahomes to repeat. He's a special talent and can do so many things to help his team win games. At age 25 and seemingly 100% healthy, we haven't yet seen his ceiling. To me, that's worth the investment at +500, even if it isn't the best value bet to win the award.