NFL
NFL Futures: Are Baker Mayfield and the Browns Good Bets in the Futures Market?
The Browns are the most bet on team in Super Bowl 54 futures
By Sierra Kennedy - Jun 20, 2019, 3:51pm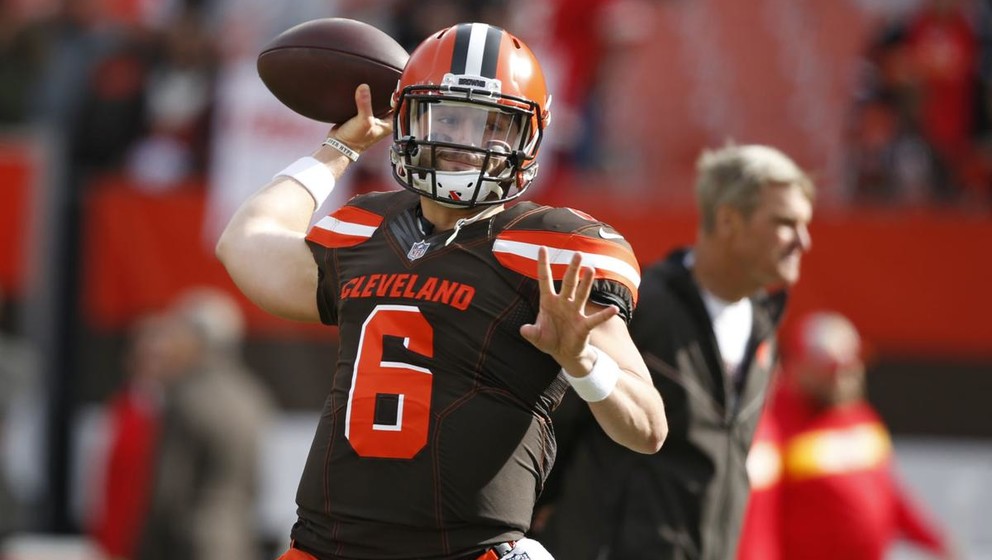 The NFL futures market has been open since Super Bowl 53 wrapped up, and bookmakers are reporting that the Cleveland Browns are getting the most action. I'll explore which major moves and key players have contributed to the influx of bets, plus, I'll cover which bets could be worth taking. If you want to check out all of the NFL odds before the season starts up make sure you head over there.
Baker Mayfield's 2019 NFL MVP odds are not at the top of odds-boards—that position is currently taken by Patrick Mahomes (+500)—but I'll explain a bit later why they don't necessarily need to be.
Mayfield edged out Russell Wilson and Peyton Manning by becoming the first rookie to throw for 27 passing touchdowns. In the last six games of the 2018 season, Mayfield recorded a 115.2 passer rating and a .833 winning percentage. You might note that he outperformed NFL MVP Mahomes in both of these categories. In 14 games (13 starts), Mayfield completed 310 out of 486 pass attempts while averaging 7.7 yards per attempt. He finished with the season with a total of 3,725 yards and a passer rating of 93.7. Needless to say, the young quarterback is undoubtedly coming off of an impressive rookie year.
Now, let's focus on the fact that Mayfield did not take the starting position until Week 4 of the 2018 season after Tyrod Taylor was injured Week 3 against the Jets. This gave Mayfield a solid 13 games as the lead signal caller. In case you were wondering the reason for my earlier sentiment, herein lies the reason why. The sample size that we have to go off of is relatively small, whilst other top contenders like Drew Brees (+1000), Aaron Rodgers (+1100), and Tom Brady (+800) have combined for 698 games alone. If anything, Mayfield's odds could be considered short in comparison to some of the more well-established names on the list.
Am I saying Mayfield is a bad bet to make? Absolutely not. I just prefer a more wait-and-see approach on how his talent develops rather than taking him to win MVP at an overvalued +1400.
Impact of Odell Beckham Jr.
Turning to Super Bowl 54 futures, the 2020 Super Bowl odds for the Cleveland Browns sit at +2000. The team went from 0-16 in 2016-17 to 7-8-1 last season, with much of the credit given to Mayfield. Their jump from +25000 in opening odds to a top-5 contender is due to major pickups during the offseason. The team most notably acquired WR Odell Beckham Jr. from the New York Giants in early May to strengthen their already strong wide receiver corps. Statistical predictions have Beckham receiving between 85-95 catches from Mayfield, while posting around 1,250 receiving yards and nine touchdowns. Beckham is a generational talent and also holds the NFL record for fewest games to reach 5,000 receiving yards (44). There were also the free agent signings of Sheldon Richardson, Olivier Vernon, Demetrius Harris, and Kareem Hunt, the latter of which will be serving an 8-game suspension. The offense is expected to be one of the most dynamic in the league, with names like Jarvis Landry, David Njoku, and Nick Chubb also on the roster. Beckham and Landry being reunited is a spectacle that everyone will be interested to watch throughout the season. Landry has the most catches during his first five seasons of any player in NFL history (481).
Browns Bets to Make for 2019
Would I be willing to bet on the Browns to win Super Bowl 54 at +2000? Possibly, but it would be premature.
However, a bet that I would be more interested in making is the divisional odds for Cleveland. The team has all the moving parts to finally be taken seriously in the league, and the Browns are no doubt in playoff contention. Cleveland also has one of the easiest projected schedules going into the 2019 NFL season, giving them a relatively clear road to the division title. Five of the last seven games will be within the division, with four of those seven played at home. AFC North odds have favored Cleveland since the Beckham trade and current sit at +125, and based upon projections, it is the most solid bet to make on the Browns this early.