NFL
NFL Draft 2021: Mac Jones Favored To Be The No. 3 Pick
Adam Schefter hints that the 49ers will pick Mac Jones on April 29th
By Reed Wallach - Apr 7, 2021, 4:40pm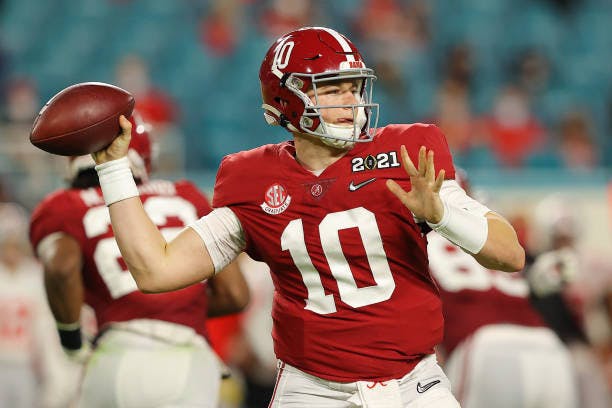 Following the San Francisco 49ers trade up to No. 3 in the 2021 NFL Draft, many have speculated who the Niners will select. 
The organization has signaled that they will be going with a quarterback, but sports bettors have disagreed on who. Mac Jones and Justin Fields have traded spots as the favorite to be the third pick in the Draft since the trade was completed, but new news has pushed the Alabama QB to the top of the odds board, per DraftKings Sportsbook.

After Fields was listed as the favorite last week, Jones has overtaken the Ohio State product on the heels of Adam Schefter's confident report about the Niners brass circling Jones as the future of signal caller of the franchise. 
When Schefter speaks, the sports world responds, as have the odds here. Many have disputed this thought due to the talent of Fields, who impressed at his pro day.
Expect these odds to continue to shift with the latest reports from NFL insiders leading up to the April 29th Draft.