NFL
NFL Draft 2021: Kyle Pitts is the betting favorite to be first non-quarterback selected
Odds say Florida TE Kyle Pitts will be drafted early
By Reed Wallach - Apr 3, 2021, 5:42pm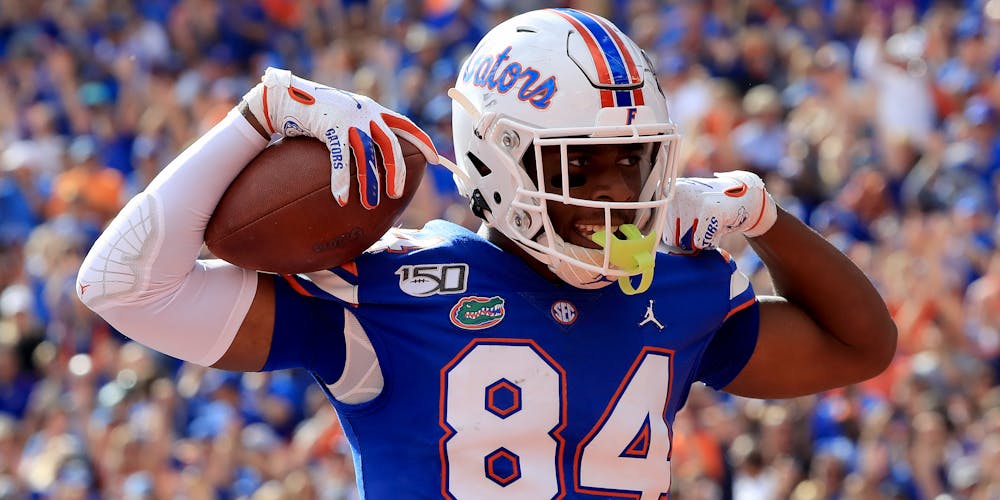 Pro days, updated mock drafts, and potential smoke screens have taken over the NFL world as we move closer towards the 2021 Draft on the weekend of April 29th.
Oddsmakers have been constantly shifting lines with the latest reports and blazing 40-yard-dash times.
With the 49ers trade to pick No. 3 last week, it's apparent that the top three will be all quarterbacks, meaning that the Atlanta Falcons will be able to pick any non-QB on the board if they choose to go that route.
If Atlanta goes with a fourth QB in a row, the pick falls to the Bengals at No. 5.
DraftKings Sportsbook has odds on who will be the first non-QB drafted.
Get all of BetQL's best bets! Dating back a full calendar year, our five-star (max-value) bets have won 61% of the time!

Kyle Pitts (+125)
Pitts was incredible at Florida this past season, catching 43 passes for 770 yards and 12 touchdowns on one of the most potent offenses in the country. Those numbers are for seven-and-a-half games, by the way.
He followed up his fantastic season with an impressive pro day.
If Atlanta doesn't go quarterback at No. 4, Pitts makes a ton of sense, and many prevalent mock drafts have the Falcons going with the Mackey Award winner.
With Matt Ryan in place and a new, offensive minded coach in Arthur Smith, the Falcons may try and make one last go at a playoff run before moving on from the former MVP signal caller.
Pitts would join Julio Jones and Calvin Ridley to make a formidable aerial attack.
Play DFS? Be sure to get a 3-day free trial on RotoQL to check out our projections!
Ja'Marr Chase (+200)
Chase opted out of the 2020 season after being part of one of the best offenses in college football history at LSU.
The receiver caught 84 passes in the 2019 season for 1,780 yards and 20 touchdowns.
Of course, Chase was hauling in passes from current Cincinnati Bengals quarterback Joe Burrow, who are picking at five.
I don't see Chase going at four to Atlanta, but if the Falcons go QB, Chase to Cincinnati is a good possibility, according to reports.
"...word on the street is that Joe Burrow is stumping for Cincy to bring his old Tiger teammate to Ohio. And the Riley Reiff signing gives the Bengals the flexibility to add a playmaker who's an ideal stylistic fit for their quarterback," Albert Breer of Sports Illustrated wrote last week.
Again, it's smokescreen season, so be careful with every report, but Chase to Cincy could be in the works with the team moving on from A.J. Green in the offseason.
Penei Sewell (+200)
If Atlanta plans on giving it one last go with Ryan, Sewell could be a great pick to help Atlanta win in 2021 but also build towards the future.
However, the Falcons have drafted two offensive linemen with their past three picks, so they may look to build out the rest of the roster.
Cincinnati was 24th in adjusted sack rate and 31st in adjusted line yards in 2020, per Football Outsiders. The Bengals brought in offensive tackle Riley Reiff from Minnesota to provide some veteran presence on the line, but the team needs to do a better job of protecting Burrow.
Sewell is the best offensive lineman prospect in the class and is a safe pick for Cincy as they build around Burrow.
Chase or Pitts can add an explosive weapon around Burrow, but as Cincy looks to build a full roster, Sewell may be the best pick.
--------------------------------------------------------------------------------------------------------------
For now, at + money, Pitts looks to be the play for Atlanta at No. 4. He is incredibly talented and would fit the mold for what the Falcons need given their roster construction.
If Atlanta goes with a QB and this pick falls to No. 5, Chase and Sewell become more likely to be picked, but Pitts may be too talented to fall past that.
Lean: Kyle Pitts +125