NFL
New York Jets Favorites To Trade For Deshaun Watson
Breaking down three potential landing spots for the Houston Texans quarterback
By Lucy Burdge - Feb 11, 2021, 8:20pm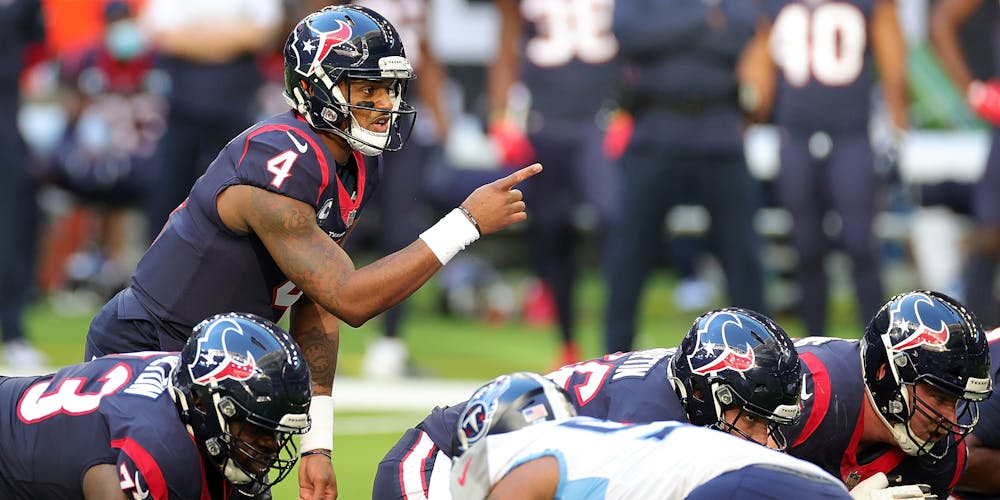 As the football world climbs out of its post-Super Bowl recovery period, it's time to start discussing the many questions facing NFL teams for next season. One of the biggest what-ifs right now is will Deshaun Watson be traded?
The 25-year-old Houston Texans quarterback is under contract with the team through 2025 but has made it clear recently he does not want to return to Houston. But, the Texans have indicated they are not planning to trade him this offseason. The situation looks to be headed toward a standoff.
Watson had reportedly been assured by Texans owner Cal McNair that he would be involved in the hiring of a new coach and general manager. However, he was not consulted about former New England Patriots director of player personnel Nick Caserio before he was chosen for the position. And this has sent Watson over the edge.
Get all of BetQL's best bets! Dating back a full calendar year, our five-star (max-value) bets have won 61% of the time!
In January, Watson tweeted this seemingly cryptic line after the Caserio hiring:
It reportedly refers to Watson's level of anger about his situation with the Texans:
So, should the Texans agree to trade Watson if these fences can't be mended? If Watson does force a trade, they're going to be asking for a lot in return. And we now have the odds on which teams are most likely to acquire the quarterback.
The New York Jets opened as the favorite landing spot for Watson at +250. A little lower on the list, the San Francisco 49ers have +800 odds, while the New England Patriots have longer odds at +1600.
Let's take a closer look at these odds and scenarios that could occur, should the Texans spice up the offseason and entertain a trade for the the quarterback.
Play DFS? Be sure to get a 3-day free trial on RotoQL to check out our projections!
New York Jets (+250)
Would the Jets get rid of quarterback Sam Darnold in favor of Watson?
Yes.
Watson has only been in the league for four years and in that time he's completed 59.8 percent of his passes for 45 touchdowns and 39 interceptions. The Jets' 2018 first-round pick has the potential but the team needs a turnaround now after going 2-14 this past season. The Jets have spoken highly of Darnold, but stopped just shy of confirming he's their starting QB next season.
When Michael Irvin was asked by ESPN right before the Super Bowl about the Jets getting Watson, Irvin said, "Oh, my God. Oh, my God. It could be crazy if you could get that kid, that talent in New York." That's two OMGs.
The Jets have a lot to offer in return for Watson. They have the No. 2 and No. 23 overall picks in the draft. If the Texans cave and agree to discuss a trade for Watson, I'd put my money on him going to the Jets. Especially because the 49ers are also reportedly interested in Darnold (though also in Watson), which transitions nicely to...
San Francisco 49ers (+800)
The 49ers still have Jimmy Garoppolo under contract but are reportedly one of the teams "very interested" in Watson.
Are the 49ers willing to give up what it takes to trade for Watson? They'd likely have to relinquish multiple young players and draft picks in putting together a package for him. And they might not want to do that or want to move on from Garoppolo.
I wouldn't bet on these +800 odds for Watson to join the 49ers. However, San Francisco is reportedly also interested in Darnold, as 49ers coach Kyle Shanahan is apparently "very high" on him.
If the 49ers indeed have interest in Watson or Darnold, that means Garoppolo could potentially be dealt back to the Patriots, which leads into...
New England Patriots (+1600)
The Patriots need serious quarterback help. Cam Newton isn't going to cut it next season unless they want it to be another rebuilding year. And another bridge year would not go over well with Patriots fans after missing out on the playoffs this season.
The Patriots need a quarterback, but would Watson have any interest at all in going to New England?
It would be a decent revenge move on Watson's part. He is angry at the Texans for hiring Caserio without consulting him. And Caserio just left the Patriots for the job in Houston. What better way for the quarterback to stick it to the Texans than to be traded to the Patriots? It's not the best revenge story ever but Watson might get some satisfaction out of it.
I highly doubt this will happen, so the long +1600 odds here make sense. There are better ways to spend your money than taking the Patriots to land Watson.
If any movement does happen that impacts the Patriots' quarterback position, I'd think it would be Watson to the Jets, Darnold to the 49ers, and Garoppolo back to the Patriots. And Newton maybe signs a deal with a fashion designer and turns to a life on the catwalk. Just my best guess on what happens to him next.