NFL
BetQL Identified The Edge In This Week 3 Matchup
The Chargers and Lions were engaged in a gritty Week 3 battle
By Brandon Barbour - Sep 15, 2019, 11:52pm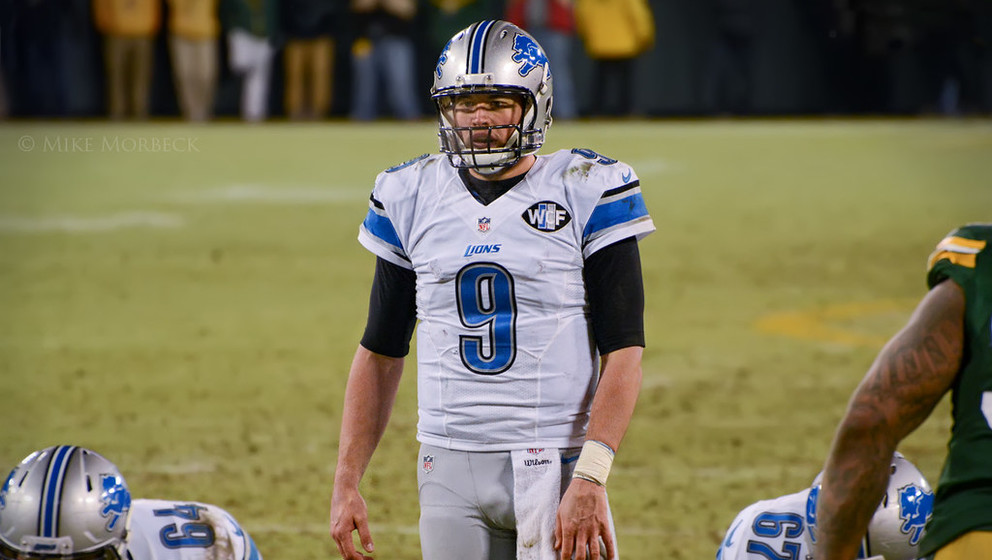 Consensus Spread: EVEN
BetQL Spread: Lions -5
Spread Bet Rating: Lions ★★★★★
Consensus Moneyline: Lions -110
BetQL Moneyline: Lions -227
Best Moneyline Bet: Lions ★★★★★
Result: Lions 13, Chargers 10
Situation Before Kickoff
The Los Angeles Chargers were hammered by the injury bug, leaving themselves shorthanded for their Week 2 battle in Detroit against the Lions. The Chargers were without starting cornerback Michael Davis, starting linebacker Jatavis Brown, tight end Hunter Henry, and kicker Michael Badgley. The team was also still operating without offensive tackle Russell Okung (blood clots) and running back Melvin Gordon (holdout). The inactivity of these quality players should have made the Chargers underdogs in this battle, not coin flips.
The Chargers were coming off an overtime victory against an Indianapolis Colts team that just lost Andrew Luck to retirement. They still managed to win the game, but it was much closer than many anticipated it being. They just squeaked by in that one, making their road matchup in Detroit a bit more shaky.
Don't miss out on ★★★★★ bets for the Week 3 slate. Find out what teams you should wager on!
Detroit tied Arizona Cardinals after a thrilling fourth quarter and overtime period in Week 1. It was a difficult battle for a defense going against a rookie quarterback with no professional game film (besides preseason), and Kyler Murray didn't disappoint down the stretch. The Lions should have taken care of business, but there was some optimism surrounding the team heading into Week 2.
How It Played Out
The Chargers looked good on their second drive when Phillip Rivers hit Austin Ekeler on a 35-yard streak up the sideline to get into Detroit's territory. After a couple short passes to Keenan Allen, Ekeler found his way into the endzone on a one-yard rush, which put the Chargers up 7-0.
The Lions answered back on their second drive when a 36-yard touchdown catch by Kerryon Johnson narrowed the score to 7-6 (Matt Prater missed the extra point). Johnson initially bobbled the pass, but maintained focus to reel it in and slither his way down the sideline for the score.
The defenses revved up and the offenses got sloppy after the two scores when Prater missed a 40-yard field goal for Detroit. The teams combined for seven punts in the first half. Rivers charged down the field as the second quarter came to a close, hitting Mike Williams for a 47-yard catch to Detroit's 31-yard line with two seconds remaining. Los Angeles ended the half with a 39-yard field goal by Ty Long, which put them up 10-6.
View the Sharp Picks for Week 3 of the NFL season!
Stafford started the second half by plowing down the field, but he threw an interception in the end zone to top corner Casey Hayward. Chargers running back Justin Jackson took a screen pass for a 60-yard touchdown afterward, but it was called back by an illegal block. A few plays later, Ekeler lost a fumble on the goal line, forced by J.R. Tavai. This was a major play in this contest as it kept the Chargers from an easy score.
Los Angeles quickly got the ball back, but their fill-in kicker (punter Ty Long) struggled by missing a 39-yard field goal attempt. Two plays later, Stafford threw his second pick of the game, this time to Rayshawn Jenkins. The Chargers' drive went into the start of the fourth quarter, but Long shanked another field goal attempt, this one from 41 yards out.
The Lions methodically went down the field afterward with a drive that ended in 31-yard touchdown pass to Kenny Golladay, putting the Lions up 13-10. Rivers took the Chargers deep into Lions' territory (23-yard line) with the two-minute warning striking. On a 3rd and 19 play from Detroit's 28-yard line, Rivers hoisted a deep pass to the end zone intended for Allen. The pass was thrown into double-coverage and Darius Slay came down with the interception to essentially end the contest.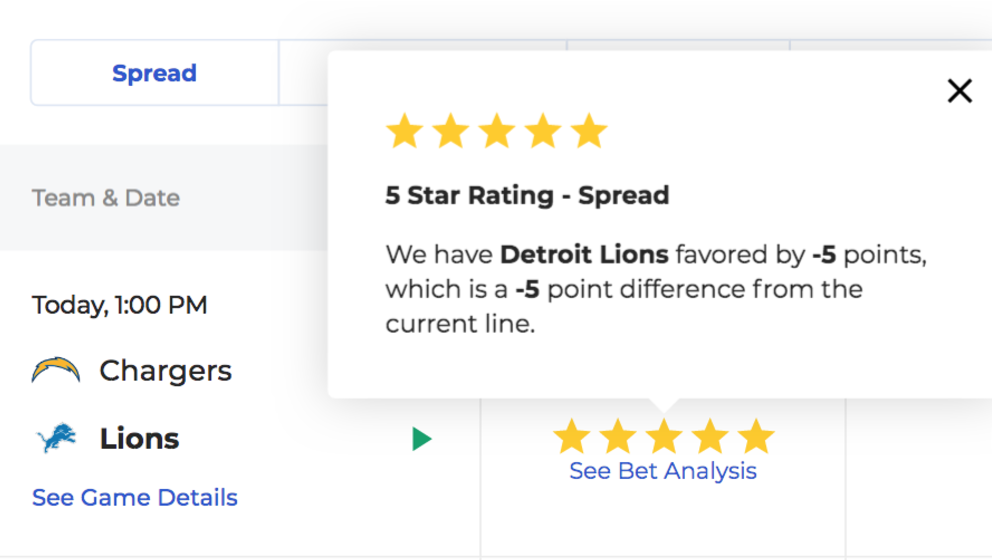 The Impact Of BetQL's NFL Model
The fact that the Chargers were so plagued with injuries should have been enough to make them underdogs in this matchup. Ekeler's 17 carries for 66 yards shows how much they miss Okung blocking for him, and Golladay's eight catches for 117 yards shows how much they missed their number-two cornerback Davis. The missed field goals obviously didn't help as Badgley was absent for the second consecutive time as he is recovering from a groin strain.
In addition to Best Bets from our proprietary NFL Model, BetQL Premium members get full access to our Odds, Public Betting, Line Movement and Sharp Picks Dashboards!
BetQL's moneyline of -227 for Detroit as opposed to the consensus -110 made this a 5-star rating and our model nailed it. BetQL identified the edge in this matchup and despite the fact that nearly all the money and 59 percent of the tickets were written on the Chargers at even odds, our premium subscribers cashed in if they trusted our model.
Subscribe to BetQL's premium model as soon as possible to get insider access on the best bets for Week 3! There's plenty more where this 5-star rating came from and you'll be glad you jumped on board.