NFL
Dynamic WR Duo Could Guide Veteran QB To MVP
Given the weapons around him, he has the opportunity to put up huge numbers in 2019
By Matt Reed - Aug 6, 2019, 2:29pm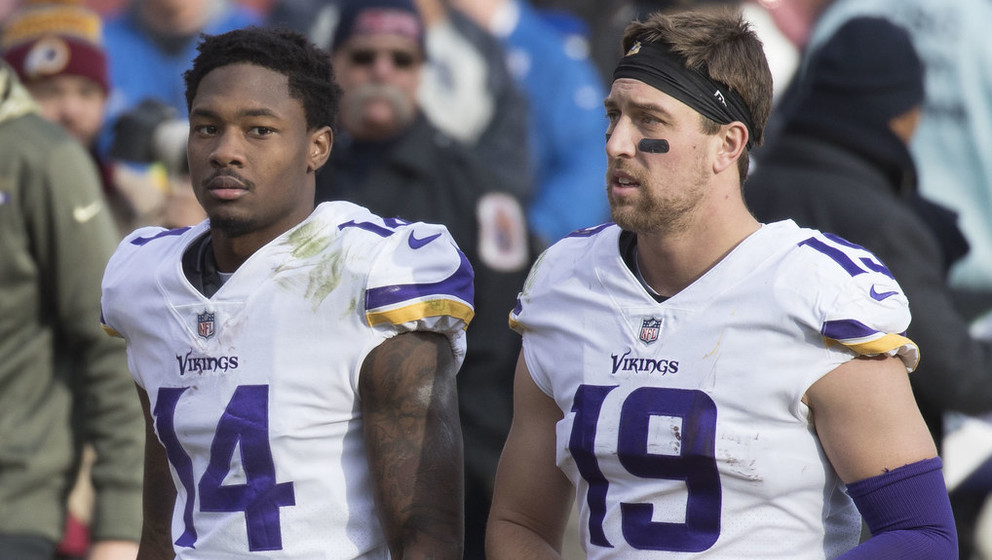 After throwing 30 touchdowns last season and with a healthy Stefon Diggs, Adam Thielen and Dalvin Cook at his disposal, Cousins (+5000) is a MVP sleeper worth betting on.
The usual suspects are among the favorites to take home this year's NFL MVP award, however, it might be worth taking a look at one of the league's sleepers considering the odds being offered.
While Patrick Mahomes, Tom Brady, Drew Brees and Andrew Luck will surely be in the mix to boast strong seasons for their respective teams, Kirk Cousins enters his second season with the Minnesota Vikings, and he could prove to have huge upside for the NFC North team.
Cousins is currently being offered at +5000 odds to win the MVP this season via DraftKings Sportsbook (18th-highest odds). The veteran quarterback has the same odds as Todd Gurley, Christian McCaffrey and Mitchell Trubisky. 
Here's a closer look at why the Vikings quarterback could be a smart sleeper MVP selection in 2019.
What They're Saying
Cousins is coming off arguably his best season as a professional, but that hasn't been good enough for him. The Vikings quarterback is ready to make amends for missing the playoffs in his first season with Minnesota, and that includes cutting out some of the mistakes he made in 2018.
Last season, the Vikings went 8-7-1, and their lone tie prevented them from qualifying for a wild card spot in the NFC.
Cousins says he needs to return to his roots with some of his fundamentals, and that could potentially take his game to the next level as he continues to gain control of the Vikings offense.
"I've kind of got to unwire my brain to stop doing some of the things I've been doing for five years and go back to what I was doing," Cousins said via the Washington Post. "And that's been a tough transition. I've instinctually gone to fundamentals I've developed over five years, and I've got to unlearn that and do things a different way. I'm still in that process."
Diving Into the Numbers
2019 will be Cousins' best chance for success as he enters his eighth NFL season. Before taking a look at what Cousins has done, let's consider what options he has at his disposal in Minnesota.
The pass-catching duo of Stefon Diggs and Adam Thielen is arguably the best receiving tandem in the NFL, which gives Cousins two quality targets downfield. Both Diggs and Thielen are coming off campaigns with nine receiving touchdowns apiece, and that number could increase in 2019 given the health of the Vikings offense.
Cousins, who posted a career-high completion percentage of 70.1 percent in 2018, enters this year needing to make an impression. Despite throwing 30 touchdowns to his 11 interceptions (2.72 touchdown to interception ratio), Minnesota still missed the postseason.
Check out BetQL's NFL dashboard for value bets, sharp bets, updated lines and totals and more!
In 2018, Cousins ranked in the top 10 in the league in passing yards (4,298), touchdowns (30) and quarterback rating (99.7). There's no question that Cousins has the weapons in the passing game to give the Vikings a chance at competing in the NFC North, but it could come down to the development of running back Dalvin Cook, who enters his third season in the league.
If Cook can last an entire season, he's proven during his brief NFL career, as well as in college, that he can be both a threat out of the backfield and in the aerial attack. His dynamic running ability should also open up play-action opportunities for Cousins in the passing game.
Conclusion
In a league that is so quarterback-driven, Cousins is in the perfect situation right now to not only excel, but potentially steal the thunder from some of the game's other great signal-callers. At this point, it's highly unlikely that any player not playing the quarterback position will earn MVP honors.
Cousins plays for a team that features two of the top 10 receivers in the NFL. Cousins is coming off his best full season as a professional. Given how talented the Vikings defense is, Cousins and the offense should be in plenty of games once again in 2019, and he has the potential to improve upon his 30 passing touchdowns from a year ago.
Although the Vikings face a challenging schedule in 2019, which includes the Atlanta Falcons, Kansas City Chiefs, Philadelphia Eagles and divisional games against the Chicago Bears and Green Bay Packers, their offense should operate dangerously if all of the key pieces are healthy.
Sometimes going against the grain can pay big dividends, and in this case, Cousins' +5000 odds could prove to pay out some serious cash if he picks up where he left off last season. 
The advice above represents the writer's personal view and does not reflect or represent BetQL's stance or interest in any way.