NFL
The Goff-Kupp Connection Is Essential To LA's Success
Through two weeks, it's clear that Cooper Kupp means a lot to Jared Goff and the Rams offense
By Brandon Barbour - Sep 18, 2019, 5:53am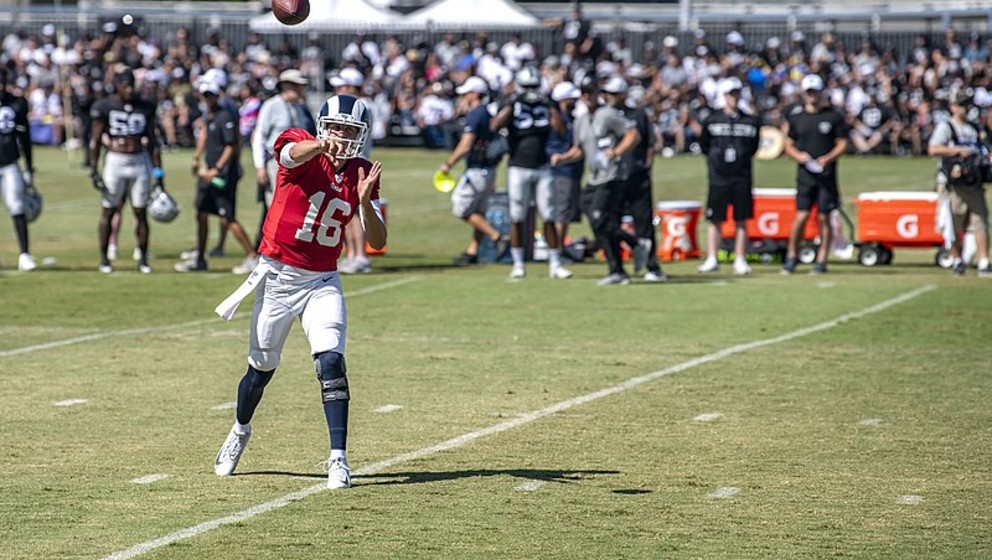 Cooper Kupp posted 566 receiving yards and six touchdowns through eight games before his injury last season. 
Kupp was Goff's favorite red zone target last season.
Goff averaged 73.3 less passing yards per game without Kupp last year. 
Last Year's Connection
After tallying 869 receiving yards as a rookie in 2017, Cooper Kupp looked to expand on his bond with Jared Goff in the Los Angeles Rams offense last season.
Last season Kupp was on a roll, logging 40 catches for 566 yards and six touchdowns over eight contests and improving on his catch rate (up from 66.0 percent in 2017 to 72.7 percent in 2018).
According to advanced stats, Kupp was a stud last season. Per Football Outsiders' DYAR (Defense-adjusted Yards Above Replacement), Kupp ranked 23rd-best amongst all wide receivers with at least 50 targets. Even better, Kupp's DVOA (Defense-adjusted Value Over Average) ranked seventh-best. His catch rate tied for eighth-best as he emerged as a star alongside Brandin Cooks and Robert Woods.
Make the most educated bets possible by accessing our NFL Sharp Bets dashboard!
Unfortunately, Kupp's season was cut short in 2018 as he suffered a torn ACL during Week 10. It was a devastating blow to a Rams squad that had gone 7-1 when he suited up last season. Goff's numbers took a hit afterward as well, proving how important his slot receiver was to him.
After Kupp's season ended, Goff's production fell off. Goff averaged a stellar 329.6 yards through the air in games played by Kupp, tallying six games with at least 300 passing yards. However, he averaged just 256.3 yards passing in games that Kupp was unable to participate in, compiling just two performances with more than 300 yards passing. Nonetheless, the Rams made it all the way to the Super Bowl, but failed to move the ball against a strout New England Patriots defense. Kupp's presence could have undoubtedly given them a better shot. 
Through Week 2
Kupp has gotten off to a solid start after returning from his ACL surgery. Surprisingly, coaches during camp acknowledged that Kupp's performance had gotten better since the surgery, timing in at better numbers off the line and making cuts in routes. This was music to Los Angeles fans' ears.
Kupp amassed 120 yards on five catches in Week 2, torching the New Orleans Saints secondary. He settled nicely in holes that the Saints defense provided in their zone schemes and he took a short slant pass in man coverage for a huge 66-yard gain, stiff-arming the corner covering him while weaving and juking his way to the goal line. He was ruled down at the Inch line, just missing his first touchdown of the season, but his ability to dodge defenders was on full display. This proved to the league that he's back and 100 percent at this point.
Kupp accounted for 120 of Goff's 283 passing yards in Week 2 and he garnered nine targets on Goff's 28 pass attempts. It's clear that Kupp is his quarterback's safety net. Whenever the defense gets pressure on Goff's pocket, he immediately starts looking for Kupp. Their connection is real and they are showing that they're a dynamic duo.
View Public Betting data for Week 3 of the NFL season! 
2019 Prediction
It's fair to assume that Kupp and Goff's relationship will continue to improve in 2019. Despite missing half the season, Kupp still logged 12 red zone targets last season, grabbing three touchdowns in the process. Robert Woods played in all 16 games and managed to tally 13 red zone targets and Brandin Cooks played in all 16 as well, logging 17 red zone targets. It's pretty clear that Goff favors Kupp in the red zone as he was on pace for 24 targets had he played all season.
This season should show a nice leap for the relationship between Goff and Kupp. No one would be surprised if Kupp compiled his first 100-catch season and racked up 1,100-1,200 receiving yards. He could reach double digit touchdowns for the first time, too. As a result, the Rams' offense should thrive.
The duo continues to impress and they are showing no signs of slowing down.
The Rams travel to Cleveland to take on the Browns on Sunday Night Football in Week 3. 
Note: The advice above is the writer's opinion only and does not represent the stance or interest of BetQL in any way.