NFL
Evaluating Julio Jones' Receiving Yards Prop
He's led the league in receiving twice before
By Brandon Barbour - Aug 18, 2019, 2:47am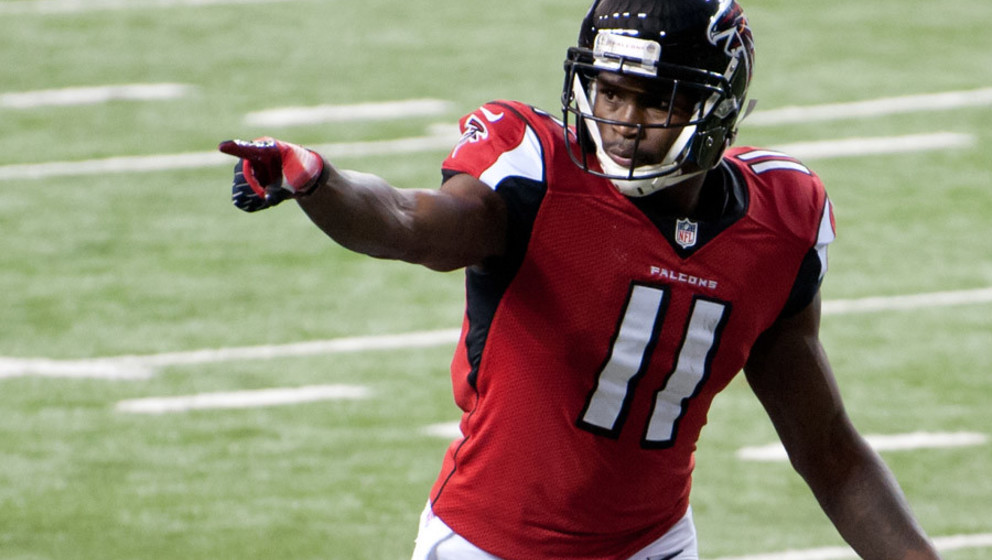 History Of Atlanta's Star
Once upon a time, the Atlanta Falcons swapped first-round draft picks with the Cleveland Browns and moved up to take Julio Jones as the sixth overall pick in the 2011 NFL draft. Along with acquiring Atlanta's 27th overall pick that season, the Browns hauled in a second and fourth round pick for 2011's draft and a first and fourth round pick in 2012's draft. The Falcons gave up a ton of assets, but they successfully landed one of the game's best playmakers.
Jones led the NFL in receiving yards in 2015 and 2018. He finished second in 2016 and 2017 to T.Y. Hilton and Antonio Brown, respectively. He's constantly in the conversation as the best in the game and he doesn't appear to be slowing down anytime soon as he enters his age 30 season.
Qualities Of An Elite Receiver
Julio Jones has been incredibly durable over his career. That's not to say that the receiver hasn't endured his fair share of nicks and bruises, but he has managed to miss just three regular-season games over his last five seasons. He hasn't missed a game since 2016. When placing a wager on a future bet like this, it's important to decide whether or not your pick will make it through a full season or not and Jones certainly meets that criteria.
Targets are very important for any receiver looking to top the yards leader board. Thankfully, Jones has an elite quarterback feeding him the ball at a high volume. Matt Ryan has pelleted the athletic receiver with 203 targets in 2015 (tied for second), 153 targets in 2016 (eighth over 14 games), 174 targets in 2017 (tied for first), and 170 targets in 2018 (tied for third). It's certainly relieving to see that the addition of Calvin Ridley to the offense hasn't taken away from Jones' stash last season.
Jones led the league with a 45.64 percent TAY (Team's Air Yards) and has a positive mark, albeit a slight 0.2 YAC (Yards After Catch) above expectation. For comparison, DeAndre Hopkins and Odell Beckham had a negative YAC above expectation last season. 
Competition At The Position
DeAndre Hopkins of the Houston Texans has to be at the top of the chain of competition for Jones in 2019. Hopkins has the pure ability and athleticism to be considered the best at his position, but his quarterback is a bit of an unknown in Deshaun Watson. There's no doubt that Watson looks promising, but he threw for 859 less yards than Matt Ryan did last season, including 103 less pass attempts.
Michael Thomas of the New Orleans Saints has to be considered as well. Thomas ended 2018 with as many targets as Jones, but finished with a considerable 272 less yards. Drew Brees loves peppering his top wide-out with targets and is still performing at an incredibly high level. The rest of the receiving options in New Orleans are mediocre at best, but they upgraded and added Jared Cook to their passing game in the offseason and he could steal some targets from Thomas.
Antonio Brown has been a monster over his career and is considered a top-notch route runner in this league with a general nose for the ball and open space. However, he is joining his second professional team ever and has a far less capable quarterback. Jon Gruden should have some tricks up his sleeve to give Derek Carr some opportunities for big plays with Brown, but there's no way anyone should expect similar outputs from the new Oakland Raider. Brown had a weak 191 DYAR (Defense-adjusted Yards Above Replacement) last season, ranking him 19th amongst receivers. Derek Carr just isn't Ben Roethlisberger.
JuJu Smith-Schuster finished seventh in targets and fifth in yards alongside Antonio Brown in the Pittsburgh Steelers offense last season. It's easy to imagine even more targets coming Smith-Schuster's way with him stepping in to the lead role at receiver with a still powerful offense. Roethlisberger showed tremendous faith and confidence in the young USC product. However, Smith-Schuster will play his first season with number-one cornerbacks covering him. His 4.4 percent DVOA (Defense-adjusted Value Over Average) was nothing special and ranked 34th. There will no longer be a better receiver taking attention away from him, so it's not a sure bet that he replicates his 2018 season.
The competition is obviously stiff for Jones, but that could be said any season. There are more question marks than usual with the top receivers that pose a threat to his top-receiving yard throne. Davante Adams, Tyreek Hill, and Mike Evans received consideration for the list, but Aaron Rodgers and Patrick Mahomes spread the ball around the field so well and Jameis Winston is on the verge of losing his job as a starter. Also, A.J. Green will miss the start of the season after suffering an ankle injury in camp. It's hard to not view Jones as a favorite over his peers.
Conclusion
DraftKings has Jones as the favorite to lead the league in receiving yards this season and has his line set at +650. This seems completely reasonable given the history of Atlanta's stud wideout. The role he has on his team, durability, playmaking ability, and his competent quarterback grants him an edge in the category. On top of that, the Falcons should rely even more on their passing game this season after losing one part of their running back tandem (Tevin Coleman).    
Jones has yet to disappoint and that shouldn't change anytime soon. Feel confident in betting on the hard-nosed star of Atlanta's potent offense. There's no reason to think he can't replicate his stacked 2018 season and lead the league in receiving yards for the third time.
Note: Air yards stats were found on NFL's Next Gen Stats platform, DVOA stats were found on Football Outsiders and all other stats were found on Pro-Football-Reference.com. The advice above represents the writer's personal view and does not reflect or represent BetQL's stance or interest in any way.