NFL
Bills Defeat Giants, Eli Manning Era Ends
The Daniel Jones era begins in New York
By Travis Pulver - Sep 16, 2019, 12:36am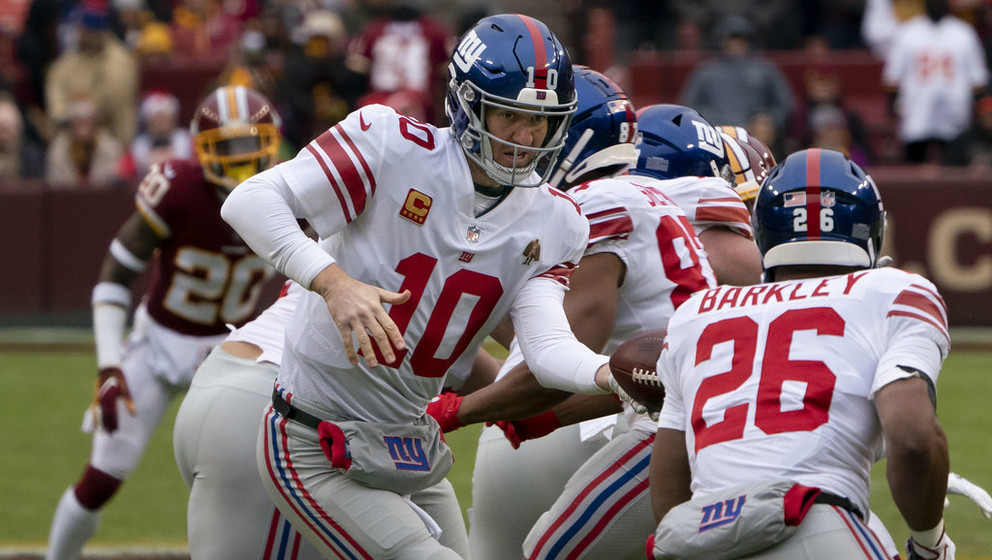 Consensus Spread: Bills -1
BetQL Spread: Bills -5.5
Best Spread Bet: ★★★★★ Bills
Consensus Moneyline: Bills -120
BetQL Moneyline: Bills -251
Best Moneyline Bet: ★★★★★ Bills
Final Score: 28-14, Bills
Situation Before Kickoff
After squeaking out a one-point win over the New York Jets in Week 1, the Buffalo Bills hoped to take advantage of the New York Giants in Week 2 and get off to a 2-0 start for the first time since 2014. But they would need Josh Allen to do a better job of protecting the ball and the offense to be more productive as a whole.
As the one-point favorite, the Bills were expected to win. However, Eli Manning failed to get the Giants offense moving at times in a Week 1 loss to the Dallas Cowboys. With Golden Tate (suspension) and Sterling Shepard (concussion) out, doing so would be easier said than done against the Bills in Week 2.
How it Played Out
The Giants got off to a good start with a touchdown on the opening drive of the game. Manning had nothing to do with it, though, as Saquon Barkley did most of the work in the run game. The offense did little after that until late in the third as Manning struggled to get the passing game on track, likely due to the general lack of receiving talent he had to work with. Manning ended up going 26-of-45 for 250 yards and a touchdown with two interceptions.
In addition to Best Bets from our proprietary NFL Model, BetQL Premium members get full access to our Odds, Public Betting, Line Movement and Sharp Picks Dashboards!
As for Josh Allen and the Bills, after going three and out on their first drive, the Buffalo offense took over the game with three-consecutive touchdown drives and took a 21-7 lead into halftime. The Giants threatened to make a game of it with a touchdown early in the fourth quarter. But Allen and the Bills answered with a touchdown drive of their own to stretch the lead back out to 14 points, 28-14.  
That's exactly what score remained as the clock hit zero. It was a very messy game from New York's perspective and a quality showing by the Bills, who are off to a hot start.
UPDATE: Eli Manning has been demoted in favor of Daniel Jones, who will start in Week 3 against the Tampa Bay Buccaneers.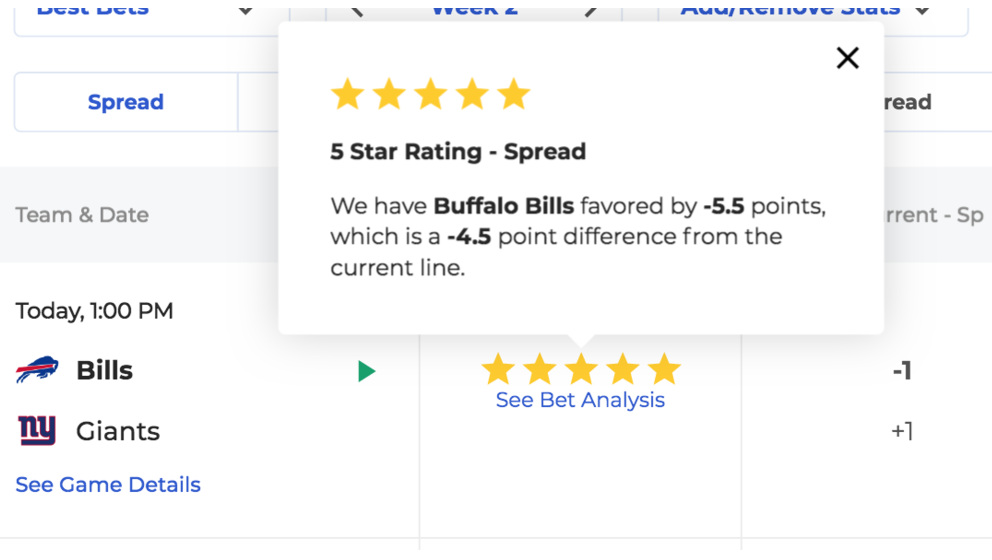 The Impact Of BetQL's NFL Model
Despite the Bills only being a small favorite to win the game, BetQL's NFL model labeled the Bills as a five-star bet (moneyline and spread), something our premium users were well aware of. Since our proprietary model takes into account dozens of different data points, each week, our premium members receive the highest-quality projections possible.
Don't wait a second longer! Get in on the action before Week 3!