NFL
Derek Carr's Glaring Issue Under Center Is Limiting Oakland's Potential
His completion percentage isn't the problem, but something else is
By Roberto Arguello - Sep 26, 2019, 7:49am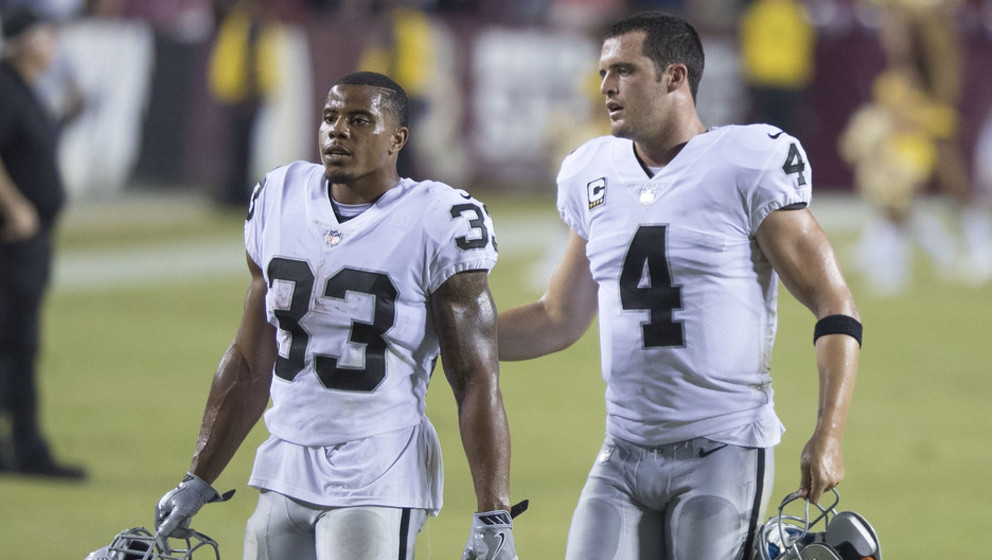 Derek Carr has been one of the most accurate quarterbacks in the NFL, but he has also been one of the least aggressive quarterbacks thus far. 
Carr's average Intended Air Yards and Completed Air Yards metrics rank near the bottom of all starting QBs.
Since he became the starter, the Oakland Raiders are 25-24 when Carr's average throw is seven or more yards downfield while the Raiders are just 8-24 when his average pass is fewer than seven yards downfield. 
BetQL's NFL Model likes the Indianapolis Colts as a heavy home favorite to cover against the Raiders.
Short Passes For Days
Since the Oakland Raiders' Week 1 victory on Monday Night Football where they scored 24 points against the Denver Broncos, they have combined to score 24 points in consecutive losses against the Kansas City Chiefs and Minnesota Vikings. 
To understand why the Oakland offense has not been nearly as effective, we will look into the offense's average Intended Air Yards (IAY) and average Completed Air Yards (CAY). CAY shows the average Air Yards a passer throws on completions, and IAY shows the average Air Yards a passer throws on all attempts. This metric shows how far the ball is being thrown 'downfield'.
Overall, Carr ranks tied for 31st with 6.3 average IAY and 29th with 4.9 average CAY, per the NFL's Next Gen Stats platform. In Oakland's Week 1 over Denver, Carr had an average of 6.2 CAY and 7.7 IAY. However, in consecutive losses against Kansas City and Minnesota, he had an average CAY of 3.4 and 5.0 and average IAY of 6.1 and 5.5 respectively. As Carr's air yardage has decreased, so has the effectiveness of the Raiders offense. Since he became the starter, the Raiders are 25-24 when Carr's average throw is seven or more yards downfield while the Raiders are just 8-24 when his average pass is fewer than seven yards downfield. 
Track all Week 5 line movement on BetQL!
Diagnosing The Problem
Is the Raiders personnel or scheme to blame for Carr's minimal air yardage? It's quite a bit of both. In case you were living under a rock for the last month, Oakland's prized acquisition from this offseason, receiver Antonio Brown, was released before ever playing in a regular season game. Obviously, releasing your primary receiver days before the season starts and after final roster cuts was devastating and left the Raiders without the flexibility to find a true replacement. Tight end Darren Waller has been a pleasant surprise as he leads the team with 267 receiving yards through three games. However, the Raiders have just two wide receivers with more than 50 yards receiving: Tyrell Williams has 180 receiving yards and Hunter Renfrow has 71. 
In addition to air yardage decreasing in the last two games, Carr has also been getting the ball out slower than he did in week one against Denver when his average time to throw (TT) was 2.33 seconds. In Weeks 2 and 3, his average TT increased to 2.47 and 2.69 seconds. Carr was not sacked against the Broncos, but he was sacked a combined seven times in the last two games. 
Love DFS and want to give betting a try? Get a 50% deposit bonus up to $500 with your next deposit on DraftKings Sportsbook. Learn more!
Perhaps Carr got rid of the ball faster in Week 1 because his receivers were wide open or he was just more aggressive with throwing the ball into tight windows. On the season, Carr has the 4th lowest percentage (11.2%) of pass attempts into tight coverage. However, this number was above his average during Week 1 when he threw 15.4 percent of passes into tight coverage. His expected completion percentage on passes in Week 1 was 70.2 percent, but Carr actually completed 84.6 percent of his passes, meaning he was great at throwing the ball into tight windows. 
In Weeks 2 and 3, Carr's percentage of passes into tight windows decreased to 10.5 percent and 8.8 percent as his average depth of target also decreased. After his completion percentage above expectation was a whopping 14.4 percent in Week 1, this number fluctuated in the last two weeks from -9.5 percent to 8 percent. 
The numbers show that when Carr was most aggressive, he got rid of the ball faster than he did over the last two weeks and his completion percentage and completion percentage above expectation were the best they have been all season. Was this because the Raiders played a winless Broncos team that has not recorded a sack yet? 
Yes, but Carr's high completion percentage of 73.5 percent ranks third among quarterbacks this season and his completion percentage above expectation ranks fifth among quarterbacks to start all three games. This indicates that Carr has been effective when throwing the ball, and the Raiders should allow him to throw down the field more often to capitalize on Carr's efficiency.
The Matchup Against Indy
After losing Andrew Luck, the Colts have become a run-first team behind their powerful offensive line led by Quenton Nelson. The Colts are averaging the sixth most rushing yards per game (149.3) as running back Marlon Mack has averaged 4.9 yards per carry. Jacoby Brissett has utilized play action efficiently as he has the lowest IAY (5.6) and CAY (4.1) among quarterbacks to start all three games this season. Colts head coach Frank Reich was the offensive coordinator for the Eagles two years ago when Nick Foles stepped in for the injured Carson Wentz and led the team to a Super Bowl victory. Just as Reich didn't try and make Foles play like Wentz, the Colts haven't tried to turn Brissett into Andrew Luck. Brissett has a great touchdown to interception ratio of seven to one and a completion percentage of 71.7 percent. Brissett has been rock solid this season as the offensive line and defense have performed extremely well for the Colts. 
Start optimizing NFL lineups, finding value players and keeping up with injuries in seconds on RotoQL! 
In Weeks 2 and 3, the Raiders showed some glaring weaknesses on defense. The speedy Demarcus Robinson torched Oakland for 172 yards on six receptions for two touchdowns in week two. The following week, the Raiders allowed Dalvin Cook to run for 6.9 yards per carry. Like the Chiefs with Tyreke Hill, the Colts also have one of the most dangerous deep threats in the league in T.Y. Hilton. Look for the Colts to go to Hilton this week if he gets single coverage in the red zone as he already has four touchdowns.
The Raiders will probably give him the Tyreke Hill treatment and make someone else like Deon Cain beat them over the top (as Demarcus Robinson did two weeks ago). The Colts also have the steady Marlon Mack behind the dominant Colts offensive line to keep the secondary honest. Oakland has only been able to stop either the run or the pass in the last two weeks, and they will have their hands full against a talented Indianapolis team that is clicking in both areas. 
The struggling Raiders offensive line will also have its hands full with a Colts defense that has had seven different players record at least half a sack and ranks 13th with 8 sacks through three games. The weakness on this Colts defense has been stopping the run as they have allowed the fourth most yards per carry in the NFL, 5.3 yards. If the Raiders are to win in Indianapolis, rookie running back Josh Jacobs needs to have a huge day and Gruden should let Carr sling it like he's playing the Broncos again. 
But, that probably won't happen.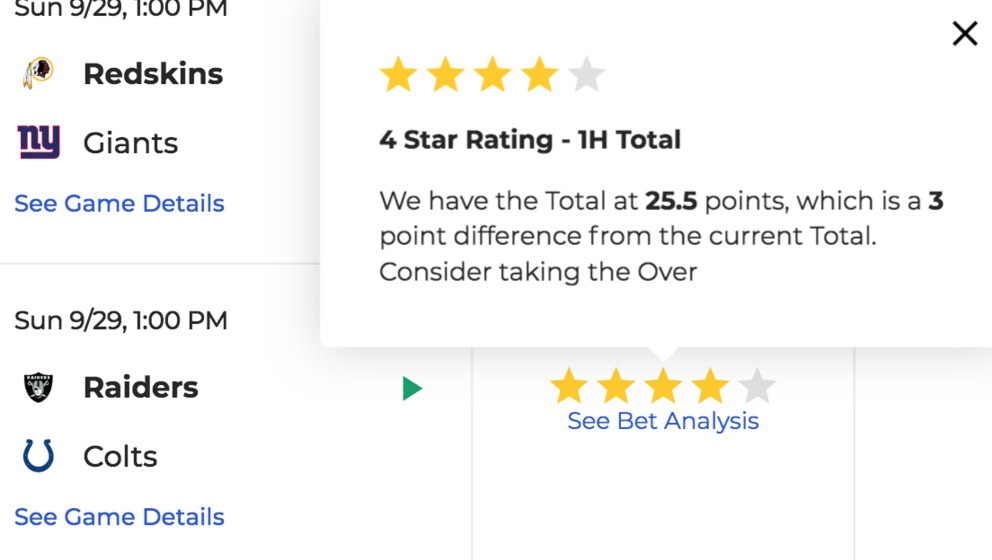 What BetQL's Model Is Saying
BetQL's NFL model projects the Colts to win by 9.5 points (-473 moneyline) and projects 48 total points (and a healthy first half total, as seen above). Despite the loss of Andrew Luck, this Colts team is still stacked, and they should be able to dominate the struggling Raiders. Perhaps Jon Gruden opening up the playbook to throw the ball more downfield will help, but our model has the Colts as clearly the better team at home. Unfortunately for the Raiders, there will be no Autumn Wind in the indoor Lucas Oil Stadium on the first Sunday of fall.