NFL
Bet Under This Recent Super Bowl Winner's Win Total
The Denver Broncos should be in for a very tough time in 2019
By Dave Vest - Aug 12, 2019, 4:23pm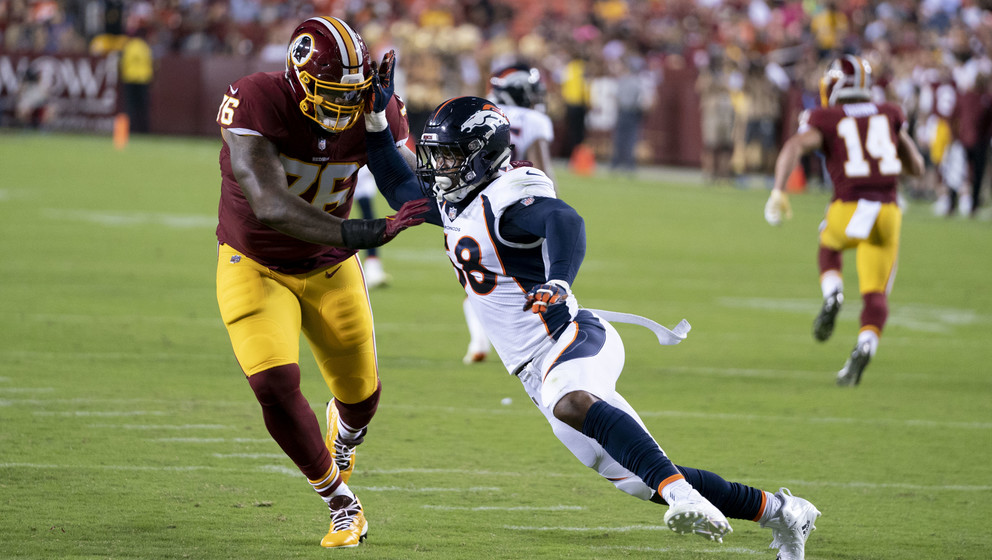 DraftKings gave the Denver Broncos a 6.5 win total heading into the 2019 season. While that number seems very low at first glance, the under is the more logical bet based on Denver's quarterback situation, overall roster and tough schedule.
The Denver Broncos have posted two losing seasons since winning Super Bowl 50 in 2016, and they most likely will notch another one in 2019. In fact, looking at their schedule, it's hard to find six wins for the Broncos, let alone nine. But more on that later.
DraftKings has set Denver's win total for 2019 at 6.5. 
Bet the under.
Expectations are low in the Mile High City because the Broncos are looking to 34-year-old Ravens reject Joe Flacco to be their starting quarterback/savior after back-to-back losing seasons. This would be fine if the calendar read 2009, not 2019. Denver acquired Flacco, who missed half of last season and lost his job to Lamar Jackson because of a hip injury, via a trade with Baltimore for a fourth-round draft pick.
Broncos President of Football Operations John Elway, who orchestrated the swap, awkwardly sounded anything but confident as the team introduced Flacco to the media after the deal.
"We just felt that with Joe coming in, getting him in a trade, and where he is in his career, we feel like he's in his prime," Elway told reporters. "At least we hope he is."
Note that Elway, who has famously failed to replace Peyton Manning at quarterback since he retired in 2016, referenced the idea of hope. Will Flacco be another Trevor Siemian? Brock Osweiler? Case Keenum?
Flacco has shown signs of decline. Since winning Super Bowl XLVII, he has thrown 80 interceptions and tossed more than 20 touchdowns in a season just once in the last six seasons. 
Flacco isn't the only question mark for the Broncos heading into 2019. Sure, they have defensive stars Von Miller and Bradley Chubb back in the mix, but the offensive line, the receiving corps and the defensive secondary (especially the safety position) are concerns.
So is veteran receiver Emmanuel Sanders, who is attempting to make a comeback after suffering an Achilles injury near the end of last season.
Check out this week's NFL Value Bets HERE!  
And then there's Vic Fangio, a respected and accomplished defensive coordinator, who will be a 60-year-old rookie as an NFL head coach. Fangio raised eyebrows earlier this summer when he discounted the role of analytics in coaching pro football.
Fangio wowed Elway when he interviewed for the job. So much so, that the Broncos went against the NFL trend of hiring young, offensive-minded head coaches. 
Denver's 2019 schedule is troubling and considered the second toughest in the league behind only Oakland's. The Broncos' opponents posted a .537 winning percentage a year ago. Plus, Denver has to play five preseason games instead of four, like most every other NFL team.
Once nearly unbeatable at home, the Broncos are just 12-12 in Denver over the past three seasons. In 2019, they'll host playoff contenders Chicago, Kansas City, the LA Chargers and Cleveland. Their other four home games are vs. Oakland, Jacksonville, Tennessee and Detroit.
After its bye week in Week 10, Denver will play four of its next five games on the road, including trips to Minnesota and Buffalo in back-to-back weeks in mid-November, plus at Kansas City on Dec. 15.  
The Broncos probably know so-called experts and gurus are not expecting them to accomplish much in 2019. But, based on their quarterback situation, overall roster and tough schedule, they should have a lot of trouble coming out on top. 
Note: The advice above conveys the writer's view and does not represent the stance or interest of BetQL.