NFL
Evaluating Davante Adams' Receiving TD Prop
Aaron Rodgers' favorite target should capitalize in a big way this season
By Brandon Barbour - Sep 2, 2019, 3:56am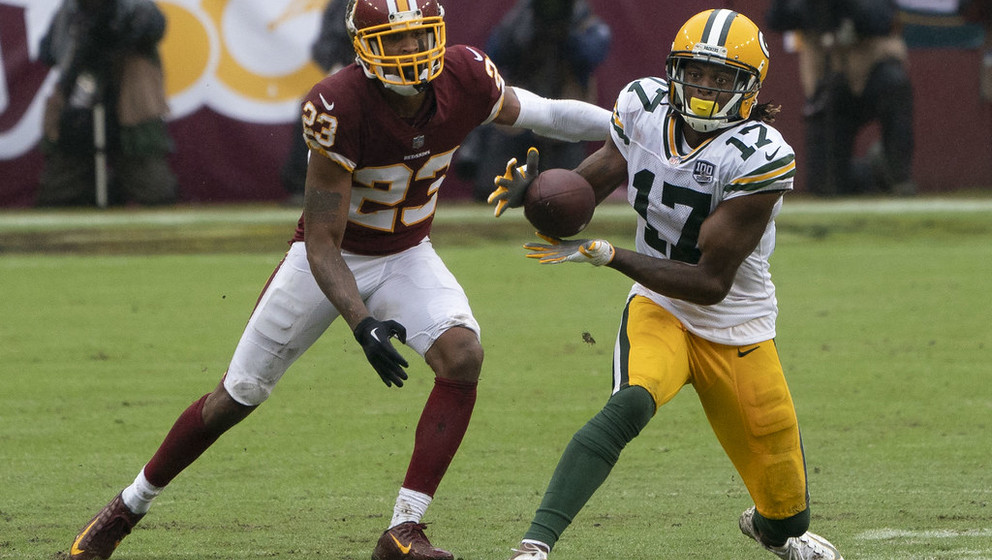 Davante Adams finished his fifth season alongside quarterback Aaron Rodgers in 2018, totaling a career high 13 touchdowns over 15 games. 
He set a career high in receiving yards (1,386), targets (169), and catch percentage (65.7). 
Adams tied Eric Ebron for second on the receiving TD list last season, trailing just Antonio Brown. 
Adams/Rodgers Connection
Aaron Rodgers will be depending on Adams immensely in 2019. The club has slowly lost their primary targets over the years, including Jordy Nelson and Randall Cobb. They're now rolling with Geronimo Allison, Marquez Valdes-Scantling, Equanimeous St. Brown, and some young unknowns. Tight end Jimmy Graham should get a boost in targets, but that leaves Adams with the lion's share of the passes with consistency.
Adams led the NFL in red zone targets last season, totaling 31 targets inside the 20 yard line. He racked up 12 of his 13 touchdowns inside the red zone last season with a massive 41.9 percent target rate. JuJu Smith-Schuster and Michael Thomas managed to get 29 red zone targets last season, but they managed to tie Adams' 12 touchdowns collectively with almost double the targets.
Get a 50% deposit bonus up to $500 with your next deposit on DraftKings!
The Packers like to stay unpredictable near the goal line and Adams caught six of his touchdowns inside the 10 yard line last season. He tallied eight targets and came down with six of them, all for scores. Rodgers shows a willingness to take some chances with Adams. There's a trust and chemistry between the two that's undeniable. Rodgers only mustered 25 touchdown passes last season, but Adams stole the lot and accounted for 52 percent of them. Heck, Rodgers makes just about anyone look decent.
Stiff Competition
DraftKings lists DeAndre Hopkins (+1100), Travis Kelce (+1300), and JuJu Smith-Schuster (+1500) with the next best odds to lead the league in touchdown receptions in 2019. There's plenty of reason to be excited about all three of these stars, but here are reasons to pass up on them in favor of Adams.
Hopkins is easily one of the most freakishly athletic receivers in the league. He ended 2019 with 11 touchdowns and the second-most receiving yards. However, Deshaun Watson posted a pathetic 54.4 percent completion percentage inside the red zone last season. Hopkins saw just 31.6 percent of targets come his way in the red zone. The Houston Texans elected to give Lamar Miller and Alfred Blue a combined 45 rushing attempts inside the red zone, and with the acquisition of Duke Johnson, you can expect Watson to use him as a safety net from time to time like he does with his tight ends.
Kelce contributed 10 touchdowns under Andy Reid's scheme with the Kansas City Chiefs. Quarterback Patrick Mahomes led the league with 35 passing touchdowns inside the red zone this season, but he has an awful lot of mouths to feed. Kelce received just 25.2 percent of targets inside the red zone last season. In regards to his touchdown end zone prowess, the bad news for Kelce is that Tyreek Hill isn't serving a suspension for any off-field misconduct. In fact, Hill caught more touchdowns than Kelce did last season (12). We'll see if the Kansas City offense can thrive with Damien Williams leading their running game instead of Kareem Hunt. It shouldn't be an issue, but if it cuts into their red zone attempts at all, then it's game over for Kelce.
Access NFL Sharp Picks for this week's games!  
With Antonio Brown skipping town, Smith-Schuster is ready to go against number one corners. Little have doubts that he can thrive against the best, but we haven't exactly seen it yet. Brown was busy keeping the top defenders busy and creating openings for Smith-Schuster. However, it's reasonable to think that he could gobble up all of Brown's red zone targets. Ben Roethlisberger tossed 21 red zone touchdowns last season. When being compared to Adams and Rodgers, Roethlisberger and Smith-Schuster don't quite have the history and consistency together. The quarterback play is excellent both ways, but the connection between the Green Bay Packers duo is uncanny.
A Major Opportunity
As the leader of a young wide receiver corps and only route runner that Rodgers trusts, Adams should set another career high and top his targets total from last season. They have a solid run game behind Aaron Jones and should have a well-balanced attack. Rodgers' connection and trust with Adams near the end zone should continue to grow. Adams came down with 75 percent of his passes inside the 10 yard line. His drop rate of 2.9 percent is entering some elite company. Adams' 41.9 percent rate inside the red zone could climb, too, especially if Rodgers is forcing some passes into poor situations.
There aren't any options better than Adams for leading the league in receiving touchdowns. Hopkins doesn't quite have the quarterback that Adams has, Kelce is on a loaded offense with many playmakers, Smith-Schuster has had three less seasons with Roethlisberger than Adams has had with Rodgers, and Rob Gronkowski retired. 
At +900, Adams is a solid bet as one of the top red zone targets in all of football.
Note: Advanced statistics were found on publicly-accessible Football Outsiders and NFL Next Gen Stats platforms. The advice above represents the writer's personal view and does not reflect or represent BetQL's stance or interest in any way.