NFL
BetQL Community Insights: NFL Week 16
A look at how public betting data intertwines with BetQL Community likes in Week 16
By Dan Karpuc - Dec 22, 2019, 4:20am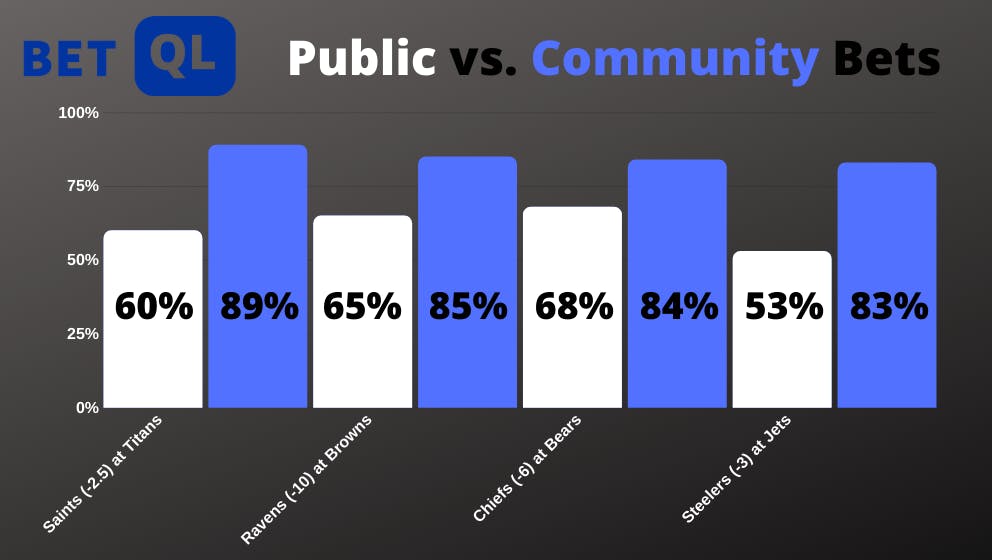 In addition to our NFL Model's best bets, public betting data, sharp picks, line movement, live odds and stacked individual game pages, the BetQL App recently rolled out a new feature called Community Likes. Your toolbox just got even more valuable. Use the simple step-by-step video at the bottom of this article to find out how to gain even more insight using our product!
The second-to-last week of the NFL's regular season is upon us. Let's take a look at what bets our users are hammering and compare them to updated public betting odds. Then, we will take a peek at how two trends, community likes and public bets intertwine. Let's get into it!
Get one free week of BetQL VIP access when you claim this MGM offer!
As you can see above, our users have been very decisive about these four games. While the New Orleans Saints (-2.5) are already a strong public bet, backed by 60% of total tickets, a whopping 89% of BetQL users have showed their willingness to bet on Drew Brees and company on the road against the Tennessee Titans. Despite losing to the Cleveland Browns at home earlier in the season, the Baltimore Ravens (-10) are receiving strong public support, even with a double-digit spread. The BetQL Community also believes in Lamar Jackson and Baltimore's historically-great offense to get the job done against Cleveland, as indicated by their 85% mark. Patrick Mahomes and the Kansas City Chiefs (-6) are getting hot at the right time and have garnered 68% of public bets, even against a stout Chicago Bears defense on the road. Our community is in love with the former MVP and the Chiefs have attracted 84% of our users' likes. Finally, while the Pittsburgh Steelers (-3) are surprisingly only a 53% public bet on the road against the New York Jets, the BetQL Community is hammering Pittsburgh, as indicated by their 83% designation. That's a 30% margin, and if you believe in the wisdom of our subscribers, that's valuable info to know!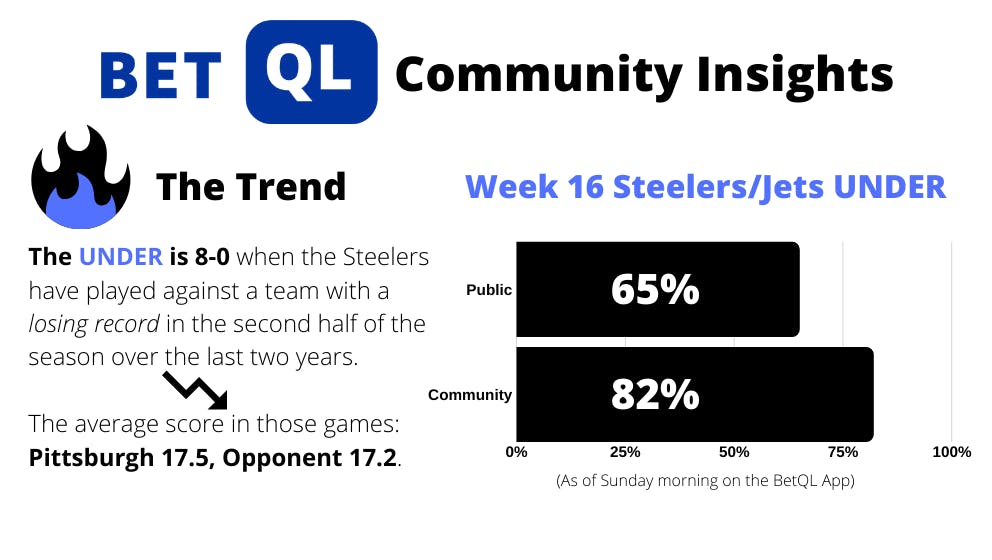 Over the past two seasons, this trend has never lost. However, with a total of just 37 points, could betting the under really make sense in today's NFL? According to 65% of public bets and 82% of our users' likes, the answer is a resounding "yes!".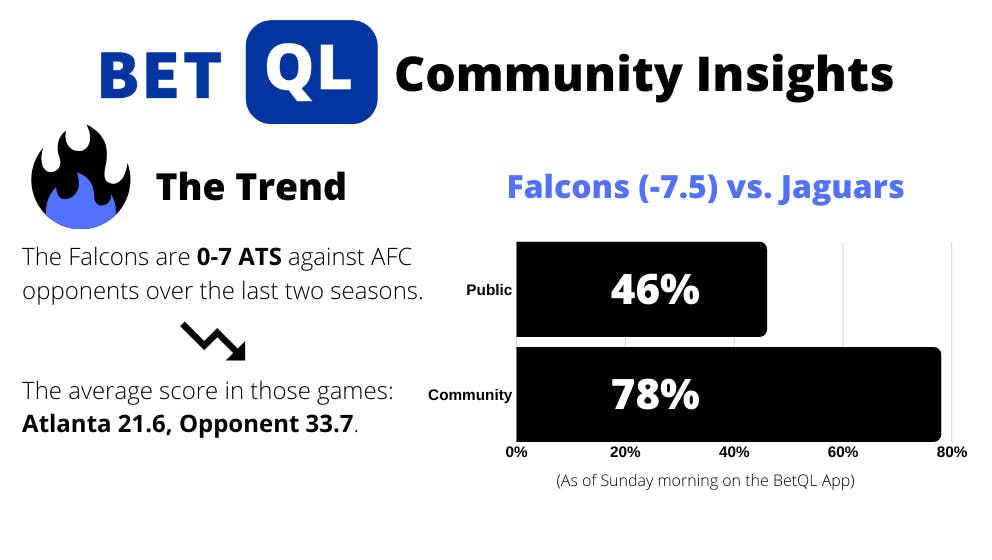 The Atlanta Falcons have literally not beaten an AFC opponent against the spread over the last two seasons. Taking on the Jacksonville Jaguars this week, could they reverse that trend? Apparently the majority of public bets indicate that the Jags are the best bet, but our users are all over the Falcons in this matchup!
Check Out This Week's NFL Content
A detailed, in-depth breakdown of the week's most notable injuries by renowned NFL injury expert Will Carroll.
The bet of the week made by former NFL OL and current broadcaster/podcast host Ross Tucker.
These trends have gone a combined 24-0.
This trend is bad news for Eagles bettors and excellent news for Cowboys bettors.
In conjunction with our sister product RotoQL, these are some of the top DFS values of the week!