NFL
The BetQL Community Is Hammering One Seahawks-Packers Bet!
Our users are clearly favoring one team against the spread
By Dan Karpuc - Jan 9, 2020, 8:51pm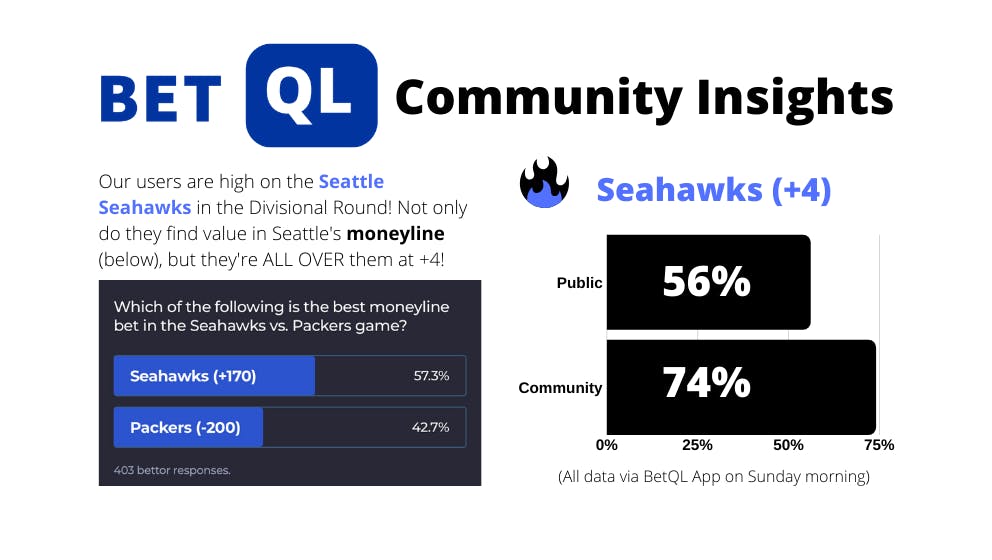 Seahawks at Packers 
Sunday 1/12, 6:40pm EST
VIEW LIVE ODDS, TRENDS, INJURIES & MORE!
Aaron Rodgers is arguably the most talented quarterback in NFL history. The Green Bay Packers went 13-3 overall and 7-1 at home during the regular season. This Sunday's game will take place at Lambeau Field. What's not to like with the Packers as 4.5-point favorites?
Apparently, our users don't trust Rodgers (or the Packers). The data above paints the picture. Not only do over 600 of our poll responses list the Seahawks as the best moneyline bet (to win the game outright), but a whopping 74% of our community believes that Seattle (+4) is the best bet against the spread. For comparison, 56% of public bets have been wagered on the Seahawks so far. So, while the public agrees that Seattle certainly has value against the spread, our users are much higher on them as a whole.
Here are a few reasons why that might be the case:
The Seahawks are 8-1 overall (6-2-1 ATS) on the road. That's elite. Simple as that. Two more road wins are what's separating them from a Super Bowl appearance.
Five of Green Bay's seven home victories were decided by one possession and they won both of their games against the Detroit Lions without leading for a second in regulation (walk-off field goals). Therefore, it's easy to question whether or not their 13-3 record is as scary as it looks on paper.
Oddly enough, Aaron Rodgers has been inconsistent on a game-by-game basis this year, despite the fact that he threw for a cumulative 4,002 yards, 26 touchdowns and four interceptions. In 16 starts, he surpassed the 300-yard threshold just four times (and he had 422 and 429 yards in two of those four contests). His individual production has simply been inconsistent within first-year head coach Matt LaFleur's offense and there's no way to predict how effective he'll be (or how much he'll be asked to do) on a week-to-week basis.
Russell Wilson is 9-5 all-time in the playoffs (Rodgers is 9-7) and has a 96.0 quarterback rating in those games (236.0 yards per game, 22 touchdowns, 11 interceptions). Although Rodgers has had the more prolific career so far, Wilson has a better playoff winning percentage and is also a Super Bowl champion who's in much better form than his opponent.
The outcome of this game is expected to be the Divisional Round's closest score. The other three spreads are closer to double-digits than even and it's clear that oddsmakers accounted for the fact that both the Seahawks and Packers are evenly-matched on both sides of the ball. Our users know that taking Seattle and the points isn't necessarily a bet on the Seahawks to win the game; remember, you can still win the bet if they lose by four or fewer points!

About Community Likes
To view updated Community Likes data (and make your own picks), follow these steps ⬇️
Open the BetQL app. Head over to our NFL "Games" tab. Click the corresponding 👍 next to the team/total you think is the best bet. Click the "My Picks" tab, select "Community" and there it is! You'll get a look at how your pick compares to the rest of our users (% and like total). Open up the app and take a look!