ATL
Falcons
Fri 10/30, 12:20 AM
CAR
Panthers
CAR -3 O/U 49
IND
Colts
Sun 11/1, 6:00 PM
DET
Lions
IND -2.5 O/U 50
TEN
Titans
Sun 11/1, 6:00 PM
CIN
Bengals
TEN -5.5 O/U 54.5
PIT
Steelers
Sun 11/1, 6:00 PM
BAL
Ravens
BAL -3.5 O/U 46.5
NYJ
Jets
Sun 11/1, 6:00 PM
KC
Chiefs
KC -19.5 O/U 48.5
NE
Patriots
Sun 11/1, 6:00 PM
BUF
Bills
BUF -3.5 O/U 43.5
LAR
Rams
Sun 11/1, 6:00 PM
MIA
Dolphins
LAR -4 O/U 46.5
MIN
Vikings
Sun 11/1, 6:00 PM
GB
Packers
GB -6.5 O/U 54.5
OAK
Raiders
Sun 11/1, 6:00 PM
CLE
Browns
CLE -2.5 O/U 53.5
LAC
Chargers
Sun 11/1, 9:05 PM
DEN
Broncos
LAC -3 O/U 44
SF
49ers
Sun 11/1, 9:25 PM
SEA
Seahawks
SEA -3 O/U 54
NO
Saints
Sun 11/1, 9:25 PM
CHI
Bears
NO -4 O/U 45
DAL
Cowboys
Mon 11/2, 1:20 AM
PHI
Eagles
PHI -7.5 O/U 43.5
TB
Buccaneers
Tue 11/3, 1:15 AM
NYG
Giants
TB -10.5 O/U 46.5
NFL
Chiefs vs. Bills Monday Night Football Week 6 Preview
Kansas City (-200) is favored by 3.5 points over Buffalo (+170) with the over/under set at 57.5 total points
By Bryan Zarpentine - Oct 15, 2020, 1:06pm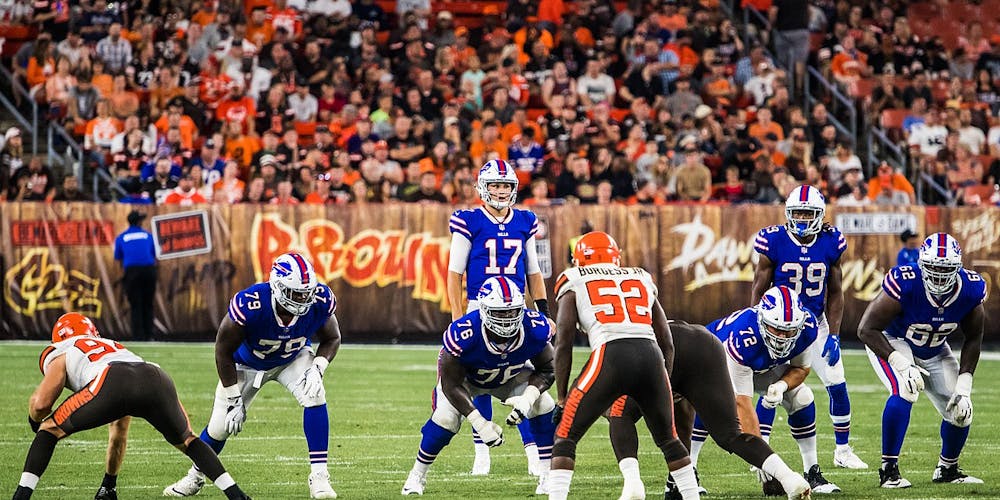 Quick-Hitters
With both teams coming off a loss in Week 5, Monday's game between the Buffalo Bills and Kansas City Chiefs will be all about key figures bouncing back from disappointing performances.
Josh Allen had his first rough game in what has been an otherwise brilliant 2020 season.
The Kansas City defense was solid through Week 4, but laid an egg against the Las Vegas Raiders in Week 5.
Clyde Edwards-Helaire has been inconsistent since an outstanding debut in Week 1 and remains a largely unproven wild card for the Chiefs' offense.
Get all of BetQL's best bets for the upcoming NFL season! Dating back a full calendar year, our five-star (max-value) bets have won 61% of the time!
Just A Blip?
Buffalo Bills quarterback Josh Allen all but put himself in the MVP race through the first four weeks of the season. He suffered his first big setback of the season against the Tennessee Titans thanks to a pair of interceptions and a few dropped passes by his receivers. Against the Kansas City Chiefs, he'll have to show that he can put a bad night behind him and get back on track quickly. Making the task more difficult will be the fact that he may have to keep pace with Patrick Mahomes.
If you want to roster any Chiefs or Bills players in your DFS lineups tonight, be sure to get a 3-day free trial on RotoQL to check out our projections!
Defensive Vulnerability?
The silver lining for Allen could be that the Kansas City defense is also coming off a poor game in Week 5. The Chiefs gave up 20 points or less in each of their first four games, which is going to be good enough to win most weeks as long as Mahomes is playing quarterback. However, the Kansas City defense failed to deliver against Las Vegas, giving up 490 total yards and enabling the Raiders to score 40 points. At times, the Chiefs were hurt on big plays, but they also allowed the Raiders to put together long drives. If Allen and the Buffalo offense can get back on track quickly, Kansas City could have similar problems this week.
Boost On The Ground
After the first week of the season, the Chiefs thought they had finally found an answer to their question in the backfield. Clyde Edwards-Helaire began his NFL career by running for 138 yards against the Houston Texans. However, he's averaging just 51.5 yards per game since then. Obviously, Mahomes is fine putting the offense on his shoulders, but against a quality team like the Bills, they'll need to fire on all cylinders. This equals Edwards-Helaire finding his way out of a mini slump and giving the Kansas City offense steady production.