NFL
AFC Championship Preview: Chiefs vs. Titans
Kansas City are the clear home favorites against Tennessee
By Dan Karpuc - Jan 13, 2020, 3:59am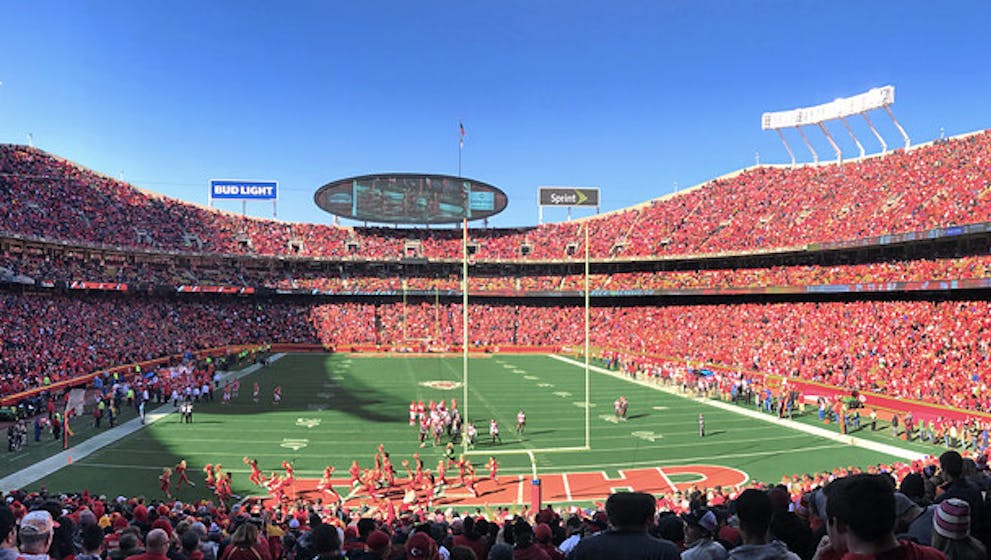 Titans at Chiefs
Sunday 1/19/20, 3:05pm EST
VIEW LIVE ODDS, TRENDS & MORE!
The Tennessee Titans and Kansas City Chiefs will meet in the AFC Championship Game. 
The Chiefs opened as 7.5-point home favorites and the over/under opened at 52 points. 
The Titans enter this game with the following records: 11-7 overall, 10-7-1 against the spread, 7-3 (7-3 ATS) on the road and 5-3 (5-3 ATS) as an underdog. 
The Chiefs enter this game with the following records: 13-4 overall, 13-4 against the spread, 6-3 (6-3 ATS) on the road and 11-3 (11-3 ATS) as a favorite. 
These two teams squared off in Tennessee back on November 10th and the Titans earned a 35-32 victory. 
The Titans are coming off of two improbable road playoff wins: 20-13 against the New England Patriots in Foxborough and then 28-12 against the Baltimore Ravens in the Divisional Round.
The Chiefs had a first-round bye and despite getting off to a 24-0 deficit to the Houston Texans in the Divisional Round, they rallied back and ended up winning 51-31. 
Check out our full preview below!
Titans
If the Tennessee Titans somehow win this game outright, they'd arguably complete the most improbable Super Bowl run in NFL history. Not only did they go into Foxborough to beat the Patriots in the Wild Card Round, but they then went into Baltimore to manhandle future MVP Lamar Jackson and the Ravens in the Divisional Round. While they have some clear deficiencies on a position-by-position basis and are clearly the inferior team on paper, it's impossible to measure toughness and the tenacity in which the team has played under head coach Mike Vrabel. 
Despite the lack of "big names" outside of quarterback Ryan Tannehill, running back Derrick Henry and rookie wideout A.J. Brown offensively and Kevin Byard and Logan Ryan on the defensive end, the Titans and Chiefs surprisingly rank roughly equivalent in Football Outsiders' Weighted DVOA metric that takes an all-encompassing look at the true performance of a team on both sides of the ball. Weighted DVOA discounts early-season games, makes Weeks 6-11 slightly-less important and places a heavy importance on late-season contests. It's safe to say that the Titans got really hot at the right time despite the perception that the Chiefs have been the clearly-superior team. 
Since taking over for Marcus Mariota, Tennessee's offense transformed under Tannehill and Henry arguably became the NFL's best running back. If you've watched the Titans play, you already know that they're going to try to establish the run behind their bruising offensive line. Through the first two playoff games, the game plan has worked. Henry took 30 carries for 195 yards against the Ravens and Tennessee rushed the ball 37 times compared to just 15 pass plays in that contest. (It's worth noting that three of their eight completions were touchdown passes due to Baltimore's defense selling out against the run). Against the Patriots, Henry took 34 carries for 182 yards and a touchdown while Tennessee ran the ball 40 times and threw just 16 passes. Although the Chiefs allowed just 44 yards on 13 carries to Houston's lead back Carlos Hyde last week, the game script required a shootout mentality and the Texans threw 52 passes compared to just 21 rushing attempts. That won't happen in this contest. During the regular season, the Chiefs defense allowed 4.9 yards per rushing attempt (29th out of 32 teams) and was susceptible to the run. That creates a positive outlook for Henry and Tennessee's rushing attack, as does the fact that he carried the ball 23 times for 188 yards and two touchdowns in their first meeting back on November 10th (a 35-32 Titans win). 
The Titans defense has been dominant in recent weeks. They allowed 14 points to the Texans in Week 17, 13 to the Patriots and then just 12 against the historically-great Ravens offense last week. However, there are reasons to be cautious about banking on them limiting Patrick Mahomes and company in this contest.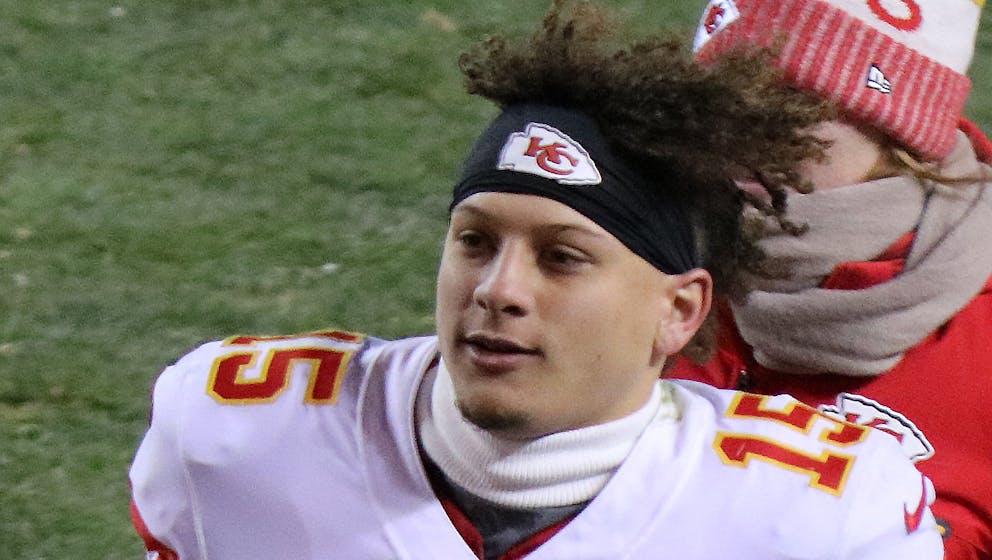 Chiefs
In their first meeting, Mahomes went 36-for-50 for 446 yards, three touchdowns and no interceptions and Tyreek Hill went off for 157 yards and a touchdown on 11 catches. Travis Kelce was a major factor as well and caught seven passes for 75 yards and a touchdown while Damien Williams took 19 carries for 77 yards in addition to five catches for 32 yards. In last week's comeback victory over the Texans, Mahomes dominated and went 23-for-35 for 321 yards, five touchdowns and no interceptions while Kelce exploded for 10 catches, 134 yards and three scores. Williams also had three touchdowns (two on the ground, one through the air) and Kansas City amazingly erased a 24-0 deficit without major production from Hill (three catches for 41 yards). Although it was alarming that the Chiefs defense was manhandled in the first quarter, they responded and adjusted as the game progressed, as did Kansas City's offense. Expect Kelce, Williams and Hill to be heavily utilized in this contest, while x-factors like Sammy Watkins and Mecole Hardman have game-breaking potential on every offensive snap. That potential is a luxury that the Titans don't have. 
A major factor to consider before betting on this game is the health of Mahomes. In their regular-season meeting, he carved up Tennessee's defense for 446 yards and three touchdowns and also completed 36 passes in his first game back from a dislocated kneecap. Last week against the Texans, he proved that he fully regained his mobility and looked very spry, often times escaping from pressure in the pocket and even taking off downfield for a couple clutch runs of his own. His ability to get out of the pocket and throw on the run is unprecedented and if he has even a sliver of more time to deliver the ball, he becomes exponentially more dangerous due to the speed of his receiving corps. As seen last week, when Kansas City operates their spread offense and plays at a high pace, they have an almost-unbeatable passing attack. Expect Andy Reid and the Chiefs coaching staff to build off their offensive success from last week and their previous matchup against Tennessee. 
Defensively, the Chiefs have been a huge question mark all year long. Which unit will show up: the one that allowed a total of 22 points in Weeks 14-16 to the Patriots, Denver Broncos and Chicago Bears combined, or the one that allowed 24 unanswered points by the early stages of the second quarter against the Texans last week? Unfortunately, this is the aspect of the game that cannot be predicted with any confidence. As shown last week, if the opposing offense is able to put up easy points and get out to an early lead, Kansas City's ability to get right back into the game with chunk plays in the passing game can absolutely destroy the point total. That game script will most likely be a longshot against this quality Titans defense, though. 
Prediction
While the Chiefs are the clear moneyline favorite and are expected to win this game in front of their home fans, are they actually the best bet on the moneyline and against the spread? Find out which team our model lists as the best bet and track line movement leading up to kickoff!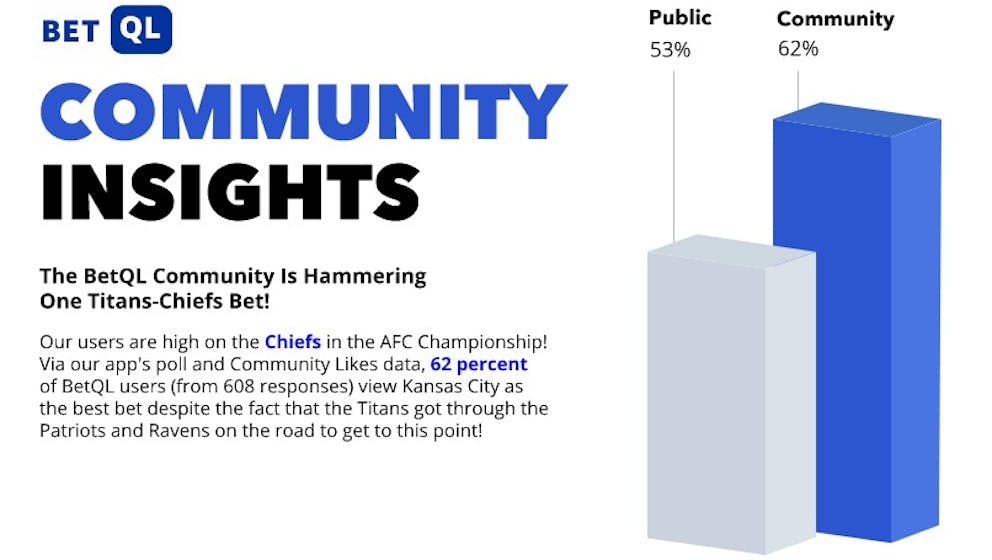 As you can see above, public bettors are somewhat undecided about betting on the Chiefs (-7) against the spread. However, the BetQL Community is all over Kansas City! Compare this to live public and sharp data all week long!