ATL
Falcons
Fri 10/30, 12:20 AM
CAR
Panthers
CAR -3 O/U 49
IND
Colts
Sun 11/1, 6:00 PM
DET
Lions
IND -2.5 O/U 50
TEN
Titans
Sun 11/1, 6:00 PM
CIN
Bengals
TEN -5.5 O/U 54.5
PIT
Steelers
Sun 11/1, 6:00 PM
BAL
Ravens
BAL -3.5 O/U 46.5
NYJ
Jets
Sun 11/1, 6:00 PM
KC
Chiefs
KC -19.5 O/U 48.5
NE
Patriots
Sun 11/1, 6:00 PM
BUF
Bills
BUF -3.5 O/U 43.5
LAR
Rams
Sun 11/1, 6:00 PM
MIA
Dolphins
LAR -4 O/U 46.5
MIN
Vikings
Sun 11/1, 6:00 PM
GB
Packers
GB -6.5 O/U 54.5
OAK
Raiders
Sun 11/1, 6:00 PM
CLE
Browns
CLE -2.5 O/U 54
LAC
Chargers
Sun 11/1, 9:05 PM
DEN
Broncos
LAC -3 O/U 44
SF
49ers
Sun 11/1, 9:25 PM
SEA
Seahawks
SEA -3 O/U 54
NO
Saints
Sun 11/1, 9:25 PM
CHI
Bears
NO -4 O/U 45
DAL
Cowboys
Mon 11/2, 1:20 AM
PHI
Eagles
PHI -7.5 O/U 43.5
TB
Buccaneers
Tue 11/3, 1:15 AM
NYG
Giants
TB -10.5 O/U 46.5
NFL
Chargers vs. Panthers Week 3 Preview
Los Angeles (-290) is favored by 6.5 points over Carolina (+235) with the over/under set at 43.5 total points
By Dave Kovaleski - Sep 25, 2020, 1:10am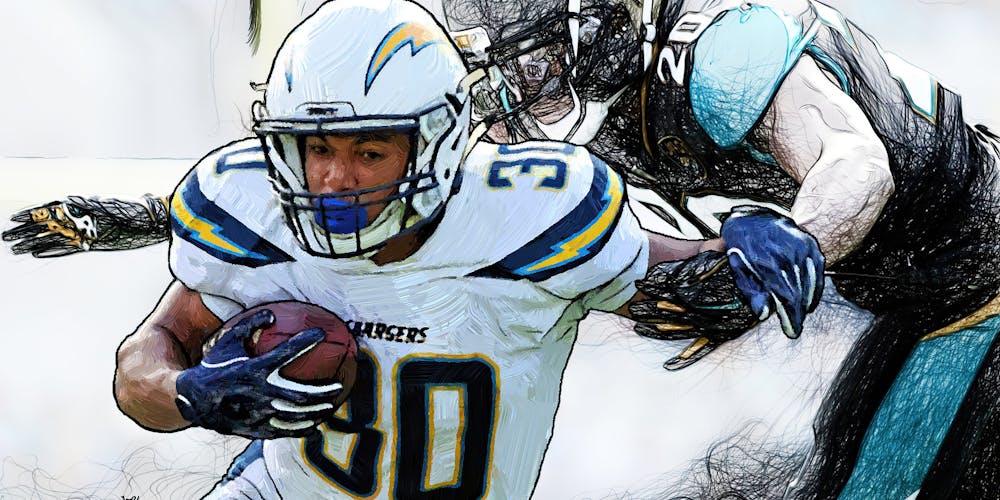 Quick-Hitters
The Los Angeles Chargers are 1-1 after losing to the Kansas City Chiefs 23-20 in overtime.
The Carolina Panthers are 0-2 after losing 31-17 at the Tampa Bay Buccaneers last week. They'll be without superstar running back Christian McCaffrey.
Justin Herbert made his debut and was impressive, throwing for 311 yards and a touchdown. Of course, this was made possible with the last-minute news that Chargers team doctors punctured Tyrod Taylor's lung in a botched painkiller injection.
Los Angeles (-290) is favored over Carolina (+235) with the over/under set at 43.5 total points. The Chargers are 6.5-point favorites. CLICK HERE FOR LIVE GAME ODDS!

Get all of BetQL's best bets for the upcoming NFL season! Dating back a full calendar year, our five-star (max-value) bets have won 61% of the time!
Herbert's Debut
Well, it was a pretty good week for the Los Angeles Chargers, all things considered. They christened their new home, SoFi Stadium in Inglewood, with a great performance against the Super Bowl Champion Kansas City Chiefs. The Chargers ended up losing to the Chiefs 23-20 in overtime, but they gave the champs quite a scare. The Chargers led 20-17, but a 58-yard field goal by Harrison Butker in the final seconds of regulation sent the game into overtime where Butker won it with, yup, a 58-yard field goal.
The Los Angeles defense looked great, but the real revelation for the Chargers was the play of their first-round draft pick, Justin Herbert. Starter Tyrod Taylor had a botched painkiller injection that punctured one of his lungs, which set the stage for Herbert's first start. The rookie delivered, going 22-for-33 for 311 yards, a touchdown, and one interception. Taylor is listed as week-to-week with a rib injury and no starter has been named yet, but they would be crazy not to name Herbert as the permanent starter.
If you want to roster any Chargers or Panthers players in your DFS lineups this week, be sure to get a 3-day free trial on RotoQL to check out our projections!
Panthers Lose Top Weapon
The Matt Ruhle era isn't off to a great start in Carolina. The Carolina Panthers fell to 0-2 last week after a 31-17 loss to the Tampa Bay Buccaneers. The game was actually a lot closer than the score would indicate, as the Panthers cut the lead to 24-17 with about two minutes left, only to have Tampa Bay score in the final minutes to put it away. The Panthers offense, coach Ruhle's specialty, has actually shown some promise. New quarterback Teddy Bridgewater has gotten off to a good start. Against Tampa Bay, Bridgewater was 33-for-42 for 367 yards, but he did throw two crucial interceptions.
Also, the wide receivers have been great. D.J. Moore caught eight passes for 120 yards while Robby Anderson had nine catches for 109 yards. They're definitely helping out last year's one-man offense, Christian McCaffrey, who had 59 yards rushing with two touchdowns and 29 yards receiving. The offense hasn't been the problem, it's been the defense, which has given up 32 points per game this year. Unfortunately, with the loss of McCaffrey, this offense could begin to struggle.
Potential For Reborn Offense
Nobody should overlook the Chargers in the AFC, particularly now that they have found a quarterback in Herbert, well ahead of schedule. They're one of the best defensive teams in the league, holding Patrick Mahomes and the Chiefs to just 23 points in overtime. They're third in points allowed, giving up just 18 points per game. With a quarterback to get the ball to Los Angeles weapons like Keenan Allen and Mike Williams, look for the Chargers to be more than just a defensive threat. They also run the ball well with the tandem of Austin Ekeler and Joshua Kelley.