LIVE
CLE
Browns
27
FINAL
JAX
Jaguars
25
CLE -7.5 O/U 48.5
MIA
Dolphins
20
FINAL
NYJ
Jets
3
MIA -7.5 O/U 46
ARI
Cardinals
17
FINAL
NE
Patriots
20
ARI -1 O/U 50.5
NYG
Giants
19
FINAL
CIN
Bengals
17
NYG -6.5 O/U 45
OAK
Raiders
6
FINAL
ATL
Falcons
43
OAK -3.5 O/U 53
TEN
Titans
45
FINAL
IND
Colts
26
IND -3 O/U 51.5
LAC
Chargers
17
FINAL
BUF
Bills
27
BUF -4.5 O/U 51
CAR
Panthers
27
FINAL
MIN
Vikings
28
MIN -3 O/U 50
SF
49ers
23
FINAL
LAR
Rams
20
LAR -5 O/U 44.5
NO
Saints
31
FINAL
DEN
Broncos
3
NO -17 O/U 36.5
KC
Chiefs
27
FINAL
TB
Buccaneers
24
KC -3.5 O/U 56
CHI
Bears
3
2nd Q
GB
Packers
20
GB -8 O/U 44.5
SEA
Seahawks
Tomorrow, 1:15 AM
PHI
Eagles
SEA -6.5 O/U 48.5
BAL
Ravens
Wed 12/2, 12:10 AM
PIT
Steelers
PIT -10 O/U 41
NFL
Can Flacco Keep The Jets In The Game Against The Chargers?
Last week, New York covered and hit the over for the second time all season
By Nick Ballistreri - Nov 20, 2020, 2:11pm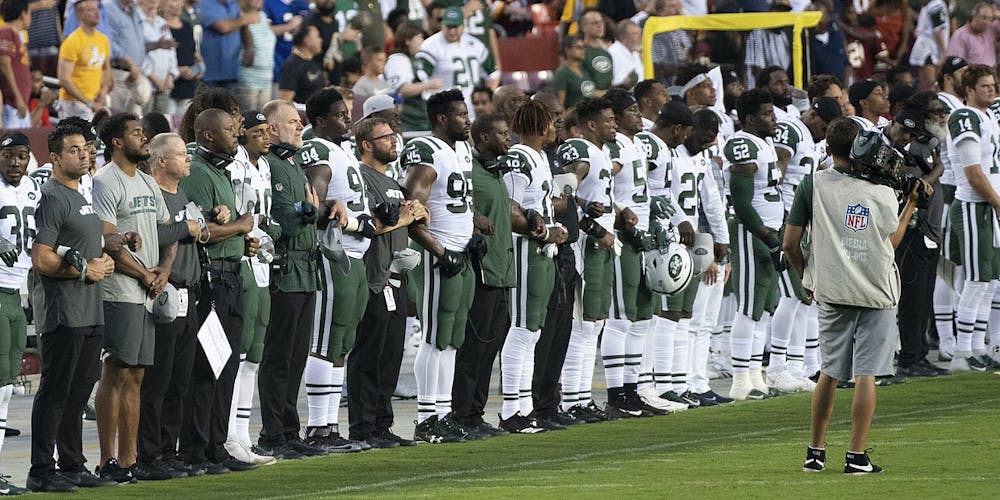 Quick-Hitters
Despite being 2-7 on the season, the Los Angeles Chargers are 4-4-1 ATS.
Joe Flacco was solid last week, helping the New York Jets hit the over for the second time in nine tries. He'll get the start once again.
Justin Herbert (+130) is currently favored to win the Offensive Rookie of the Year Award, per BetMGM.
Get all of BetQL's best bets for the upcoming NFL season! Dating back a full calendar year, our five-star (max-value) bets have won 61% of the time!
Herbert's Development, OROY Potential
The Los Angeles Chargers have played some very tight games in 2020. Since Justin Herbert was named the starter, the Chargers haven't lost a game by more than eight points. Despite being 2-7, the Chargers are 4-4-1 ATS this season.
Speaking of Herbert, he's on a short list to win the Rookie of the Year Award right now. Herbert (+130) is currently favored to win the award, per BetMGM. He's just 1-7 over his eight starts, but he's been productive. Herbert has thrown for 2,333 yards, 19 touchdowns, and just six interceptions. The development of the rookie is most important at this point, and he looks even better than advertised. That has to have Los Angeles feeling good about their future in this challenging division.
With the potential for a high draft pick this season, the Chargers can look to fill more holes on this roster. Some of the pieces are already there, such as Keenan Allen on offense and Joey Bosa on defense. With the development of Herbert looking ahead of schedule, 2020 has to be considered a success for LA. With the winless New York Jets on the schedule this week, maybe they'll even pick up another win.
If you want to roster any Jets or Chargers players in your DFS lineups tonight, be sure to get a 3-day free trial on RotoQL to check out our projections!
Flacco's Contributions
At this point, it's clear that the Jets aren't really in the market for winning games. In their last contest against the New England Patriots, they held a 10-point lead midway through the fourth quarter, only to lose on a game-winning field goal. They're sitting at 0-9, but it may be in their best interest to continue to lose games with the Jacksonville Jaguars only a game behind them for the top draft selection.
The team announced that quarterback Sam Darnold will once again miss this game. He's been dealing with a shoulder injury, and with the team potentially looking to trade him after the season, the last thing they want is for him to aggravate it. Joe Flacco has been playing in relief, and while he hasn't looked phenomenal, he hooked up with Breshad Perriman for two touchdowns last week. This helped the over hit on a low line of just 42 total points against New England.
New York's goal is to rebuild, as evidenced by their trade of Jamal Adams, so it's no surprise that they're losing. General manager Joe Douglas knows that the quickest way to contention may be a winless season. They're not flat-out tanking, but let's call it an organic tank.
Betting Trends
This game won't feature any team that will be in the playoffs, but the Chargers are exactly where the Jets hope to be in a season. They have their young quarterback, and the Jets are hoping to land theirs. Expect the Chargers to win this game and for Herbert to have another great performance. The only question is whether New York can keep it close enough to cover the spread. With the way they've been playing lately, it's something to keep an eye on.
Betting trends are hard to come by for the Jets, as they're 2-7 ATS and their over/under record stands at 4-5. Los Angeles has hit the over in 6-of-9 contests, but can New York's offense keep up to continue this trend? We'll see!