NFL
The Cam Newton Era In Carolina Is Not Over Yet
If Newton can get past his latest injury, the weakness of the NFC South could create an opening for the Panthers
By Tommy Snodgrass - Sep 18, 2019, 6:16am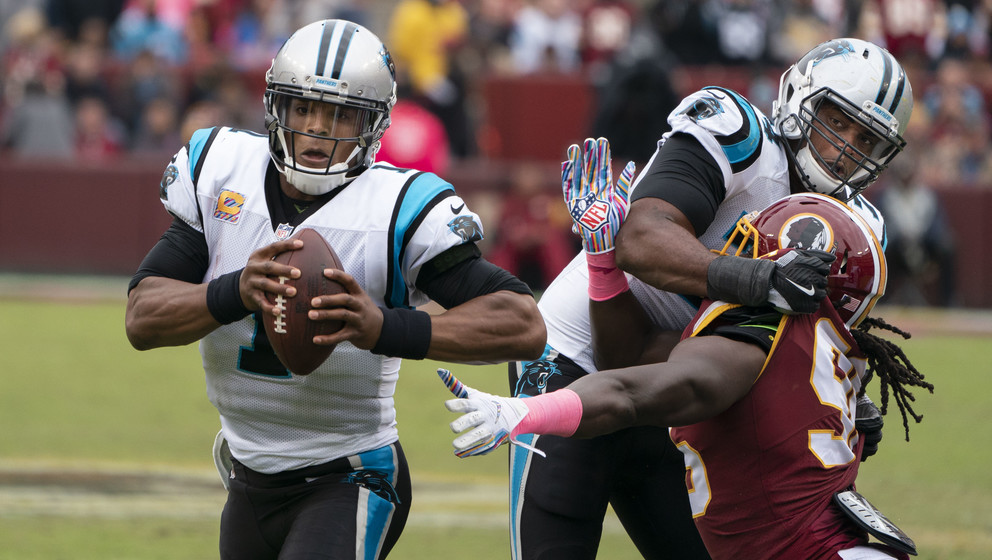 The Carolina Panthers (0-2) quarterback started the 2018 season at 6-2, but after shoulder issues, finished at 0-6 in his final six starts.
Newton has yet to reach the endzone in the air (shoulder) or on the ground (left foot) and has turnover issues carrying over from 2018.
The Panthers' odds to win the NFC South (+800 via Draftkings) took a hit when it was revealed that Newton re-injured his foot in Week 2. His status is unclear moving forward. 
A Tale Of Two Seasons And One Shoulder
Coming off a 2017 campaign that saw the Panthers produce an 11-5 regular-season record, expectations were high in Carolina in 2018. Many believed the Panthers to be contenders to take the NFC South division, and in the first half of the year, they appeared to be a legit threat, posting a record of 6-2.
Much of the early season success of 2018 was attributed to quarterback Cam Newton. Newton played like an MVP-caliber signal-caller in the first eight games as he completed 67 percent of his passes and held a touchdown:interception ratio of 15:4; all the while adding 73 carries for 342 yards and four touchdowns on the ground. 
On October 24th, prior to the Panthers' Week 8 matchup against the Baltimore Ravens, Newton's name was added to Carolina's injury list with "shoulder soreness", and considering the quarterback had already had surgery on his throwing shoulder in March of 2017, an interesting development slowly began to simmer. Head coach "Riverboat" Ron Rivera raised eyebrows when, in that Week 8 contest against the Ravens, he made a gamble and subbed in backup quarterback Taylor Heinicke for Newton to attempt a Hail Mary pass to close out the first half, causing the storyline to balloon.
Love DFS and want to give betting a try? Get a 50% deposit bonus up to $500 with your next deposit on DraftKings Sportsbook. Learn more!
During Carolina's 2018 Week 10 clash with the Pittsburgh Steelers, Pittsburgh's outside linebacker T.J. Watt put a hit on Newton that would alter the remainder of the season for the Panthers. From Weeks 10 to 15, with an aggravated shoulder, Newton lead Carolina to a record of 0-6. 
While his completion percentage remained a solid 69 percent, his touchdown:interception ratio in the six game span tumbled to 9:9 as he failed to effectively connect with his receivers. Abandoning his running skill-set in attempt to take less hits, Newton combined for just 28 carries and 146 rushing yards in the winless stretch. Becoming one-dimensional, defenses forced him to make plays from the pocket, putting the entire flow of the offense on the former MVP's wrenched shoulder. With the Panthers at 6-8, the evolution of concern over Newton's shoulder now boiling over, and looking forward to 2019, Rivera decided to sit Newton for the final two games of the 2018 season; starting Heinicke in Week 16 and Kyle Allen in Week 17.
Start optimizing NFL lineups, finding value players and keeping up with injuries in seconds on RotoQL!    
0-2 Start
Carolina opened their 2019 season at home against the defending NFC Champion Los Angeles Rams, and walked out with a 27-30 defeat. The organization was happy to see Newton walk AT ALL after injuring his left foot in the preseason. 
Despite the narrow loss, the issues that concerned the Panthers in the second half of 2018 has now spilled over into 2019. Newton failed to get into the endzone in his final two starts of 2018, both passing and rushing, and started the year with another scoreless effort. Newton not only failed to get the ball in the endzone, he also created two turnovers on an interception and a lost fumble, two costly mistakes in their opening loss to the Rams. Newton's once astounding rushing skills were absent once again as he turned just three rushing attempts into negative two yards.
Carolina's Week 2 loss to the division rival Tampa Bay Buccaneers further cemented the Panthers' descent into the NFC South basement. Newton once again failed to contribute a touchdown for his offense. He threw for 324 meaningless yards and lost a fumble for the second game in a row. 
Make the most educated bets possible by accessing our NFL Sharp Bets dashboard! 
Newton has yet to score a touchdown in 2019, but that impasse may be the opposing defenses for both the Rams and Buccaneers being better than expected. Look how Carolina's first two opposing defenses have fared against the quarterbacks in their other early-season matchups. . 
49ers' Jimmy Garoppolo Against Bucs' Defense: Week 1
18-27, 166 yards, 1 TD, 1 INT, 80.2 rating
Saints' Teddy Bridgewater Against Rams' Defense Week 2
17-30, 165 yards, 0 TD, 0 INT, 72.2 rating
If Newton were to suit up against Arizona Week 3 . . . 
Lions' Matthew Stafford Against Cardinals' Defense Week 1
27-45, 385 yards, 3 TD, 0 INT, 110.0 rating
Ravens' Lamar Jackson Against Cardinals' Defense Week 2
24-37, 372 yards, 2 TD, 0 INT, 104.8 rating (120 rushing yards)
So, if Newton were to face the Cardinals, it'd be a premier chance to climb out of the pit of quarterback despair he's been buried in and regain the confidence of his coaching staff and nervous fanbase. That's becoming more unlikely, though, pending further information on the resurfacing uncertain condition of his left foot that was tweaked in the preseason.
Looking Ahead
There has been a lot of change and speculation regarding many of the NFL's top quarterbacks.  Is Cam Newton next? 
Jacoby Brissett has replaced Andrew Luck, Mason Rudolph has replaced the injured Ben Roethlisberger, Teddy Bridgewater (and maybe Taysom Hill) has replaced the injured Drew Brees, and Daniel Jones has now been named a starter replacing Eli Manning. After an 0-2 start, and relapsing shoulder and foot issues for his three-time Pro Bowler at quarterback, coach Rivera is expected to hand the keys of his offense over to backup Kyle Allen for Week 3 against Arizona. Is it an overreaction to say that Newton's time has come to an end in Carolina? Is it really Kyle Allen time? Or potentially Will Grier time?
View BetQL's Best Bets for Week 3 of the NFL season!  
Newton has not guaranteed his organization that he can hold onto the job for years to come, as he has been a one-dimensional shell of his past. He has now lost his last eight starts in a row, and in his last four starts has registered zero touchdowns and five total turnovers. The leash is certainly getting shorter and he's signed through the end of next season, thus making him a fantastic trade target for other teams who are searching for a short-term answer at quarterback.
Although Carolina has started their season at 0-2, the Saints, Falcons, and Buccaneers are all sitting at 1-1 and are shrouded in questions of their own. Can the Saints survive without Brees and how effective will he be once he returns? Can Matt Ryan and Julio Jones keep the Falcons in contention? Can Jameis Winston take a step forward under Bruce Arians? 
This particular position for Newton is a hard one to be in. Sometimes when players excel, they tend to "regress to the mean", but when they occasionally struggle, like Newton has, they are cast off entirely, expected to get hurt again, benched, or in some cases retire. There is a larger conversation out there about replacing Newton than him possibly returning to his former self.
At this point, betting on the Panthers +800 to win the NFC South would be risky, but has the upside and potential to pay off if Newton can recover from his latest injury in a timely manner.
Note: The advice above is the writer's opinion only and does not represent the stance or interest of BetQL in any way.