NFL
Bet The Over On This Non-Patriots AFC East Win Total
There's another divisional opponent with some solid upside in 2019
By Tommy Snodgrass - Aug 4, 2019, 1:53am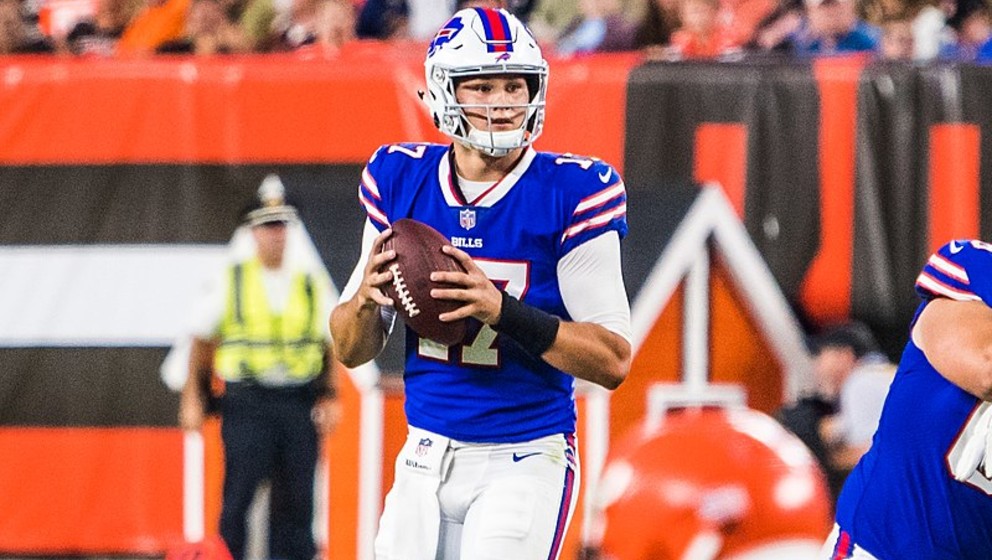 Turnovers & The Nathan Peterman Era
The 2017 edition of the Bills produced a record of 9-7 and featured an ever-elusive playoff appearance, the franchise's first since 1999. The result would be a Wild Card loss to the Jacksonville Jaguars, but a playoff appearance nonetheless. Then, the calendar flipped to 2018 and change came. Quarterback Tyrod Taylor moved west to Cleveland and Brian Daboll, formerly under the tutelage of Nick Saban at Alabama, replaced the departed Rick Dennison at offensive coordinator. 
The 2018 Bills had a roller coaster 6-10 season. Second-year head coach Sean McDermott placed his offense in the inexperienced hands of quarterback Josh Allen for the majority of the season and occasionally had to turn the offense over to Derek Anderson, Matt Barkley and Nathan Peterman. 
After reading that, a 6-10 record seems slightly impressive, right?
Buffalo's offensive struggles in 2018 were obvious as they finished 30th in total yards of offense AND points scored; but despite the offensive woes, Buffalo had a stingy defense, allowing the second-fewest yards in the NFL. The Bills' middle of the pack finish in points allowed (15th) could have been better, but was blighted by offensive mistakes, relinquishing critical field position.
2017 Bills: 9-7 (16 Turnovers, sixth least)
2018 Bills: 6-10 (32 Turnovers, tied for second most)
Buffalo's 2019 success rides on their defense and how well their offense can control the football. 
Offense
Josh Allen returns for his sophomore season under center. In 12 games as a rookie, Allen produced a 10:12 touchdown:interception ratio and fumbled the ball eight times. The Bills need to improve their turnover margin in 2019, and Allen is the bright red focal point. 
Allen's completion percentage of 52.8 could use some improvement as well, and the additions of wide receivers John Brown and Cole Beasley could do the trick. Brown will join Zay Jones on the outside with Beasley running from the slot. 
Left tackle Dion Dawkins returns to protect Allen's blindside, but will be accompanied by new faces at the line of scrimmage: rookie right tackle Cody Ford, left guard Quinton Spain, center Mitch Morse, and right guard Spencer Long. Not only will the new look offensive line strive to protect Allen, but also create space for him, as Allen picked up 631 yards and eight touchdowns on the ground in 12 games last season.
Splitting the gaps of Buffalo's offensive front will be venerable running backs LeSean McCoy and Frank Gore. McCoy, entering his 11th season, produced a disappointing 3.2 yards per carry in 2018 and will look for a rebound season to help set up Josh Allen's passing game. As for Gore, he opened up the electronic panel in his chest and rewired the circuits for his 15th season after running at a clip of 4.6 yards per carry in 2018. 
If Gore is really human after all, he and McCoy will both attempt to outrun linebackers and Father Time this season. If they fail to do so, the Bills will turn to rookie running back Devin Singletary and new acquisition TJ Yeldon. Yeldon has proven he can catch passes out of the backfield as a third-down back, and Singletary ran for 4,287 yards and 66 touchdowns in his three seasons at Florida Atlantic, creating intriguing depth in the Buffalo running game.
Defense
The Bills will go as far as their defense can carry them. 
Defensive ends Jerry Hughes and Trent Murphy will be back on the edge, but they will be joined by a new presence in the middle, defensive tackle Ed Oliver. Oliver, once considered the No. 1 pick in the NFL Draft, fell to the No. 9 selection, making defensive coordinator Leslie Frazier a happy man. The rookie lineman looks to help Buffalo's rushing defense that finished 17th in rushing yards allowed last season (114.9 yards per game).
Behind the defensive front will be a linebacking corps anchored by sophomore linebacker Tremaine Edmunds. In his encouraging rookie season, Edmunds collected 121 tackles, two sacks and two interceptions. Edmunds will be flanked by veterans Matt Milano and Lorenzo Alexander. 
Buffalo was tops in the NFL in passing yards allowed in 2018, surrendering a measly 179.2 passing yards per game. No one could pass on them. 
No one could even pass salt at their dinner table. 
This staunch defensive backfield will see a reunion of free safety Jordan Poyer, strong safety Micah Hyde and cornerback Tre'Davious White. Former Houston Texans cornerback Kevin Johnson was also brought into the fold to shore up the cornerback position.
Schedule
Let's look at the 2019 schedule, specifically their first three games: Week 1 at the New York Jets, Week 2 at the New York Giants and Week 3 versus the Cincinnati Bengals. Assuming the Jets have growing pains with new head coach Adam Gase, the Giants suffer subtraction pains with the loss of wide receiver Odell Beckham and defensive end Olivier Vernon, and the Bengals have real pains with injuries to wide receiver A.J. Green, linebacker Carl Lawson and cornerback Darqueze Dennard, the Bills could potentially come out of the gate with a 3-0 start. 
Being in the AFC East, Buffalo will play the Dolphins and Jets two times each. Sean McDermott will also have his squad facing a few non-divisional teams that have question marks surrounding them: Week 5 at Tennessee, Week 9 versus Washington, Week 12 versus Denver, and Week 14 versus Baltimore. 
If the Bills can clean up the mistakes on offense, and remain effective on defense, pull off a 3-0 start, split their season matchups with the Dolphins and Jets and take three out of four of the aforementioned non-divisional games, they would hold a record of, hypothetically, 7-3. The other six games on the schedule: Week 4 versus New England, Week 8 versus Philadelphia, Week 10 at Cleveland, Week 13 at Dallas, Week 15 at Pittsburgh, Week 16 at New England. If Buffalo were to pick up just one victory in the stronger games of their schedule, they would be a .500 team at 8-8.
Those are big "ifs", but with one of the league's top defenses, a quarterback with a year of experience, and a completely revamped offensive line and receiving corps, it becomes much more plausible. The over at -182 doesn't provide immense upside, but is looking like a palatable bet. 
Note: All statistics were found on Pro-Football-Reference.com. College football statistics were found on Sports-Reference.com/cfb. The advice above conveys the writer's view and does not represent the stance or interest of BetQL.