NFL
The Buccaneers Stole America's Attention On Sunday
The Buccaneers pulled off one of the most surprising upsets of the season in a shootout road win over the Rams in Week 4
By Brandon Barbour - Sep 30, 2019, 4:33pm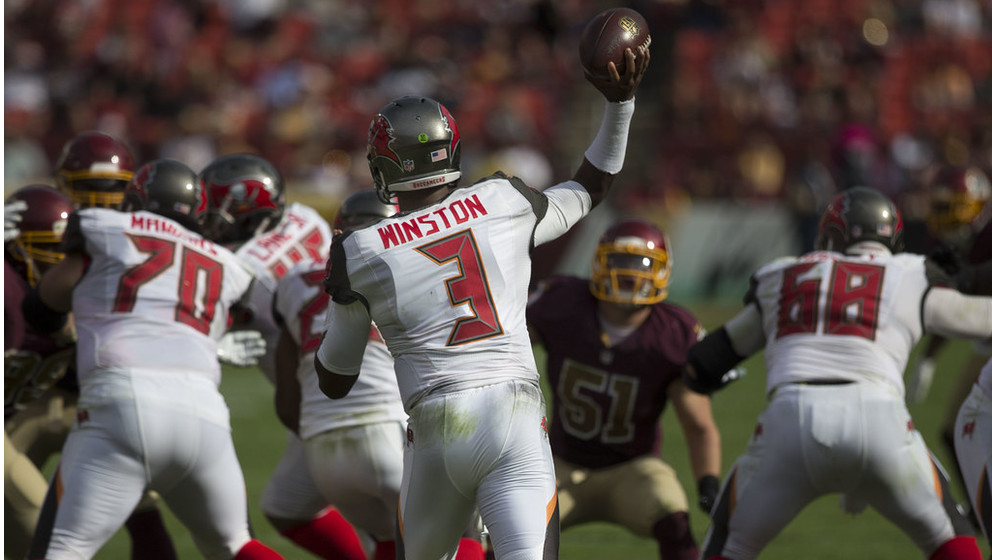 Tampa Bay Buccaneers quarterback Jameis Winston went 28-for-41 with 385 yards, four touchdowns, and one interception. 
It was Winston's third-most passing yards in a game and the fourth time in his career that he threw for four scores. 
Chris Godwin hauled in 12 catches for 172 yards and two touchdowns.
Los Angeles Rams quarterback Jared Goff threw for 517 yards, but accounted for four turnovers in the loss.
Bucs Take Charge On The Road
The 1-2 Tampa Bay Buccaneers faced a tall task when visiting the 2-1 Los Angeles Rams for a Week 4 showdown. Things got off to a hot start as Jameis Winston and Chris Godwin connected twice for 35 total yards on the opening drive that was capped off by Peyton Barber's three-yard touchdown run. They set the tone and it was Godwin's half from that point forward.
Jared Goff threw an interception on the Los Angeles Rams' second drive, as Bucs safety Jordan Whitehead halted the drive. With a short field, Winston connected with Godwin for a 30-yard completion that led to a 3-yard touchdown pass to Godwin on a pivotal third down play. (Godwin hauled in a career-high 125 receiving yards on nine catches for two touchdowns in the first quarter alone.)
Goff threw another interception on the next drive, this time to linebacker Lavonte David, who gave his team amazing field position on the Rams' own nine-yard line. The very next play resulted in a 9-yard touchdown pass from Winston to Godwin, his second of the game. This gave Tampa Bay a 21-0 lead halfway through the second quarter.
The Rams weren't done, though. Goff drove the Rams downfield for two quick scores that totaled just 4:06 of game time, putting pressure on Winston and the Tampa Bay offense. Winston delivered a touchdown drive with just three minutes to spare in the half and Ronald Jones scored on a 5-yard run. The Rams and Greg Zuerlein came through with a 58-yard field goal before half, making the score 28-17 in favor of Tampa Bay. 
The Rams and Buccaneers traded touchdowns early in the second half on four-straight possessions. The highlight play was a 67-yard completion from Winston to Mike Evans for a score. The offenses scored all four touchdowns in under three-minute drives in a true shootout. Tampa Bay remained ahead 45-34.
Access Public Betting info for every game on the Week 5 slate!
On a third down play to start the fourth quarter, Winston threw an interception that Marcus Peters took back for a 32-yard touchdown. Los Angeles failed on the two-point attempt, making the score 45-40. Then, Tampa Bay milked the clock from 8:11 down to 2:35 and added a field goal to make it 48-40.
The Rams offense did what they could and just got into Tampa Bay territory when Goff was stripped by Shaq Barrett. Former Ram Ndamukong Suh scooped up the ball and returned it for a 37-yard touchdown, icing the game for Tampa Bay, who held on to a 55-40 win. It was incredibly fun to watch Winston and Goff gunning down field and making plays. Goff wound up with 517 passing yards, but turned the ball over four times in the defeat. 
Winston's Monster Game
Jameis Winston struggled out the gate to start the 2019 season, but things have turned around quite nicely for him and the Tampa Bay Buccaneers. Winston was fresh off a 380-yard passing performance where he threw three touchdowns and one interception.
He topped that brilliant performance with a bigger day on the road against the Rams in Week 4, completing 28-of-41 passes for 385 yards, four touchdowns, and one interception. Winston led the Buccaneers to a victory against a top organization on their turf to make Tampa Bay 2-2 on the season. It was the fourth time that Winston has thrown for four touchdowns in a game in his career.
Since Tampa lost on a botched chip-shot field goal last week, you can make the claim that they should definitely be 3-1. 
The Los Angeles secondary had allowed an average of 192.6 yards per game through the air leading into this home matchup, so it's impressive that Winston tallied a season-high in passing yards. In fact, the 385 yards through the air that he accumulated was his third-best total of his career through 60 games. Winston is performing like a quarterback that has figured some things out. He had the offense humming, as Godwin and Evans got plenty of action and Ronald Jones and Barber combined for 89 rushing yards and a couple touchdowns. Things are going well in Tampa.
Check out opening Week 5 lines and track their movement on our Line Movement Dashboard!
Tampa Bay's Future
The Buccaneers are enduring a brutal schedule so far and will square off against the Carolina Panthers in London in Week 6 after their upcoming bye. They'll get the New Orleans Saints after that and continue their five-game stretch away from Tampa Bay, where they'll travel a combined 20,378 miles in that span. It's absolutely crazy.
Tampa Bay's schedule isn't easy even after they have a long home-stand late in the year. It feels like they're destined for seven or eight wins now that Carolina and New Orleans are having quarterback issues. However, if Winston continues to perform like this, then maybe some extra and unexpected wins are to come. He has looked absolutely dominant over the past two weeks and has shown maturity.
Plus, the team's defense looks like a completely different unit than last year's squad, despite giving up a slew of points on Sunday.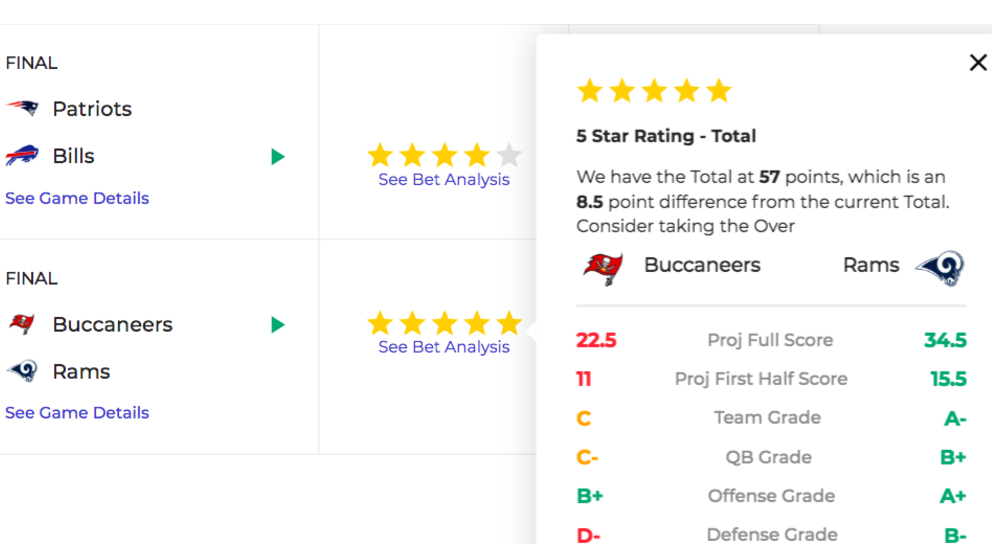 A 5-Star Bet
BetQL's NFL Model rated over the 47.5 consensus total as a 5-star bet in Week 4. The teams smashed the over, combining for 95 points. As you can see, each segment of both teams was assigned a letter grade.
Despite the perception of a stout Rams defense, our model's data points indicated that the over would hit easily, and that's exactly how it played out. 
Don't miss out in Week 5! Access the entire slate's Best Bets right now!