NFL
Believe It Or Not, The Bills Are Legit
Buffalo is 3-0 and has shown steady improvement over last season on both sides of the ball
By Jonathan Willis - Sep 24, 2019, 4:16am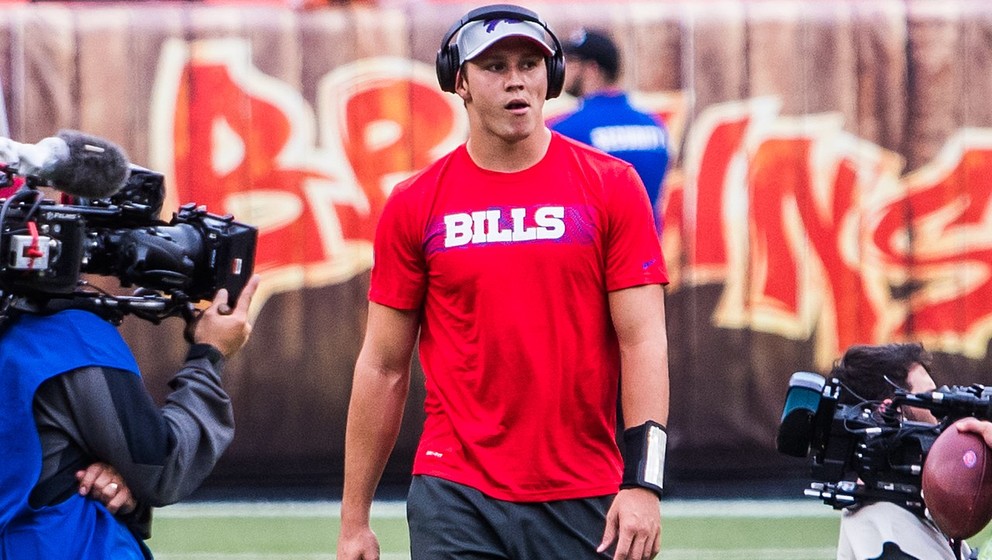 The Buffalo Bills are one of seven teams that are currently 3-0.
Since the AFL-NFL merger, teams that have started 3-0 have gone on to make the playoffs 75.1 percent of the time.
The oddsmakers expect Buffalo to fall to 3-1 this week as the Bills are underdogs to the 3-0 New England Patriots.
BetQL's NFL Model went 6-0 in Monday Night Football and is 77-42-2 (65% win, 9.24 avg return) on ★★★ and better bets this year. View every Week 4 Best Bet!
Week 3 Victory 
Buffalo moved to 3-0 on Sunday with a 21-17 win over the Cincinnati Bengals. The Bills raced out to a 14-0 lead over the Bengals and took that lead into halftime before Andy Dalton led Cincinnati to rally. The Bengals scored 17 points in a little over 16 minutes of action to take a 17-14 lead, but the young Josh Allen kept his poise to lead the Bills from behind. 
Allen needed less than two minutes to take Buffalo from its own 22 to a goal-to-go situation, and Frank Gore punched in the eventual game-winning touchdown from one yard out with 1:50 left to put the Bills ahead for good. Gore's plunge into the end zone capped off a solid day for Buffalo's ground game; the team averaged 4.9 yards per carry against Cincinnati.
Start optimizing NFL lineups, finding value players and keeping up with injuries in seconds on RotoQL!
The Other Two Wins
Buffalo's two other wins have been against the two other New York teams, beating both the Jets and Giants in consecutive weeks at MetLife Stadium.
The Bills showed resilience in their first game of the season, erasing a 16-0 deficit in the third quarter to beat the Jets 17-16. Allen turned the ball over four times in the first half of that game, but he overcame the terrible start to lead the Bills on scoring drives of 50, 85, and 80 yards in the second half to pick up the win. 
Their Week 2 win over the Giants was a bit easier. Buffalo held Eli Manning in check, allowing him to average just 5.2 yards per pass attempt in a 28-14 Bills victory. 
Love DFS and want to give betting a try? Get a 50% deposit bonus up to $500 with your next deposit on DraftKings Sportsbook. Learn more!
What The Numbers Say
It took the Bills most of Allen's rookie season to determine the best way to use him. However, once they decided to let him run, his production improved dramatically. He was one of the top quarterbacks in the month of December, totalling 1,082 yards through the air, but where he made the biggest impact was with his feet. Allen averaged a whopping 9.2 yards per carry in December.
Coming into this season, Pro Football Focus rated Allen the worst starting quarterback in the league, but Allen has proved them wrong with his performance through three games. While he continues to have accuracy issues, he has noticeably improved as a passer. Allen completed just 52.8 percent of his passes as a rookie, but he has completed 64.1 percent of his passes in 2019. Also, his mobility has made Allen an undervalued asset. He was rated the fouth-best rushing quarterback in the NFL last season, and he has 105 yards and two touchdowns on the ground through three games this year.
Buffalo's defense has been one of the best in the league to this point in the season too. The Bills are one of six teams in the league allowing less than five yards per play (4.8 YPP), and their secondary has been lights out. Tre'Davious White, Micah Hyde, and Jordan Poyer are the stars of a unit allowing opposing quarterbacks to average just 5.2 yards per pass attempt. That number is the third-best in the NFL in 2019.
Although they're overshadowed, Buffalo has one of the best defenses in the NFL. They are ranked in the top three in points per drive (1.51), yards per drive (24.8), touchdown percentage (17.1 percent), turnover percentage (16.1 percent), and three-and-out percentage (36.2 percent). 
Make the most educated bets possible by accessing our NFL Sharp Bets dashboard! 
Is This Sustainable?
As long as Allen can stay healthy, the offense should continue to have success. More and more teams have opened up their schemes to allow quarterbacks to run the ball, and Buffalo has been one of the biggest beneficiaries of this movement. Allen is deceptively fast, and opponents must respect his ability to run, opening up underneath routes and leading to successful RPOs, too.
The Bills defense is what really makes this team a contender though. Buffalo's defense ranked No. 2 in the final 2018 Football Outsiders DVOA ratings, and first-round pick Ed Oliver has made this side of the ball even better. The defensive line took a hit with the announcement that Harrison Phillips was lost for the season with a torn ACL, but the unit is very deep.
Buffalo has a very forgiving schedule. The Patriots will be a real test, but the Bills will travel to Tennessee afterwards for their last game before the bye week. Then, the Bills have three straight home games against teams that are currently 1-7, putting Buffalo in position to be a real contender in January.
Do you believe in Allen and company?