NFL
The Bears Will Be Bloody Brilliant Against The Raiders In London
Expect Chicago to continue their early-season winning streak
By Dan Karpuc - Oct 3, 2019, 3:33pm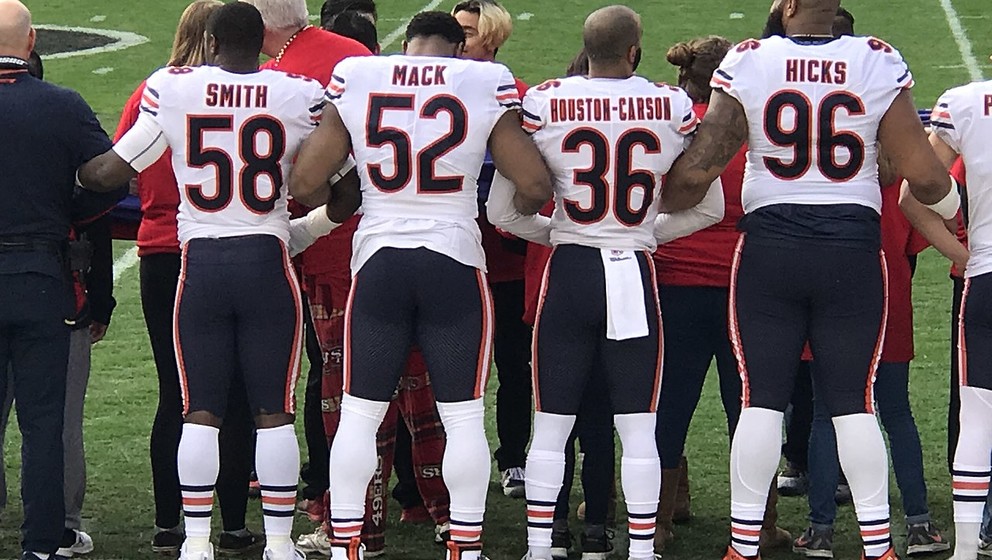 Bears (-5.5) at Raiders
Sunday October 6, 2019
Tottenham Hotspur Stadium, 1:00pm EST
BetQL's NFL Model lists the Chicago Bears (-5.5) as ★ ★ favorites against the Oakland Raiders in Week 5 and labels Chicago's -245 moneyline as a ★ ★ ★ ★ bet. 
The Bears (3-1) are 2-2 ATS and one of their four games has gone over the total.
The Raiders (2-2) are 2-2 ATS and two of their four games have gone over the total.
Under Matt Nagy, the Bears are 11-3 when playing on a short week. 
In Week 4, the Chicago Bears posted an impressive 16-6 victory over the Minnesota Vikings and they'll look to carry their momentum into this week, when they square off against the Oakland Raiders over the pond at the new Tottenham Hotspur Stadium in north London. 
It will be the first NFL game played in that stadium. 
The Bears are 3-1, are riding a three-game winning streak, have a +21 season point differential and are tied with the Green Bay Packers for first place in the NFC North. The Raiders are 2-2 on the year, but have a -23 point differential and some major concerns moving forward.
BetQL's NFL Model has gone 17-7 in all Bears bets so far this season. Access the algorithm's projection for this matchup!
Here are four reasons why the Bears should continue their streak on Sunday. 
1. Revenge Game For Khalil Mack, Who Will Lead A Stifling Defense
Since he was traded to the Bears from the Raiders, Mack has been a man on a mission. Look at these insane numbers:
Mack: 18 games played, 17 sacks, 10 forced fumbles, one defensive TD
Entire Raiders defense: 20 games played, 18 sacks, eight forced fumbles, two TDs
That shows just how incredible Mack has been and how insanely unproductive Oakland's defense has been since the trade was made.
Mack has 4.5 sacks and four forced fumbles so far this season and is facing his old team for the first time. Due to the untamed emotion that he plays with, expect him to be all over the Oakland backfield. He publicly said that he wants to make Oakland "pay" for trading him, so expect him to come out firing with even more tenacity in this contest. 
Chicago's defense has been dominant all season and ranks second in the NFL in points allowed per game (11.3), third in rushing yards allowed per game (61.5) and 12th in passing yards allowed per game (229.3). They've also forced eight takeaways (T-3rd) and are tied with the New England Patriots for the league lead in turnover differential (+6). 
View all Week 5 Best Bets on BetQL!
2. Chase Daniel Knows What He's Doing
Mitch Trubisky (shoulder) will miss this game, which means that career backup Chase Daniel will get the starting nod for the Bears. When Trubisky got hurt last week, Daniel came in and led Chicago to a quick touchdown on his first drive. He finished 22-of-30 passing (73.3 percent) for 195 yards and that touchdown with no turnovers. 
Most importantly, he looked confident and in complete control. As someone who has logged multiple years in head coach Matt Nagy's system (dating back to Nagy's days as an offensive coordinator with the Kansas City Chiefs), there should be no drop-off as far as the playbook is concerned. Since Trubisky is slated to return sooner rather than later, Daniels' time as the starter could be short-lived, but he's one of the best second-stringers in the NFL and will set out to prove that in this contest. 
3. David Montgomery Is Due For A Breakout Game 
Although the Raiders held the Indianapolis Colts to 81 team rushing yards last week, it's worth noting that Jacoby Brissett threw the ball 46 times against them with a pass-heavy approach. It's safe to assume that won't happen this week. 
Although Daniel might not be much of a downgrade from Trubisky, a run-heavy game plan makes sense against this Raiders defense. In Week 3, the Minnesota Vikings gashed Oakland for 211 rushing yards and three touchdowns on 38 carries. 
Track all Week 5 line movement on BetQL!
To say that the rookie Montgomery has taken a stranglehold on the majority of Chicago's running back duties would be an understatement. Consider this: he's carried the ball 58 times so far. Tarik Cohen has taken the next-highest amount of carries: 13. Despite the volume, Montgomery has only averaged 3.4 yards per carry and has found the end zone only once, though. Expect him to be a focal part of the Bears offense in this game as Chicago should try to establish the run. 
Since Chicago's defense will most likely force some turnovers, Montgomery should also benefit from working with some advantageous field positions as well.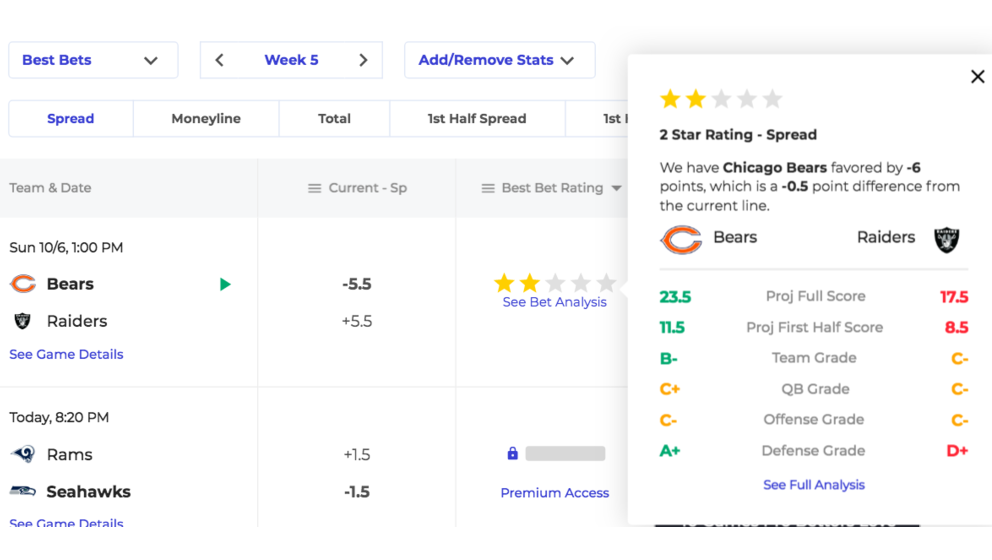 4. BetQL's NFL Model Says So 
BetQL's NFL Model lists the Bears (-5.5) as ★ ★ favorites against the Raiders in Week 5 and labels Chicago's -245 moneyline as a ★ ★ ★ ★ bet. 
Note that Daniel is rated as a C+ QB while Derek Carr is given a C- grade in this matchup. The defensive rankings (A+ for Chicago, D+ for Oakland) are starkly different and are one of the main reasons why the Bears should win this game. 
Further, the algorithm lists the over 40.5 point total as a ★ ★ bet.