NFL
As Expected, Patriots Thrash Dolphins In Miami
The Pats were 18-point road favorites in this one and easily covered
By Brandon Barbour - Sep 16, 2019, 12:15am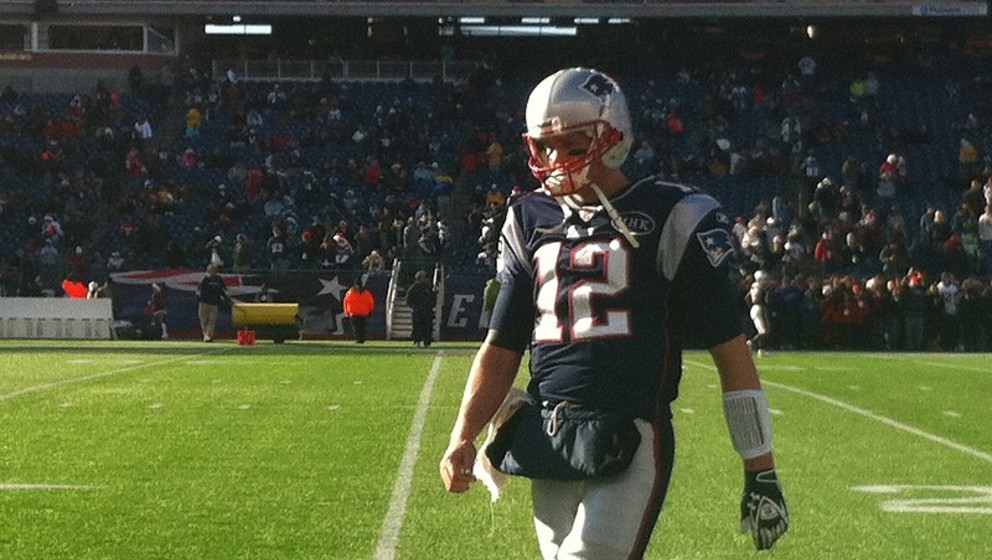 Consensus Spread: Patriots -18
BetQL Spread: Patriots -22.5
Best Bet: ★★★★★ Patriots
Final Score: 43-0 Patriots
Situation Before Kickoff
The Miami Dolphins looked to put up a better performance than they did in their Week 1 stomping at home against the Baltimore Ravens. The Ravens pummeled them by a whopping 49 points (59-10) as the Dolphins offense mustered a piddly 10 points. Things wouldn't (and didn't) come any easier against the New England Patriots.
The Patriots smacked the Pittsburgh Steelers by 30 points in Week 1. Bill Belichick always has his team ready early on in the season and it showed, as his defense held the Steelers to just three points.
The Dolphins couldn't stop the Ravens' unique offense, which made for a difficult task to stop an even more intricate Patriots offense. New England planned to play their newest offensive weapon, Antonio Brown, despite his recent allegations and Belichick's comments regarding Brown's limited knowledge of the playbook. This added a new dimension to an already-special offense.
Don't miss out on ★★★★★ bets for the Week 3 slate. Find out what teams you should wager on!
Last season, the Dolphins pulled a lucky victory against the Patriots in Miami. The Dolphins were down to the last play of the game and were forced to improvise by looking for a lucky break. They were 69 yards away from the end zone, but a short pass and two laterals later, Kenyan Drake found himself in the endzone, upsetting the powerful Patriots. It was time for some revenge.
How It Played Out
The Dolphins started with the ball and had a quick three and out. Tom Brady's three passes on New England's first drive went in Antonio Brown's direction and the receiver snared all three for 36 yards in total. The Patriots wound up pounding a touchdown through running back Sony Michel, taking an early lead.
Then, the Patriots capped off a late second quarter drive with a 20-yard touchdown pass to Brown, his first score as a Patriot. Stephen Gostkowski missed the PAT, making the score 13-0 at halftime.
Miami's offense was a joke in the first half, racking up three and outs on four of their five possessions. The Dolphins managed to compile a brutal 41 yards of offense in the first half. They're incredibly awful, but the New England defense really locked them down.
The second half wasn't much different for the Dolphins. They managed three-straight three and outs, again, while the Patriots tacked on a 28-yard Gostkowski field goal. The next Patriots drive resulted in a quarterback sneak for a one-yard touchdown by Brady, boosting their advantage to 23-0 late in the third quarter. Things got out of hand after this.
In addition to Best Bets from our proprietary NFL Model, BetQL Premium members get full access to our Odds, Public Betting, Line Movement and Sharp Picks Dashboards!
Ryan Fitzpatrick was trying anything and everything to get some sort of production out of his offense as they ran their scheme out of the no huddle. He scrambled out of the pocket on a third down pass that ended up being intercepted for a 54-yard touchdown by Stephon Gilmore.
Things got worse next drive when Fitzpatrick got their offense going and eventually, Kalen Ballage bobbled an easy, routine ball which then resulted in a 69-yard interception by Jamie Collins Sr. The Patriots weren't done there, as Brady connected with James White for another score late in the contest, boosting the score to 43-0.
Josh Rosen came in on the last drive and threw an interception of his own to wrap things up and keep the Dolphins scoreless. Miami's 184 total yards of offense and 2-for-15 showing on third downs was embarrassing. The Patriots defense owned the contest, intercepting the Dolphins' quarterbacks four times (technically) and sacking them seven times. It was an impressive beatdown.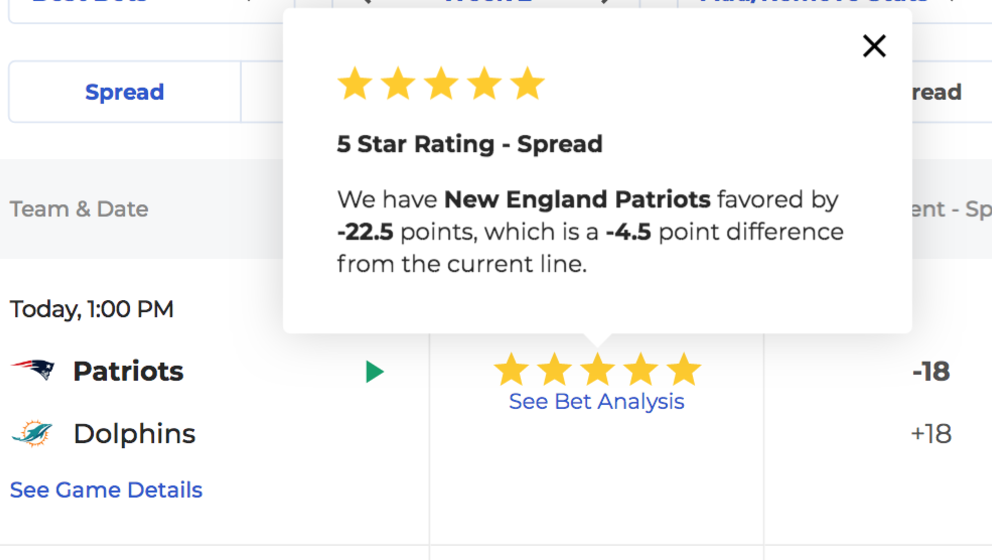 The Impact Of BetQL's NFL Model
The consensus spread of -18 for the Patriots in this contest was vastly undervalued considering Miami's tanking ways. They were destroyed in Week 1 after trading away their best offensive lineman and wide receiver (Laremy Tunsil and Kenny Stills).
BetQL's premium model had the New England spread at -22.5, making the Patriots a 5-star value at -18. It seems that the sportsbooks valued the Dolphins more because of their lucky win against the Patriots last season, as opposed to their current situation. They likely didn't account for Brown playing, either, making the Patriots even more wealthy offensively than they already were. Via BetQL's Public Betting Dashboard, 50 percent of the tickets were written on the Patriots while just 61 percent of the money was wagered on them.  
New England's defense really dominated and their offense chipped in nicely. Subscribing to BetQL's premium model will grant you an edge in scenarios like these moving forward in the NFL season. 
Jump in on the action and watch your bankroll start to grow at a steady pace!