LIVE
CLE
Browns
27
FINAL
JAX
Jaguars
25
CLE -7.5 O/U 48.5
MIA
Dolphins
20
FINAL
NYJ
Jets
3
MIA -7.5 O/U 46
ARI
Cardinals
17
FINAL
NE
Patriots
20
ARI -1 O/U 50.5
NYG
Giants
19
FINAL
CIN
Bengals
17
NYG -6.5 O/U 45
OAK
Raiders
6
FINAL
ATL
Falcons
43
OAK -3.5 O/U 53
TEN
Titans
45
FINAL
IND
Colts
26
IND -3 O/U 51.5
LAC
Chargers
17
FINAL
BUF
Bills
27
BUF -4.5 O/U 51
CAR
Panthers
27
FINAL
MIN
Vikings
28
MIN -3 O/U 50
SF
49ers
23
FINAL
LAR
Rams
20
LAR -5 O/U 44.5
NO
Saints
31
FINAL
DEN
Broncos
3
NO -17 O/U 36.5
KC
Chiefs
27
FINAL
TB
Buccaneers
24
KC -3.5 O/U 56
CHI
Bears
0
1st Q
GB
Packers
0
GB -8 O/U 44.5
SEA
Seahawks
Tomorrow, 1:15 AM
PHI
Eagles
SEA -6.5 O/U 48.5
BAL
Ravens
Wed 12/2, 12:10 AM
PIT
Steelers
PIT -10 O/U 41
NFL
Are Bettors Eyeing This Cincinnati Trend Ahead Of Their Battle With Washington?
The Bengals are underdogs when they visit the Football Team
By Bryan Zarpentine - Nov 18, 2020, 1:39pm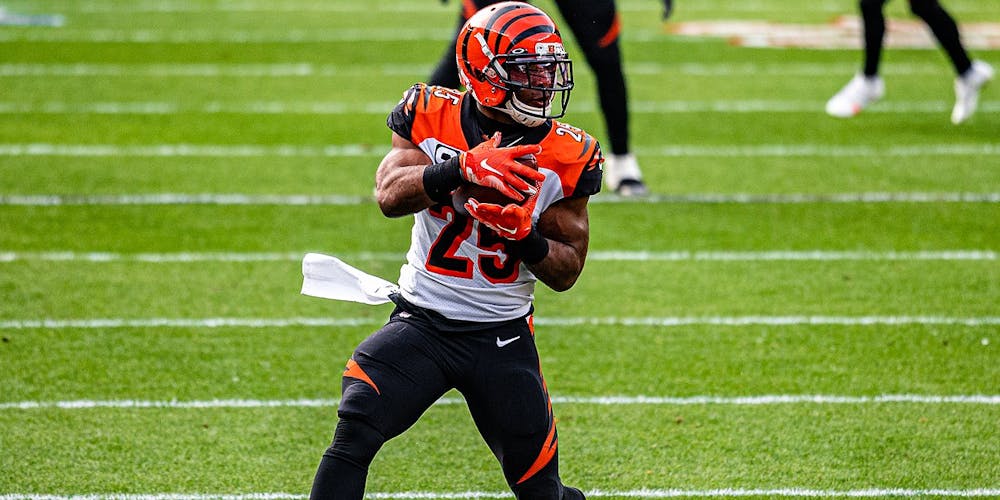 Quick-Hitters
At 2-7, the Washington Football Team is just 1.5-games out of first place in the NFC East. Washington (+900) is given the worst chance to win the division, per BetMGM.
Washington's over/under record stands at 1-3-1 over their last five contests.
The Cincinnati Bengals have lost four games by one score. This has benefitted spread supporters, as they've gone 6-3 ATS this season.
Get all of BetQL's best bets for the upcoming NFL season! Dating back a full calendar year, our five-star (max-value) bets have won 61% of the time!
Veteran Touch In Washington
For most teams, being 2-7 would feel rather bleak. In the Washington Football Team's case, the season is far from over. A 2-7 record puts them just 1.5-games behind the first place Philadelphia Eagles in the NFC East. Washington (+900) is listed with the worst chance to win the division, per BetMGM.
On the bright side, Alex Smith has taken over the offense. The veteran quarterback threw for 325 yards against the New York Giants two weeks ago and threw for 390 yards against the Detroit Lions last week. Oddly enough, he has one touchdown pass and three interceptions over those two games. However, he's helping the Washington offense move the ball better than they did under Kyle Allen, which is a reason to be optimistic.
The problem is that the Washington defense remains a liability. After giving up 30 points to Detroit last week, Washington has now conceded at least 30 points 5-of-9 games this year. The Football Team's young defensive line just hasn't grown up enough yet to become a consistent force. Despite the volume of points allowed on defense, Washington's over/under record is 1-3-1 over their last five contests.
If you want to roster any Bengals or Football Team players in your DFS lineups tonight, be sure to get a 3-day free trial on RotoQL to check out our projections!
Bettors Eyeing This Bengals Trend
As for the Cincinnati Bengals, they've all but assured themselves of another last-place finish. We should have been expecting inconsistency from them this season, but hype has come and gone. Nevertheless, the Bengals should be motivated to finish the season strong to see if they can avoid a double-digit loss total.
Offensively, a lackluster Cincinnati offensive line continues to hold back Joe Burrow and company. Burrow has shined at times, but he's also taken 32 sacks over nine games. The Cincinnati rushing attack has also been wildly inconsistent this year. However, Burrow and fellow rookie Tee Higgins continue to develop great chemistry. In games that Burrow gets adequate protection, the offense puts up points. This has led to a 6-3 over/under record for Cincinnati this season.
Of course, the Bengals also have a long way to go on the defensive side of the ball. At times, the Cincinnati defense shows signs of life, especially when it comes to stopping the run. The Bengals have also given up over 30 points in three of their last four games. In fairness, they've played four teams during that stretch that are probably going to the playoffs. However, it's clear that the Cincinnati defense isn't ready to shut down a competent offensive team.
Burrow has helped guide Cincinnati to four single-score losses in 2020. This has benefitted ATS supporters, as the Bengals are 6-3 in the department.
A Potentially Tight Contest
With a pair of subpar defenses, this game could be a tight one. Obviously, Smith has an advantage when it comes to experience, but Cincinnati has better playmakers offensively. As the 1-point spread indicates, this game could easily go either way.
Is the fact that Washington is playing at home enough to back them? Moneyline bettors can find value on both sides. As Smith grows more comfortable after returning from injury, the Football Team could become more exciting overall. The flip side is that Burrow has had plenty of late-game experience in 2020.