NFL
Amari Cooper Has Found His Groove In Dallas
Through 3 weeks, Cooper has been one of the best receivers in football
By Brandon Barbour - Sep 23, 2019, 5:29am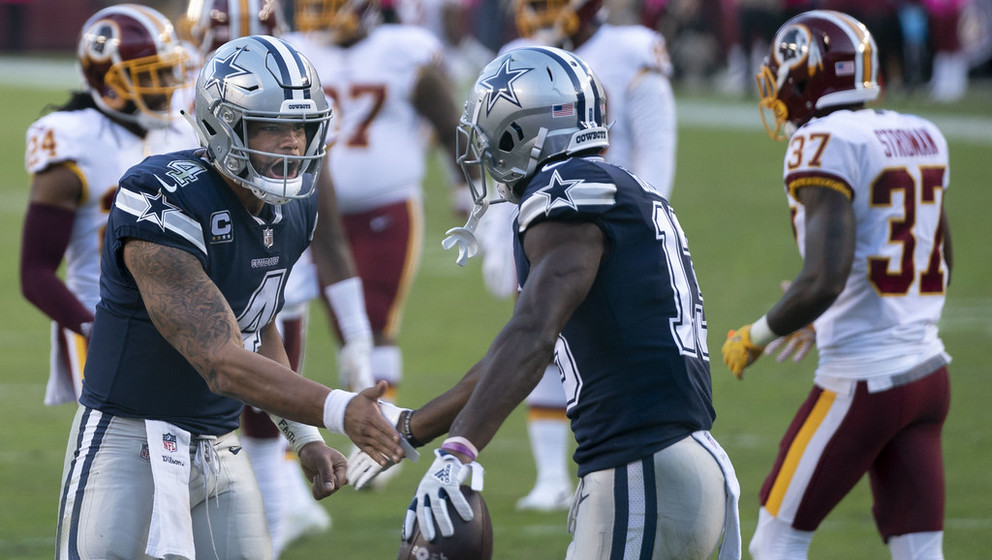 Amari Cooper has 69 catches, 963 receiving yards and 10 touchdowns over 12 games with the Dallas Cowboys.
Cooper has logged a touchdown grab in all three games in 2019.
Barring injury, Cooper should be the first Dallas receiver with over 1,000 receiving yards since 2016.
Expectations Heading Into The Season
The last time a Dallas Cowboys receiver finished a season with 1,000 receiving yards, Tony Romo was still running the show under center. Times have certainly changed since Dez Bryant's hay days, as the Cowboys have failed to make opposing secondaries fear a star receiver since Bryant's prime. It appears that they solved that problem last season after all.
When the Oakland Raiders made Amari Cooper available for trade, Jerry Jones and the Cowboys pounced by sending a first-round draft pick to the Oakland Raiders for Cooper's services. The receiver first suited up for Dallas on Week 9 and played in nine games for them.
Over those nine contests, he racked up 53 catches for 725 yards and six touchdowns. Dallas went 7-2 in games that Cooper played in as opposed to 3-4 in games before acquiring him. This certainly set the bar for 2019 and beyond.
The gift of Cooper to Dak Prescott was exactly what the quarterback needed to get this offense going beyond the rush attack of Ezekiel Elliott and the offensive line. The addition of the gifted Alabama receiver granted the rest of the offense some breathing room with additional attention going his way. It also helped Prescott in his quest to prove he's an elite quarterback.
View Public Betting data for Week 4 of the NFL season! 
First 3 Weeks
The Dallas Cowboys have started the 2019 season with three wins, including two against divisional opponents. They have outscored opponents 97-44 and have been firing on all cylinders.
Cooper has played a tremendous role in getting their offense into a blistering gear, catching 16-of-21 targets for 238 receiving yards and four scores. The star has managed to grab a touchdown in every game and appears to be Prescott's favorite target.
If you thought Prescott wasn't capable of accumulating major passing yards, well, look at him now.
Why Cooper's Production Matters
The Cowboys ranked 22nd in overall offensive production in 2018. They ranked 10th in overall rushing yards, but just 23rd in overall passing yards. Their offense definitely improved after Cooper joined them, but any player could benefit largely from an offseason of playbook studies and teammate chemistry.
The Dallas offense has ranked among the best in the league through three weeks, with Prescott accumulating 920 passing yards and nine touchdown passes. All of a sudden, he looks like one of the best quarterbacks in the league with an actual playmaker at receiver.
Elliott has benefited from Cooper's presence as well. Since Cooper's addition, Elliott has logged six games with at least 100 yards on the ground over 11 contests. The added attention to Cooper in the red zone has Elliott on pace to score the most rushing touchdowns since his rookie season back in 2016.
With Cooper's presence as a big play threat, defenses must respect him and help less to stop Dallas' rushing efforts. Cooper's ability to make plays for Prescott and the offense really opens things up and their 97 point total through three games has to have their upcoming opponents sweating. They are a far more balanced offense now and it's getting scary.
Love DFS and want to give betting a try? Get a 50% deposit bonus up to $500 with your next deposit on DraftKings Sportsbook. Learn more!
Looking Ahead
The Cowboys have a rough schedule going forward this year. They catch a break next week against the Drew Brees-less New Orleans Saints and have a strong chance at a 4-0 start. They have their two battles with the Philadelphia Eagles to look forward to, along with matches against the Green Bay Packers, New England Patriots, Minnesota Vikings, Chicago Bears, and Los Angeles Rams. They'll be tested all season, but they should continue to show up.
The Cooper and Prescott connection should continue to grow and the team is now 10-2 when the No. 1 wideout suits up. They already have a stellar defense and collectively excellent squad, but the emergence of Cooper as one of the best receivers in the game has Dallas looking like a potential Super Bowl-bound squad.
Look for Cooper to continue his dominance, as he has completely gained Prescott's trust. The confidence that the quarterback is oozing and if you own Cooper in fantasy, then hold on for dear life! He's expected to maintain high DFS values as well.
Cooper seems to have found his niche in Dallas after inconsistencies in Oakland. You better believe that there's more to come for this 25-year-old former first-round talent. 
Start optimizing NFL lineups, finding value players and keeping up with injuries in seconds on RotoQL!