NFL
NFL Beware: Aaron Rodgers Became Aaron Rodgers Again
Green Bay's superstar quarterback played a near-flawless game against Oakland in Week 7
By Dave Vest - Oct 21, 2019, 4:28pm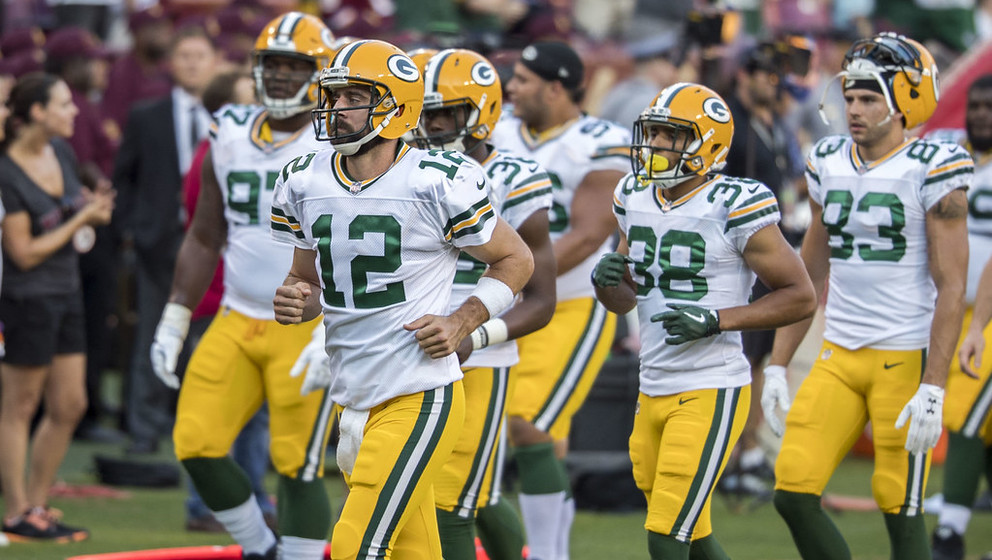 Aaron Rodgers went 25-of-31 for 429 yards, threw five touchdown passes and added a rushing touchdown in the Green Bay Packers' 42-24 victory over the Oakland Raiders in Week 7. 
It was the first time in his 188-game career that he had a perfect 158.3 passer rating.
With the victory, the Packers moved to 6-1 while the Raiders fell to 3-3. 
Rodgers enjoyed his success without No. 1 receiver Davante Adams, who missed the game due to injury.
Six of Green Bay's final nine games are on the road, starting with a Week 8 Sunday Night Football matchup against the Kansas City Chiefs.
With Patrick Mahomes temporarily sidelined because of a knee injury, the NFL is in need of a League MVP-type quarterback to step into the spotlight for a few weeks.
Enter Aaron Rodgers, no stranger to the role.
Rodgers threw five touchdown passes and ran for a sixth score on Sunday afternoon to lead the Green Bay Packers  to a resounding 42-24 win over the visiting Oakland Raiders.
View all Week 8 NFL Best Bets!
Early-season struggles
After the game, Rodgers, 35, joked that he still doesn't understand how the official quarterback rating is calculated. The topic came up because he notched a perfect 158.3 score vs. the Raiders, a first for Rodgers, who has played 188 NFL games, including the playoffs.
Rodgers entered the game with ho-hum stats in his first six games playing for new Packers head coach Matt LaFleur. Remember that terrible performance he turned in vs. the Bears on the first Thursday Night Football game of the season? Luckily, Chicago's offense was even more ineffective that night and the Packers won the game en route to their current 6-1 record.
With help from a stingy defense, Rodgers has kept the Packers competitive as he and his teammates start to grasp LaFleur's offensive scheme after 12-plus years of the Mike McCarthy era. It's been a struggle, at times; Rodgers hadn't thrown three touchdown passes in one game this season before Sunday, let alone five. 
Get a 50% deposit bonus up to $500 with your next DraftKings Sportsbook deposit!
Huge Performance In Week 7
Rodgers' performance vs. Detroit last Monday night, though not spectacular, was clutch, and it set the table for what happened on Sunday and perhaps what lies ahead.
Rodgers threw just eight touchdown passes, and two interceptions, before Sunday, and that mediocre output was expected to continue what with star receiver Davante Adams again out because of a toe injury, and receivers Marquez Valdes-Scantling and Geronimo Allison hobbled by minor ailments.
But, thanks in part to incredible protection from his offensive line, Rodgers dismantled Oakland's defense all day; he completed passes to eight receivers, and five of those receivers caught a touchdown pass. 
Rodgers' most noteworthy stats:
He completed 25-of-31 passes for 429 yards, the fourth-highest total of his career. 
Eight of his 25 completions went for 20 yards or more, which tied a career high.
His fourth touchdown pass was also the 350th of his career; only eight other quarterbacks have reached that milestone.
He became the first NFL player with five touchdown passes and a rushing touchdown in the same game since Mark Rypien in 1991.
See what teams our model's expert NFL picks are on for Week 8!
Looking Ahead 
The Packers are one game ahead of Minnesota (5-2) atop the NFC North standings. It will be a challenge for them to stay in first place considering six of their final nine games will be played on the road including at Kansas City, at San Francisco, at Minnesota and at Detroit. 
Nevertheless, Green Bay will be 6-1 heading into next Sunday night's game against the Chiefs, who are expected to be without Mahomes, the aforementioned NFL MVP.
Green Bay is hoping to get Adams back for the nationally-televised matchup vs. Kansas City.
"We need him," Rodgers told reporters after his colossal performance vs. Oakland. "We're a better offense with (number) 17 on the field. We've just been spreading it out a little bit more and guys have been stepping up."
Indeed. And so has Rodgers.
Keep tabs on the Packers/Chiefs matchup on our game page. There, you'll see all the updated betting information you need to know before placing your bets!