LIVE
CLE
Browns
27
FINAL
JAX
Jaguars
25
CLE -7.5 O/U 48.5
MIA
Dolphins
20
FINAL
NYJ
Jets
3
MIA -7.5 O/U 46
ARI
Cardinals
17
FINAL
NE
Patriots
20
ARI -1 O/U 50.5
NYG
Giants
19
FINAL
CIN
Bengals
17
NYG -6.5 O/U 45
OAK
Raiders
6
FINAL
ATL
Falcons
43
OAK -3.5 O/U 53
TEN
Titans
45
FINAL
IND
Colts
26
IND -3 O/U 51.5
LAC
Chargers
17
FINAL
BUF
Bills
27
BUF -4.5 O/U 51
CAR
Panthers
27
FINAL
MIN
Vikings
28
MIN -3 O/U 50
SF
49ers
23
FINAL
LAR
Rams
20
LAR -5 O/U 44.5
NO
Saints
31
FINAL
DEN
Broncos
3
NO -17 O/U 36.5
KC
Chiefs
27
FINAL
TB
Buccaneers
24
KC -3.5 O/U 56
CHI
Bears
3
2nd Q
GB
Packers
20
GB -8 O/U 44.5
SEA
Seahawks
Tomorrow, 1:15 AM
PHI
Eagles
SEA -6.5 O/U 48.5
BAL
Ravens
Wed 12/2, 12:10 AM
PIT
Steelers
PIT -10 O/U 41
NFL
A Double-Digit Spread Threatens Pittsburgh's ATS Mark Against Jacksonville
The Steelers are favored to move to 10-0, but can they improve on their 7-2 ATS record?
By Bryan Zarpentine - Nov 17, 2020, 4:46am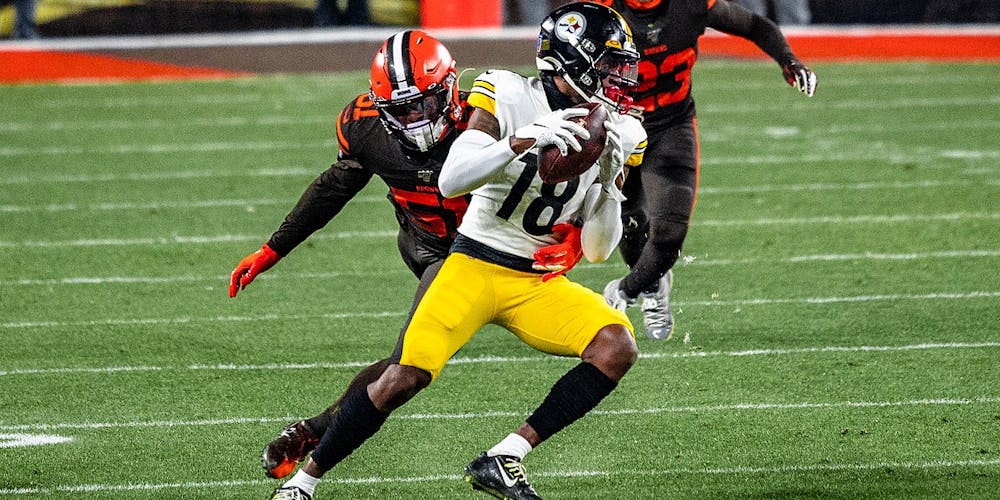 Quick-Hitters
The Jacksonville Jaguars have covered the spread the past two games. They're double-digit underdogs (10 points) for the second time all season.
The Pittsburgh Steelers are now 7-2 ATS on the season. Despite having the third-best defense (according to points allowed per game), the Steelers have an over/under record of 5-3-1.
The Steelers (+800) have an intriguing opportunity to win seven more games and finish 16-0, per DraftKings Sportsbook.
Get all of BetQL's best bets for the upcoming NFL season! Dating back a full calendar year, our five-star (max-value) bets have won 61% of the time!
ATS Success With Luton
The Jacksonville Jaguars gave the Green Bay Packers their best shot in Week 10. Ultimately, the Jags (+13.5) would lose 20-24, but they rewarded ATS bettors with an easy victory for the second-straight game. Jacksonville has now lost their last two games by just six total points. Since their Week 1 stunner against the Indianapolis Colts, the Jaguars have lost eight-straight. To make matters worse, Jacksonville has just one game left against a team with a losing record, making a 1-15 season a realistic possibility.
With Gardner Minshew still nursing a thumb injury, it looks like Jake Luton will make his third career start against the Pittsburgh Steelers. Luton has been solid for a sixth-round pick, but nothing outstanding. The real excitement on the Jacksonville offense is coming from running back James Robinson. He was the only running back to get a carry against the Packers last week, gaining 109 yards on 23 carries. Robinson is now averaging 109.0 yards on the ground over his last three games. If nothing else, the Jags have a productive running game to lead their offense.
Unfortunately, the Jacksonville defense remains a train wreck. They're giving up 30.1 points per game (second-most) on the season. On paper, the 24 points conceded against Aaron Rodgers last week isn't bad. Then again, they also gave up nearly 400 yards of offense and allowed someone other than Davante Adams to beat them, which is a troubling sign.
If you want to roster any Steelers or Jaguars players in your DFS lineups tonight, be sure to get a 3-day free trial on RotoQL to check out our projections!
All Sorts Of Pittsburgh Bets
Few people would have predicted the Steelers going 9-0 to start the season, but the team in black and yellow keeps rolling. One week after escaping a road game with the Dallas Cowboys, Pittsburgh made it look easy during a 36-10 win over the Cincinnati Bengals. Thanks to a Baltimore Ravens loss, the Steelers now hold a 3.0-game lead atop the AFC North. They could just about lock up the division with a win over the Ravens next Thursday.
FanDuel Sportsbook has the Steelers (-800) as large favorites to win the division.
The puzzling thing about Pittsburgh's undefeated record is the lack of balance they have offensively. The running game has been subpar for most of the season, especially with James Conner averaging 2.8 yards per carry over the past three games.
Meanwhile, Ben Roethlisberger is averaging 6.8 passing yards per attempt, a figure that's lower than his first 15 years in the league. However, Roethlisberger has been efficient, throwing 22 touchdowns and just four interceptions, taking just 10 sacks over nine games. Chemistry with Chase Claypool and Diontae Johnson is slowly coming together to give Roethlisberger some options outside of JuJu Smith-Schuster.
Of course, Pittsburgh's defense is the biggest reason for the team's undefeated record and 7-2 ATS mark. That was on full display last week in a dominating performance against the Bengals. The Steelers have now held six of their nine opponents to 21 points or less, which is usually a winning formula in the NFL, especially when you're averaging four sacks per game.
Even with the dominant defense, the Steelers' over/under record stands at 5-3-1 this season. Pittsburgh (+800) has an intriguing opportunity to win seven more and finish 16-0, per DraftKings Sportsbook.
How Close Will It Be?
On paper, this looks like a considerable mismatch, which is why the Steelers are favored by 10 points. The Jaguars appear to have plenty of fight in them and aren't going to go down easily. Jacksonville's running game is also one area where they might be able to take advantage. Unless they can create some big plays in the passing game, a lopsided win is not a certainty for the Steelers, so keep that 10-point spread in mind. It'll be interesting to see how many air yards Luton can log against the Pittsburgh secondary. It's hard to imagine the Steelers' win-streak ending here.