NFL
5 Reasons Why The Falcons Will Be Super Bowl Contenders This Season
Injuries plagued them last year, but they're poised for success
By Brandon Barbour - Jul 12, 2019, 4:19pm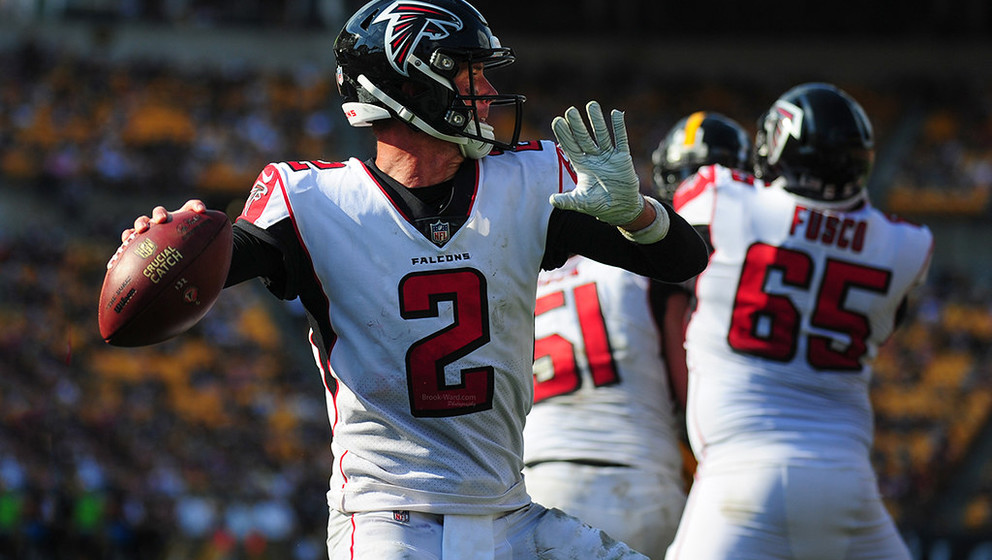 After a devastating Super Bowl loss to the New England Patriots in 2016, the Atlanta Falcons have posted back-to-back disappointing seasons, going 10-6 with a first-round playoff exit in 2017 followed by a 7-9 campaign in which they missed the playoffs last year. 
Listed at +3300 (Bovada) to win the Super Bowl in the upcoming season, there are significant reasons to assume that Atlanta will bounce back in a major way.
5. Deion Jones Is Healthy
Deion Jones played like one of the best linebackers in the NFL in his first two seasons after the Falcons drafted him in the second round out of LSU in 2016. Jones managed to amass a ridiculous 165 tackles his rookie season. In 2017, he was selected to the Pro Bowl after recording 138 tackles as the main piece of a much-improved Falcons defense. 
The Falcons lost Jones due to injury after six games last season and gave up an average of 26.4 points per game in his absence. It was a crucial loss to a defense that was expected to take the next step and help guide Atlanta back to the Super Bowl. Their rush defense fell to third-worst and their pass defense fell to fourth-worst in the NFL without him. There were more factors that contributed to the team's defensive woes than just losing Jones, but it was a major hit when they did. Now healthy once again, Jones should be in store for another ultra-productive campaign.
4. Dan Quinn's New Role
Dan Quinn is recognized as one of the best defensive minds in football. He broke onto the scene in his two seasons as defensive coordinator for the Seattle Seahawks and has attempted to instill a gritty defensive philosophy at the helm of the Falcons. Shortly after last season concluded, the Falcons fired defensive coordinator Marquand Manuel and Quinn took over the role himself. On the hot seat with his job most likely on the line, Quinn will likely be aggressive and get creative with his play-calling.
The Atlanta secondary suffered immensely last season with free safety Ricardo Allen and strong safety Keanu Neal suffering season-ending injuries. The injuries snowballed and became somewhat of a joke to the Falcons after a while. They fell to 28th in the NFL in total defense, along with 25th in points allowed per game. The Falcons yielded over 4,000 passing yards and over 2,000 rushing yards in 2018.
It was certainly a year to forget on the defensive end for Atlanta. Coach Quinn should bring more tenacity to the defense and they should be luckier maintaining overall health. When healthy in 2017, this general core ranked eighth in the NFL in points allowed per game at 19.7 and there's no reason to assume they can't return to that level of productivity this year.
3. Devonta Freeman Is Back
The Falcons desperately missed multi-dimensional running back Devonta Freeman last season. Quarterback Matt Ryan missed him most, as it meant more work in predictable, challenging situations in the passing game. Atlanta will be even more dependent on Freeman since Tevin Coleman has moved on and rejoined his former offensive coordinator (Kyle Shanahan) by signing with the San Francisco 49ers in free agency. Freeman suffered from knee and groin injuries in 2018 and went under the knife for the groin issue. He is still in his prime at age 27 and is expected to be ready for Week 1.
Freeman was only able to suit up for two games last season and the team rushed for 274 less yards than they did the year before (and attempted 87 more passes). Atlanta missed his knack of finding the end zone as well. Freeman combined for 35 touchdowns over 45 games from 2015 to 2017. The Atlanta offense is definitely at its best when Freeman is a threat in the backfield and providing Ryan with security.
2. Calvin Ridley Should Avoid A Sophomore Slump
The Falcons selected Calvin Ridley in the first round of the 2018 Draft in order to bolster their dynamic offense. The Alabama product quickly made a name for himself by catching six touchdowns over his first four professional games. The scoring surge was enough to draw more attention to himself and free up the likes of Julio Jones. The addition of Ridley allowed Jones to have the second-best season of his career from a receptions and yardage standpoint. 
Ridley was rated as one of the most NFL-ready talents in the draft, and for good reason. He added another dimension to the receiving corps that already featured Jones, Mohammed Sanu and tight end Austin Hooper, who enjoyed a breakout season. Ryan fed Ridley on a fairly consistent basis. The rookie wideout was able to post 64 catches for 821 yards and 10 touchdowns. This offense could take a gigantic leap if Ridley can take even a half step forward in 2019 and there's no reason to assume he can't build on last year's success.
1. Matt Ryan Is Elite
Matt Ryan continues to be efficient as he ages. He will be entering his age 34 season and there's no reason to expect regression yet. Without a stellar running game to support him last season, he managed to complete 69.4 percent of his passes and throw 35 touchdowns against just seven interceptions. Ryan has combined for 93 touchdowns and 26 interceptions from 2016 to 2018, including a hefty 13,963 passing yards. He's simply one of the best and is seemingly ready for another Super Bowl run.
The Falcons have never had to worry about Ryan's health. He's played all 16 games in 10 of 11 seasons. Atlanta has protected him well and Ryan's size has helped him from a durability perspective over the years.
Further, Atlanta signed offensive coordinator Dirk Koetter to call the plays. Known as a brilliant and progressive offensive mind, Koetter was offensive coordinator of the Falcons from 2012 to 2014, so it's easy to assume that Ryan will welcome him back with open arms and that he will fit in immediately.
Ryan has also performed well under the big lights. He completed 67.5 percent of his passes over 10 playoff games and has managed 11 touchdown to zero interceptions over his last five postseason contests, including 1,442 passing yards in that span.
It's a bit puzzling as to why the Falcons are listed at +3000 to hoist the Lombardi Trophy. They are a couple years removed from a Super Bowl appearance, they're healthy again and they're hungry. Matt Ryan and company have a difficult division to navigate through, but if their defense can return to form and produce like they did two seasons ago, the Falcons have as solid of a chance as any other squad.