NFL
5 NFL Draft Wagers To Make On PointsBet Right Now
Betting on the NFL Draft will be even more exciting thanks to PointsBet!
By Dan Karpuc - Mar 18, 2020, 3:31am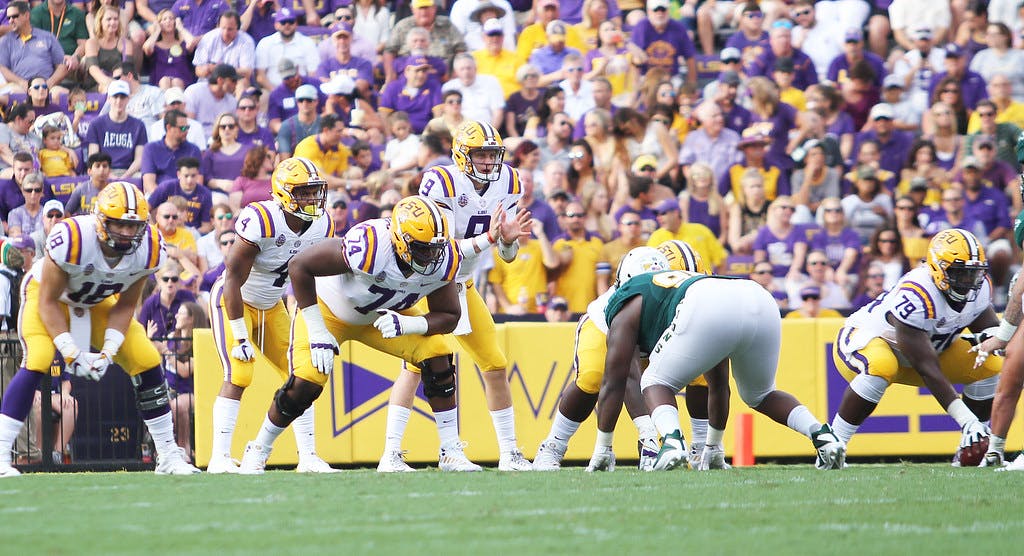 Chase Young To Be 2nd Overall Pick (-318)
While nothing is set in stone, it certainly seems like Joe Burrow will be taken by the Cincinnati Bengals with the first overall pick. Although the Washington Redskins surprisingly ranked 7th in the NFL in sacks with 46.0 last season, Chase Young is arguably the best prospect in this draft and is widely recognized as a sure-fire future star based on his utter domination of every offensive lineman he faced at Ohio State. Washington presumably has their franchise quarterback in Dwayne Haskins, so Young becomes the obvious selection. The possibility of a trade-up is there, but if one occurs, it will likely be for Young, since the Detroit Lions and New York Giants (at picks three and four) already have their QB positions filled. At this point, it seems like this is a fantastic bet, even if the odds don't present much of a financial upside.
Number Of QBs Selected In Round 1: UNDER 4.5: (-385)
Joe Burrow, Tua Tagovailoa and Justin Herbert are projected to be first-round picks, but the question is if some others also make their way into the conversation. Jordan Love out of Utah State, Jake Fromm out of Georgia, Jacob Eason out of Washington and Jalen Hurts out of Oklahoma are some more names to consider, but judging by the number of open starter spots available across the league, it seems as though five first-round quarterbacks is a bit of a stretch. The Bengals, Miami Dolphins, Los Angeles Chargers, Jacksonville Jaguars and Denver Broncos are the most likely teams in search of a franchise quarterback, but it seems unlikely that any signal-caller outside of Burrow, Tagovailoa or Herbert creep into the first round. 
Number Of RBs Selected In Round 1: OVER 0.5 (-233)
The shelf life of an NFL running back is limited. (See: Todd Gurley, Melvin Gordon and every other workhorse that peaked and then faded.) If you think about it, it makes a lot of sense; the more hits a body takes over time, the more susceptible they are to injuries and general wear and tear. With that being said, three backs who could potentially make an instant impact are available in this year's draft: Jonathan Taylor out of Wisconsin, D'Andre Swift out of Georgia and JK Dobbins out of Ohio State. Now that Tom Brady is in town, it would make sense for the Tampa Bay Buccaneers to consider one with pick No. 14. Perhaps the Jags decide to move on from Leonard Fournette and take another at No. 20. Maybe the Seattle Seahawks will settle on one at pick No. 27 after dealing with depth issues late last season. Further, the Tennessee Titans (No. 29) or Kansas City Chiefs (No. 32) could use some talented depth at the RB position as well. All of the aforementioned picks are realistic options for one, two, or all three young workhorses. To win this bet, just one needs to have his name called.
Jonathan Taylor To Be 1st RB Selected (+140) 
Although all three could absolutely go early in this draft, Taylor (+140) is the best bet to be selected first and could realistically be a target for the Buccaneers at No. 14. Although Swift (+100) has better odds and Dobbins (+400) is in the mix (according to PointsBet), it's hard to ignore Taylor's track record as arguably the best collegiate running back ever, as well as his ability to play a three-down role immediately. He had experience handling gigantic workloads in college and could presumably step into any role right away. Swift might be the shiftiest and most elusive running back in this class and Dobbins also had experience in a three-down role, but Taylor's the most complete back available. Think about this offense: Brady at QB, Taylor at RB, Chris Godwin, Mike Evans (and perhaps even Antonio Brown) at WR. That would be quite the arsenal of weapons for TB12 in his new home. Remember, the time is now for Tampa Bay to make a run considering how much money they just invested in a 43-year-old, so expect them to cater to Brady's wants and needs. 
Miami Dolphins To Draft Tua Tagovailoa (-140)
There are some major questions about Tua's history of lower body injuries, but the Dolphins are in desperate need of a franchise quarterback. The situation sets up well for Tagovailoa, too, since he wouldn't be rushed into action and could spend some time sitting behind Ryan Fitzpatrick for as long as it's required. Assuming that the Bengals select Burrow at No. 1 and the Redskins pass on a quarterback at No. 2, the Dolphins could stay still at No. 5, since both the Lions and Giants are not in need of a QB. The threat of another team moving up ahead of them is in play, but it seems like Tua ending up in South Beach is a very realistic possibility at -140. 
Make all of these bets on PointsBet, but first, take advantage of the offer below!