NFL
NFC Championship Preview: 49ers vs. Packers
San Francisco is the clear home favorite in the matchup against Green Bay
By Dan Karpuc - Jan 13, 2020, 3:59am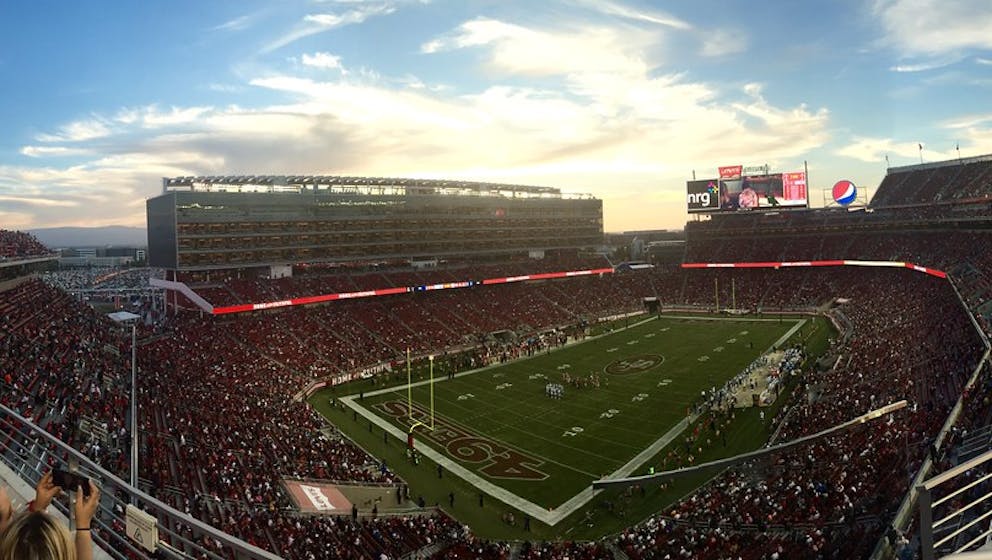 Packers at 49ers
Sunday 1/19/20, 6:40pm EST
VIEW LIVE ODDS, TRENDS & MORE!
The Green Bay Packers and San Francisco 49ers will meet in the NFC Championship Game. 
The Niners opened as 7-point home favorites and the over/under opened at 45 points. 
The Packers enter this game with the following records: 14-3 overall, 11-6 against the spread, 6-2 (5-3 ATS) on the road and 3-1 (3-1 ATS) as an underdog. 
The 49ers enter this game with the following records: 14-3 overall, 9-7-1 against the spread, 7-2 (3-5-1 ATS) at home and 10-2 (4-7 ATS) as a favorite.
San Francisco hosted Green Bay back on November 24th and absolutely throttled them (37-8). 
After earning a first-round bye, the Packers took care of business in the Divisional Round, beating the Seattle Seahawks 28-23. 
The Niners had a first-round bye as well and easily took care of the Minnesota Vikings in the Divisional Round (27-10). 
Check out our full preview below!
Packers
Heading into their Divisional Round matchup, it was clear that bettors were uncertain about Green Bay's outlook despite the fact that they went 13-3 in the regular season and earned a first-round bye. BetQL Users were all over the Seahawks (against the spread and on the moneyline) and didn't show much respect for the Packers for a few reasons. For example, heading into that game, five of Green Bay's seven home victories were by one possession. Further, Aaron Rodgers hasn't resembled the dominant version of himself in his first season under head coach Matt LaFleur. 
Our community was right to question the true threat that the Packers pose. According to Football Outsiders' DVOA (which is an all-encompassing, long-term metric of how to evaluate a team), the Packers were the second-worst 13-3 team in history (behind only the 1999 Indianapolis Colts) due to a number of small victories and a couple ugly defeats. Overall, the Packers rank 10th (including non-playoff teams) in Total DVOA. For comparison, the San Francisco 49ers rank 2nd. However, after a 28-23 victory over Seattle, Rodgers and company are just one more win away from a Super Bowl appearance. 
A few things were evident in last week's win. First, the general offensive balance that was evident during the regular season carried over into the playoffs. Rodgers went 16-of-27 passing for 243 yards, two touchdowns and an interception while the team called 30 rushing plays, amounting to 109 yards. Aaron Jones had a stranglehold on the running back duties, and had 22 touches (21 carries for 62 yards and two touchdowns, one catch for four yards) compared to Jamaal Williams' two touches (one carry for three yards, one catch for nine yards). Yet again, Davante Adams dominated on the outside and caught eight passes for 160 yards and two touchdowns. Only one other Packer (Jimmy Graham) had more than one reception and only two others (Graham, Geromino Allison) had double-digit receiving yards. It was an extremely concentrated effort and, judging by Green Bay's lack of offensive production against the Packers during their 37-8 regular-season loss back on November 24th, it is obvious that at least one other player will need to step up this week. In that first meeting, Rodgers threw 33 passes, but completed 20 of them for just 104 yards and a touchdown. Meanwhile, the Niners limited Jones to just 38 rushing yards on 13 carries and Williams to 45 yards on 11 carries and held Adams to 43 receiving yards on seven catches. 
More than anything, there isn't a particular characteristic of Green Bay's offense or defense that is particularly dominant or outstanding. However, the team's obvious will to win and ability to pull off close games can't be measured by metrics and is impressive in its own right.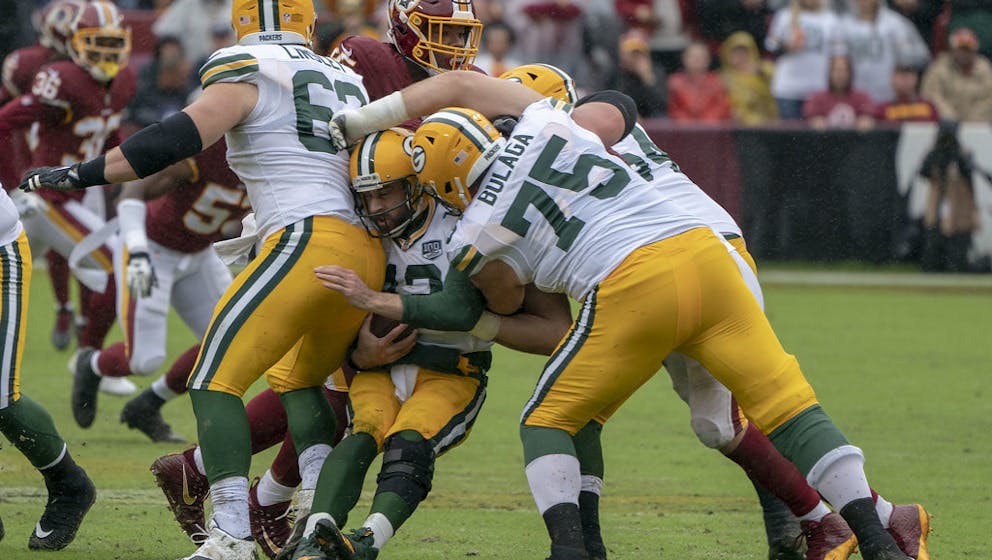 49ers
There was buzz surrounding San Francisco's defensive free-fall towards the end of the regular season, but a few key starters returned in the Divisional Round and the Niners manhandled the Vikings 27-10. That's bad news for the Packers, who managed just eight points in their previous meeting on the road against the Niners. In that contest, Green Bay's defense simply had no answer for the home team, as Jimmy Garoppolo went 14-for-20 for 253 yards and two touchdowns, one of which went to George Kittle, who amassed 129 receiving yards on six catches. Unlike their opponents, the Niners were able to capitalize on numerous chunk plays and dominated from start to finish. 
San Francisco made something extremely clear in their win over the Vikings last week: they're a run-first offense and will try to pound the ball repeatedly if they are clicking. Further, they're going to ride the hot hand. Last week, Tevin Coleman was that hot hand, and he went off for 105 rushing yards on 22 carries with two scores. Raheem Mostert, who came into the game as the presumed first-stringer, took 12 carries for 58 yards and Matt Brieda had eight carries for 17 yards. That three-headed monster was a nightmare for Minnesota's defense and will most likely see another heavy workload in this contest. Garoppolo went just 11-for-19 for 131 yards, a touchdown and an interception in that victory, and it's clear that Kyle Shanahan wants to establish the run, which will keep the clock running and keep the ball out of their opponent's hands. Nonetheless, if the Niners get down early or elect to feature their passing game more, Kittle always has the potential to dominate and take over while Emmanuel Sanders and Deebo Samuel have had monster weeks at various points of the regular season. 
Dee Ford, Nick Bosa, Arik Armstead, DeForest Buckner, Kwon Alexander, Fred Warner and Richard Sherman make up arguably the most fearsome defense left in the playoffs and have the dynamic potential to create pressure on four-man rushes as well as turnovers in the secondary. Now back at full strength, they will look to keep up the momentum and earn a Super Bowl appearance. 
Prediction
Although Green Bay's victory over the Seahawks was sealed with a pair of completions by Rodgers in the final minutes, a win is a win. They've had 14 of them so far, and there's something to be said about a team that can consistently end up on the right end of close games. Although the 49ers are fully expected to win this game in front of their home crowd, which team is the best bet against the spread? 
Find out which team our model lists as the best bet and track line movement leading up to kickoff!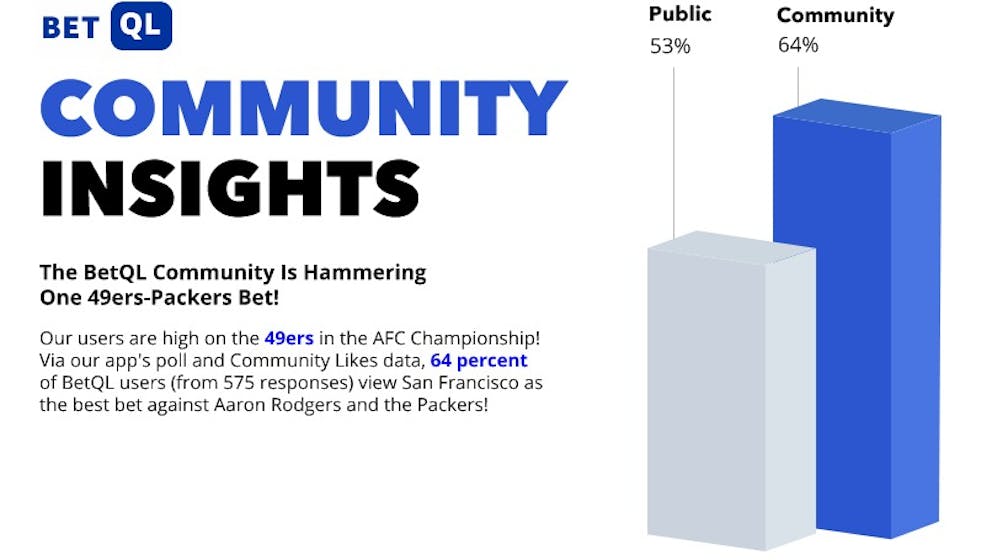 The 49ers have attracted 53% of public bets against the spread so far, but BetQL users are hammering San Francisco in this matchup, as you can see above. Compare this to live public and sharp data all week long!