NFL
3 Deep NFC Sleepers To Consider Betting On
All three were afterthoughts last season
By Sierra Kennedy - Jul 16, 2019, 3:17pm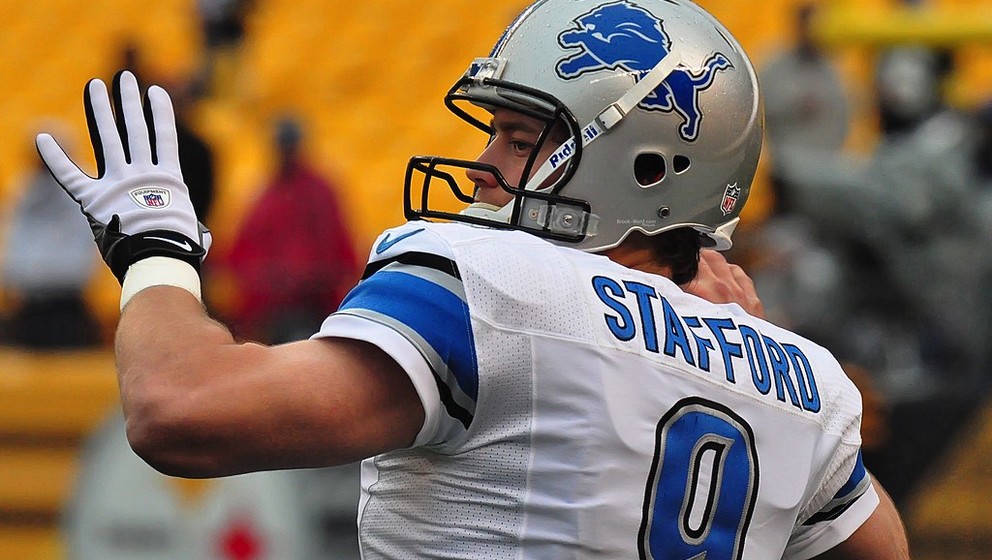 With major offseason moves and impressive draft classes, the NFC is shaping up to be highly-competitive entering the 2019 NFL season. We already know the New Orleans Saints and Los Angeles Rams should contend again, but here are three deep sleeper teams to keep an eye on as well.
Detroit Lions
Odds to win Super Bowl: 100/1 (futures via Vegas Insider) 
Odds to win NFC: 50/1
Odds to win NFC North: 10/1
Season win total: 7 (totals via CG Technology)
When former New England Patriots defensive coordinator Matt Patricia took over as head coach last year, the Detroit Lions did anything but mimic the eventual Super Bowl winners. In fact, the Lions posted their lowest season win total since 2012 with six. Heading into his second year, Patricia may know how to better utilize the tools at hand. Last season, Matt Stafford played with a broken back and finished next to last in air yards per attempt (7.0). Even so, this was just behind a healthy Drew Brees who averaged for 7.1 per attempt. The Lions also acquired Damon "Snacks" Harrison during the season, who contributed to the team's No. 2 ranked run-defense grade of 91.7, per Pro Football Focus. Detroit has also signed former Patriots tight end Trey Flowers, along with cornerback Justin Coleman. Rookie pass-catching tight end T.J. Hockenson is also expected to make an immediate impact on the offensive side of the ball and has already drawn comparisons to some elite Pro Bowlers.
The NFC North may be stacked, but the Lions have the easiest schedule of the division and could rebound from last season's disappointment due to improvements made on both sides of the ball. 
New York Giants 
Odds to win Super Bowl: 100/1
Odds to win NFC: 50/1
Odds to win NFC East: 14/1
Season win total: 6
The New York Giants have made quite a few moves this offseason, some of which do not add up just yet. Most notably, the team traded Odell Beckham Jr. to the Cleveland Browns for first and third-round picks. It was predicted that the Giants would target offensive lineman Josh Allen in the 2019 NFL Draft, but they instead drafted quarterback Daniel Jones No. 6 overall. Only time will tell if the QB was overvalued, but it was a curious selection to say the leat. The draft class also included defensive tackle Dexter Lawrence, cornerback Deandre Baker, defensive end Oshane Ximines, and six other picks in later rounds. The Giants also picked up safety Jabrill Peppers in the Beckham trade. He recorded 136 tackles over his two seasons with the Cleveland Browns but might still have the upside he was thought to have after excelling in college. The combination of these defensive players should help fill some the void left by the departure of Olivier Vernon, Landon Collins, and B.W. Webb.
The Giants went 5-11 last season, but a playoff run come January is not out of the question. Smart draft picks, strengthening the offensive line, and the maturing of a young defense will be the keys to growth for the upcoming NY Giants season. The team does still have Eli Manning and Saquon Barkley, plus proven pass catchers Golden Tate and Sterling Shephard. The division is the Eagles' to win (if Carson Wentz stays healthy), but New York might be able to sneak by the Washington Redskins and Dallas Cowboys, both of which have clear deficiencies. 
Arizona Cardinals
Odds to win Super Bowl: 200/1
Odds to win NFC: 100/1
Odds to win NFC West: 30/1
Season win total: 5
Can Kyler Murray guide the Arizona Cardinals to the playoffs during his rookie season? Will head coach Kliff Kingsbury fare better in the NFL than he did in college? How will Murray fit into Kingsbury's prolific offensive system? All of the unknowns with the Cardinals are what make the recipe for a perfect sleeper team. After a 3-13 season, it is hard to consider Arizona a playoff contender. The one high point was that they lost four games by less than three points. However, the team has completely restructured itself with the addition of veteran players and a draft class that is expected to be more effective on both sides of the ball. Although Patrick Peterson will be out until Week 7 due to a PED suspension, it's difficult to predict how the team will perform due to the overhauled coaching staff and presence of a dynamic quarterback. 
Luckily, Murray will have some help on the offensive side of the ball. Running back David Johnson and wide receiver Larry Fitzgerald are two proven assets. The Cardinals are no doubt one of the biggest long shots across the entire league to see a playoff berth, especially in a competitive NFC West division. That being said, all of the unknowns for the upcoming Kingsbury-Murray era make them one of the best deep sleepers to lay a few dollars on. 
If you are not into betting NFL futures, and betting single games is go look at our NFL odds page where you can find all Week 1 odds, lines and spreads.