NFL
Evaluating Why The Rams Are NFC West Favorites
The NFC champions should have no issues dominating once again
By Brandon Barbour - Jul 24, 2019, 3:04pm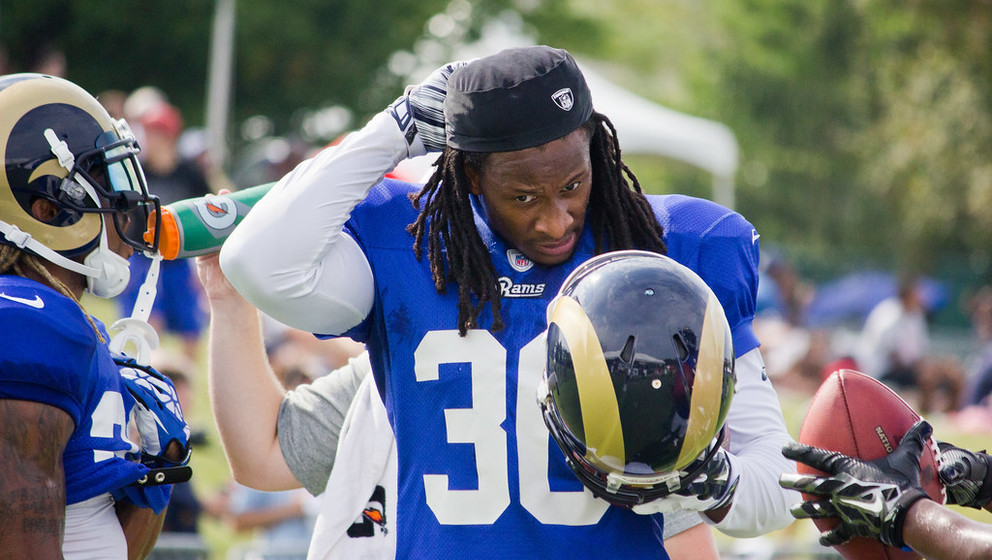 The Los Angeles Rams had a phenomenal 2018 regular season, going 13-3 to top the NFC West. They devoured their divisional competition, going 6-0 and outscoring them by a tremendous figure of 221-113. Second-year head coach Sean McVay had the Rams offense firing on all cylinders as the unit propelled to new heights. The Rams offense ranked second in points per game and yards per game last season.
The Rams defeated the Dallas Cowboys in the Divisional Round 30-22. Next, they took down the New Orleans Saints in a thrilling, but controversial overtime win. Finally, Los Angeles took a whooping in the Super Bowl, losing 13-3 to the New England Patriots. It was a humbling defeat for the 33-year-old McVay, who has earned the banter of being discussed as one of the best coaches in the game already. He was out-coached by the brilliant Bill Belichick, of course. 
Regardless of the Super Bowl outcome, it was a successful season. The Rams are being discussed as a favorite to return to the promised land and are heavily favored to win their division yet again. 
Odds And Expectations For 2019
Windows in the NFL tend to close quickly as players get more expensive and harder to retain. It's the nature of the business, but the Rams are still in good shape moving forward. With this in mind, it's clear that it's a Super Bowl-or-bust season for them.
As noted earlier, the Los Angeles offense was an elite powerhouse in 2018. They ran all over teams, averaging 139.4 yards per game on the ground, ranking third in the league. Their passing offense ranked fifth at 281.7 yards per game. They were consistent all season long and their weighted offense of 19.3 percent ranked second in the NFL (weighted offense is adjusted so that earlier games gradually become gradually less important, better reflecting the play near the end of the season). Their DVOA (Defense-adjusted Value Over Average) on offense also ranked second at 24.6 percent.
Quarterback Jared Goff was impressive last season through Week 11. Things went south after their bye week as offensive stars Todd Gurley and Cooper Kupp endured injuries. Gurley remained active, but saw fewer snaps and less action, clearly dealing with a substantial injury. Goff finished the season sixth in DYAR (Defense-adjusted Yards Above Replacement). For comparison, divisional quarterback Russell Wilson finished 11th in DYAR. It's hard to compare the quarterback play of the division with Kyler Murray being a rookie and Jimmy Garoppolo returning from a brutal ACL tear.
Los Angeles has a massive edge in the NFC West as a -182 favorite (DraftKings Sportsbook). The Seattle Seahawks (+275), San Francisco 49ers (+550) and Arizona Cardinals (+2500) are all considered steep underdogs.
Key Additions
Eric Weddle was added to boost the safety corps, but his impact remains to be seen. Weddle started all 16 games for the Baltimore Ravens last season and managed to finish with a big goose egg in the interception category. He may have been selected to the Pro Bowl, but he mustered a zero in the pass break-ups department as well. The 34-year-old doesn't exactly have youth on his side and the Rams are in desperate need of improvement in their secondary. The Rams' weighted pass defense ranked ninth last season, so there is definitely room for improvement. Weddle may or may not be the answer.
Clay Matthews finally left the Green Bay Packers in search of a similar role. LA's weighted rush defense ranked 27th in the league. It's a puzzling statistic when you consider the names on that defensive line, but at times it felt as though the line played as individuals and not as a unit. It appeared that they became starved for individual sacks versus stopping the chains. Matthews has specialized in chasing after the quarterback in his career, but he's not bad at containing the run. Still, Matthews has seen his production dip as he ages. At 33, it's hard to envision a return to elite form. Matthews totaled 3.5 sacks last season. 
NFC Championship Game hero Dante Fowler returns on a one-year deal. Fowler was the one who hit Drew Brees in overtime, causing the blooped pass and interception that eventually sent the Rams to the Super Bowl. It was an important signing for the organization, as they needed to retain an important part of their rush defense for Wade Phillips' 3-4 scheme. The signing confused some, because it was a great contract and situation for the Rams, but Fowler left himself with an interesting prove-it type of deal. 
Key Departures
Offensive guard Rodger Saffold signed a lucrative contract with the Tennessee Titans and center John Sullivan had his team option declined. This leaves the Rams with gaping holes in their offensive line that will have to be replaced by younger, less-proven players. The Los Angeles offensive line finished fifth in adjusted sack rate and allowed 33 sacks over 16 regular season games.
Goff was well-protected last year, but don't be so sure about that this season. There remain major question marks as to how this offensive line will perform with such drastic changes. The stellar line also contributed to a 14.6 percent stuffed rate, ranking them tied for the second-lowest amount. Their running attack sets up their passing game, so this seems a bit alarming on paper that they've lost such key figures up front.
Free safety Lamarcus Joyner joined the Raiders on a hefty contract and the team replaced him with Weddle, who is a solid six years older than him. The Rams' pass defense ranked in the middle of the pack with 236.3 pass yards allowed per game last season. Things might not improve in that regard with Joyner out of the picture.
Mark Barron also decided to leave for a pay increase. The inside linebacker was an important part of their front seven and they don't exactly have a body to replace him. Matthews is expected to play the majority of his snaps on the edge, but could help out on the interior some in Barron's absence. This position could end up being a weakness for the team in 2019.
Running back C.J. Anderson moved on after breaking out for the injured Todd Gurley. Anderson looked like a three-year-younger version of himself. The burley back pounded the ball very well behind the Rams' amazing line. It was a match made in heaven with Gurley dealing with his bad knee. Losing Anderson may have a huge impact with Gurley's knee situation up in the air, although this league has proven time and time again that running backs are replaceable.
Oh, and let's not forget Ndamukong Suh's departure. He may not be what he once was, but he's still a big bully on the interior.
Latest Injury News
Offensive weapons Todd Gurley and Cooper Kupp are on the injury report in the early goings. Coach Sean McVay claims that Gurley is "feeling great" and is just going about the preseason the way they discussed. This leaves Rams fans, fantasy participants and bettors leaning on McVay's words and nothing else. 
Slot wide receiver Cooper Kupp is still recovering from an ACL tear and is redshirting and "couldn't participate in 11-on-11 drills", per Myles Simmons of Rams Insider. The goal is for Kupp to return for Week 1, but whether that happens or not remains to be seen. He's a deadly weapon out of the slot and adds to an already star-studded duo in Brandin Cooks and Robert Woods. There's no doubt that the Rams offense and Goff produce much better numbers when Kupp is on the field.
Schedule Analysis
Despite a trip to the Super Bowl last season, the Rams have been dealt one of the more friendly schedules in the NFL for 2019. They rank in at a five-way tie for 27th in overall schedule strength with opponents' winning percentages at .473. The Rams will host worthy opponents such as the Chicago Bears and New Orleans Saints, and they'll travel to face the Atlanta Falcons and Pittsburgh Steelers. 
Beyond those star-studded squads, the Rams have weak competition. Sure, the division is vastly improving with the likes of San Francisco and Arizona, but the Rams are built to win now. A team like the 49ers should compete for a wildcard position with crafty head coach Kyle Shanahan molding the offense, but the Cardinals should end up being too raw to make a ton of noise this season. Cliff Kingsbury and Kyler Murray are definitely an intriguing duo, but put that on the back burner for a future season. This division should be another breeze for the Rams.
What To Expect
Los Angeles might have taken a half step back after losing a few key pieces while not signing any marquee players in free agency this offseason. They might have some holes. However, the team is so far ahead of their divisional opponents that it shouldn't matter in the slightest. 
What could matter is the health and well-being of their star running back. It seemed as though the pass game was a mess after Gurley's knee issues came into play, since Goff averaged just 228.2 yards passing per game from Week 13 on. This team is a juggernaut and another NFC West crown seems to be a lock. 
Expect the NFC West odds to swing in LA's favor even more as the weeks go by and as the preseason progresses. Therefore, it might be a smart time to place a bet on them right now while it's still worthwhile. 
Note: The advice above represents the writer's personal view and does not reflect or represent BetQL's stance or interest in any way.