Atlanta Falcons
vs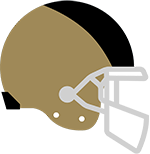 New Orleans Saints Prediction
Expect a close game with the Atlanta Falcons winning 47% of simulations, and the New Orleans Saints 53% of simulations. In close games, turnover margin is especially important. The Atlanta Falcons commit fewer turnovers in 34% of simulations and they go on to win 76% when they take care of the ball. The New Orleans Saints wins 69% of the simulations in which they commit fewer turnovers. Matt Ryan is averaging 325 passing yards per sim. If he can have a great game with better than average passing yards and at least a 2 to 1 TD to INT ratio (34% chance) then he helps his team win 50%. Alvin Kamara is averaging 67 rushing yards per sim. If he can have a great game with better than average rushing yards and at least a 1 rushing TD (40% chance) then he helps his team win 73%.
Atlanta Falcons vs New Orleans Saints Prediction
The New Orleans Saints begin what they hope will be a temporary period without Drew Brees when they host the Atlanta Falcons in Week 11. Kickoff is at 1:00 EST on Sunday, November 22, at the Mercedes-Benz Superdome in New Orleans. Early betting action as the Saints favored by 4.5 points at home with an over/under of 51.5 points. Let's take a closer look at both teams as we try to figure out the right Saints vs Falcons prediction.
Atlanta Falcons Preview
Much like the past two years, the Falcons are turning things around after a disastrous start. Prior to last week's bye, Atlanta had won three of its last four games to get to 3-6 on the season. The season isn't over yet for interim coach Raheem Morris if the Falcons can keep building off their recent success. However, Atlanta's remaining schedule is brutal. The Falcons will play the Saints twice, the Buccaneers twice, the Raiders, and the Chiefs during their final seven games, meaning it's time for the Falcons to prove that they can beat good teams.
Offensively, the Falcons have been great all season. Todd Gurley has helped to upgrade the rushing attack, putting Matt Ryan in a position to put up big numbers. The only question is the status of wide receiver Calvin Ridley, who hasn't played since Week 8 due to an ankle injury. If he's able to return this week and play alongside Julio Jones, the Atlanta offense will be at full strength and a force to be reckoned with.
Of course, the Atlanta defense has been a problem all season, and there are still few signs of that changing. The Falcons are giving up 22.6 points per game over their last five games, which is actually a step in the right direction compared to earlier in the season. But there are still serious concerns on that side of the ball, which is why there is so much pressure on Ryan and the Atlanta offense every week.
New Orleans Saints Preview
Despite losing Brees to broken ribs and a collapsed lung last week, the Saints had no problem finishing off a two-touchdown win over the 49ers to win their fifth straight game. That victory keeps them half a game ahead of the Buccaneers for the top spot in the NFC South. New Orleans also owns the head-to-head tiebreaker with Tampa Bay, putting the Saints in good shape. New Orleans also has the luxury of playing four straight games against losing teams, which should help them cope with losing Brees.
Backup Jameis Winston is poised to lead the New Orleans while Brees is out. Winston completed six of his 10 passes for 63 yards but also took two sacks after entering last week's game against San Francisco. We also know how turnover-prone Winston can be, which makes it likely that the Saints will rotate Taysom Hill in at quarterback regularly. How the playing time will be divided remains to be seen. But it's also a safe bet that the Saints will try to lean on their running game a little more, especially with Alvin Kamara averaging 4.7 yards per carry this season.
Meanwhile, the New Orleans defense will have to step up with Brees injured. On the season, the Saints have been rather average defensively, giving up 23.7 points per game. However, things have been better in recent weeks against the high-powered Buccaneers and the lackluster 49ers. Despite a couple of players battling injuries, the Saints should have the personnel to put together a solid defense moving forward.
Full Game Prediction
Obviously, the play of Winston and Hill will be the biggest question mark in this game. However, against the Atlanta defense, the Saints should feel good about their chances of scoring points regardless of who's playing quarterback. However, there will still be pressure on the New Orleans defense to have a good game. If the Atlanta offense gets rolling, the Falcons can keep up in a shootout with anybody, especially if Ridley makes it back.
Make sure you sign up for a BetQL subscription so you can get the latest betting trends and analytics for this matchup. You will also be able to see our model's Falcons vs Saints prediction against the spread.