Detroit Lions
vs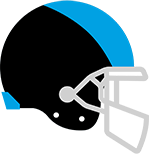 Carolina Panthers Prediction
Expect a close game with the Detroit Lions winning 49% of simulations, and the Carolina Panthers 50% of simulations. In close games, turnover margin is especially important. The Detroit Lions commit fewer turnovers in 65% of simulations and they go on to win 61% when they take care of the ball. The Carolina Panthers wins 73% of the simulations in which they commit fewer turnovers. Matthew Stafford is averaging 278 passing yards per sim. If he can have a great game with better than average passing yards and at least a 2 to 1 TD to INT ratio (41% chance) then he helps his team win 58%. Mike Davis is averaging 63 rushing yards per sim. If he can have a great game with better than average rushing yards and at least a 1 rushing TD (24% chance) then he helps his team win 74%.
Detroit Lions vs Carolina Panthers Prediction
Both teams are in must-win territory in Week 11 as the Carolina Panthers host the Detroit Lions. Kickoff is scheduled for 1:00 EST on Sunday, November 22, at Bank of America Stadium in Charlotte. Early in the week, the Panthers are listed as three-point favorites at home. Keep reading to take a closer look at both teams to help with your Panthers vs Lions prediction.
Detroit Lions Preview
Detroit Lions Preview
Unlike the Panthers, the Lions got a much-needed win last week, getting a last-second field goal to beat Washington 30-27. Of course, the win only makes Detroit 4-5 on the season, creating the need for the Lions to keep winning if they want to be in the playoff race in December. With games against the Panthers and Texans in the next two weeks, the Lions have a golden opportunity to get above .500 before playing a brutal December schedule.
Much like Carolina, the Lions are a little concerned about the status of their quarterback this week. Matthew Stafford required X-rays on his thumb after the win over Washington. But with the X-Rays coming back negative, he should be in line to play. However, receivers Kenny Golladay and Danny Amendola are both questionable to play against Carolina due to injuries. If those two are absent, the Lions will need more from an underperforming rushing attack. On the bright side, rookie D'Andre Swift has rushed for 145 yards over the past two weeks, so he appears to be settling in as Detroit's primary rusher.
On the defensive side of the ball, Matt Patricia is still searching for answers. Detroit conceded 390 passing yards against Alex Smith last week and remains in the bottom-5 in points allowed. The previous week it was the Minnesota rushing attack that shredded the Detroit defense. The Lions have multiple weaknesses on defense that teams are able to exploit. They've also forced just eight turnovers in nine games, so they aren't creating many takeaways.
Carolina Panthers Preview
Frustration is mounting in Carolina after the Panthers suffered their fifth straight loss of the season last week. One week after giving the Chiefs all they could handle in a 33-31 loss, the Panthers were blown out by Tampa Bay 46-23. After the game, Shaq Thompson went on a tirade, challenging his teammates to play like a team. Only time will tell if that speech ends up being a catalyst for Carolina turning the season around. The Panthers play four of their last six games against teams with a losing record, but at 3-7, they don't have much margin for error.
To add injury to insult, the Panthers aren't sure about the status of Teddy Bridgewater or Christian McCaffrey. Bridgewater is dealing with a sore knee but the team is optimistic he'll be able to play on Sunday. It's not even clear if it'd be P.J. Walker or Will Grier starting in his place if he can't play. Meanwhile, McCaffrey's absence was felt last week after he scored two touchdowns in his return from a sprained ankle against the Chiefs. While Mike Davis has been a great replacement this season, there's no way to underscore McCaffrey's importance to the Carolina offense.
On the other side of the ball, things are only getting worse for the Carolina defense. The Panthers gave up a season-high 46 points last week, including a 98-yard touchdown run by Ronald Jones that helped the Bucs amass 544 total yards. The Panthers are now giving up close to 31 points per game during their current losing streak and showing little signs of improvement on that side of the ball.
Full Game Prediction
Needless to say, it's important to keep an eye on the injury report for this game. McCaffrey, in particular, could swing the pendulum one way or another based on his availability. Of course, if both teams are at full strength, this could become an entertaining and high-scoring game, as both teams are weak defensively.
Make sure you sign up for a BetQL subscription so you can check out our analytics for this matchup and keep up with the latest betting trends. You will also see our model's Lions vs Panthers prediction against the spread.