NFL
NFC Win Totals: Bears and Panthers Providing Value
Evaluating the projected win totals for every team in the NFC
By Phil Naessens - Jun 24, 2019, 7:08pm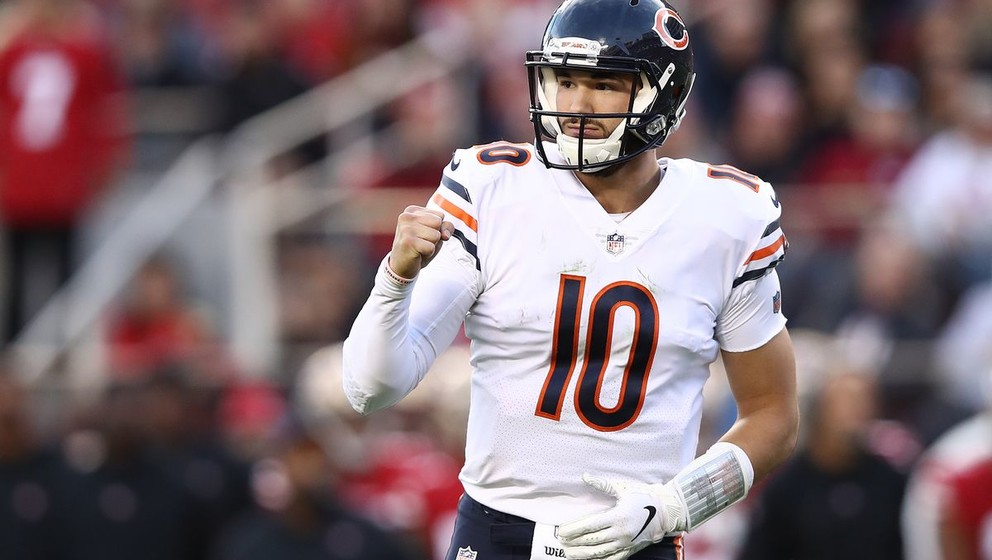 NFC East
Cowboys: O/U 9 Wins (Over +110, Under -130)
Eagles: O/U 9.5 Wins (Over -150, Under +130)
Redskins: O/U 6.5 Wins (Over -120, Under +100)
Giants: O/U 6 Wins (Over +115, Under -135)
The NFC East is a division with value to be had.
I would love to play the over 9.5 wins for the Eagles, but I don't trust QB Carson Wentz to stay healthy and play a full season. Dallas is an interesting team with an elite offensive line. RB Ezekiel Elliott is probably headed to Canton one day and WR Amari Cooper seems to enjoy playing with QB Dak Prescott. With that being said, I don't trust Jason Garrett to lead this team to an overachieving season. Dallas could certainly win 10 games, but I don't like the value on over 9 wins at +110, especially with road games at the Saints, Patriots, Bears, and Eagles, on top of tough home games against the Packers, Eagles, and Chargers.
I really like the Redskins UNDER 6.5 wins. Washington is a bad football team and I'm surprised Jay Gruden wins as many games as he does. Rookie QB Dwayne Haskins or Case Keenum is likely to start, but they don't have much to throw to in terms of receiving talent. Adrian Peterson and Derrius Guice make for a nice running back duo, but you have to question if the offensive line can stay healthy after years of turmoil up front. Washington has probably the easiest schedule in the NFL with the 49ers, Jets, Lions, and Giants at home and road games against the Dolphins, Giants, and Bills. However, I'm still projecting them to lose 11 games in 2019 with an offense that is likely to be one of the worst in the NFL.  
I also like the Giants going OVER 6 wins. The Giants seem to be replicating the 2016 Cowboys by allowing RB Saquon Barkley to do most of the running and turning QB Eli Manning into a pure game manager. The Giants signed RG Kevin Zeitler and RT Mike Remmers to shore up the offensive line for Barkley and to help protect Manning. They also signed WR Golden Tate to give Manning someone to throw downfield to after trading away WR Odell Beckham Jr. to the Cleveland Browns. New York has winnable home games against Miami, Buffalo, Arizona, and Washington and some good road opportunities against Detroit, Tampa Bay, New York Jets, and Washington. I'm projecting the Giants to win 7 games this season and like this bet as O/U 6 wins at +115, but would not make this bet if the line jumps to O/U 6.5.
NFC North
Bears: O/U 9.5 Wins (Over +115, Under -135)
Packers: O/U 9 Wins (Over -120, Under +100)
Vikings: O/U 9 Wins (Over -110, Under -110)
Lions: O/U 6.5 Wins (Over -130, Under +110)
I don't mind the over of 6 wins for the Lions despite the -130 juice. Detroit is projected to be much better on defense and has a favorable road schedule against Arizona, Oakland, Washington, and Denver. Add in home games with the New York Giants and Tampa Bay, and hitting 7 wins seem like a strong possibility. With that in mind, it's hard to commit to a team that was so wildly inconsistent in 2018.
I will fade the Packers this season, as the health of Aaron Rogers is questionable and it seems like new head coach Matt LaFleur is leaning more towards going heavy in the running game. Green Bay will open the season by playing the Bears, Vikings, Eagles, and Cowboys within the first 5 weeks and they have a tough midseason stretch that includes consecutive road games against Kansas City and the Los Angeles Chargers, before heading back home to face the Carolina Panthers. Sure, the Packers can get to 10 wins, but there are better bets on the board rather than taking over 9 wins at -120.
Minnesota has a tough schedule with road games against Green Bay, Dallas, Chicago, Kansas City, Seattle, and Los Angeles Chargers. Their schedule at home isn't much easier, which includes: Atlanta, Philadelphia, Green Bay and Chicago. Fading the over 9 wins might be the best thing to do here. Similar to the Packers, they can get there, but there is too much uncertainty about this bet to see obvious value on either side of the total.
That leaves us with the Bears, and I love the OVER 9.5 wins. Chicago allowed less than 300 total yards per game on defense last season and while they lost defensive coordinator Vic Fangio, they still have one of the top-3 most talented defensive rosters in the NFL. Chicago won 12 games last season and their offense should be improved in 2019 with another year of development from QB Mitchell Trubisky. Chicago has a tough schedule with the likes of Green Bay, Los Angeles Chargers, and Kansas City Chiefs at home, but they have walkover road games at Washington, Denver, and Detroit that should push them to win at least 10 games this season. +115 for over 9.5 wins is among the best values in the league.
NFC South
Saints: O/U 10.5 Wins (Over +110, Under -130)
Falcons: O/U 9 Wins (Over +110, Under -130)
Panthers: O/U 7.5 (Over -115, Under -105)
Buccaneers: O/U 6.5 (Over +115, Under -135)
I have to fade the Saints after looking at their schedule. They have a tough opener at home with Houston, followed by road games against the Rams and Seahawks. It's very possible that they could start 0-3 and then still be faced with games against Chicago, Dallas, Indianapolis, and two games with Atlanta. QB Drew Brees isn't getting any younger and at 40 years old, this could be the year that we see Brees start to fade. I will stay away from the Saints in favor of better bets in the division.
If the Falcons defense can stay healthy for a full season then they might be a 10 win team. With that being said, I don't think they did enough to improve their depth on defense if they do suffer injuries. Atlanta has been ranked below 21st in total defense in each of the last 4 seasons, so an improved defense is far from certain even if they do stay healthy. Atlanta also has a tough schedule with road games against Minnesota, Indianapolis, Houston, New Orleans, and Carolina. Home games against Philadelphia, Los Angeles Rams, and Seattle won't make going over 9 wins any easier either. I think a push at 9 wins is their best case scenario.
Tampa Bay played the quarterback carousel last season and they fired their entire coaching staff in the offseason after they finished 1.5 games below their expected win total. Tampa Bay has a tough schedule for a team that finished 4th in their division. They begin the season hosting the 49ers, followed by a road game with Carolina, a home game with the Giants, and then consecutive road games against the Rams and Chargers. They then will make the dreaded trip across the Atlantic to play Carolina in London. Tampa has a shot at getting over their win total if they can start 3-3 during that stretch, but I'm not confident of that. Tampa Bay is an easy fade for me.
Carolina is the wild card in this division. If Cam Newton is healthy, the Panthers should go OVER 7.5 wins. The schedule is incredibly kind to the Panthers as they play Tampa Bay twice, and have Jacksonville, Tennessee, and Washington at home. Add in two easy road games against Arizona and San Francisco and you have a great shot at 7 wins right there. The Panthers finished a disappointing 7-9 last season, but the defense added Gerald McCoy, Bruce Irvin, and Brian Burns to the defensive line in the offseason. This should help make an average defense that allowed 353.2 total yards per game much better than a season ago. Carolina is by far my favorite bet to go over their win total in the NFC South and I will gladly play them at -115 to go over 7.5 wins.
NFC West
Rams: O/U 10.5 Wins (Over +110, Under -130)
Seahawks: O/U 8.5 Wins (Over -120, Under +110)
49ers: O/U 8 Wins (Over -120, Under +100)
Cardinals: O/U 5 Wins (Over -110, Under -110)
The NFC West is a tough division to handicap for 2019.
I know folks are high on the Cardinals after they drafted Kyler Murray and brought in Kliff Kingsbury as head coach, but I don't think it will be enough to get them over 5 wins. Arizona will play a difficult schedule that includes home games against Carolina, Seattle, Atlanta, San Francisco, Pittsburgh, Cleveland, and the Rams. Add in brutal road games at New Orleans, Seattle, Baltimore, and the Rams, and it's hard to see how they win 6 games. Kyler Murray might win them a couple of games on his own, but their difficult home schedule alone scares me to death. I will pass on the Cardinals.
The Rams probably won't get to 13 wins again this season and the arthritic knee of running back Todd Gurley makes me nervous. Los Angeles has a brutal schedule with road games against Carolina, Cleveland, Seattle, Atlanta, and Dallas. Combine that with tough home games against New Orleans, Chicago, Baltimore, and Seattle and I feel very uneasy about taking the Rams to win 11 games, even at very fair +110 odds.
San Francisco has a very questionable win total of O/U 8 wins. For starters, what could possibly go wrong with a QB coming off of an ACL injury? They did sign linebacker Kwon Alexander to a four-year deal to help clean up their 13th ranked defense from a year ago, but he's also coming off of an ACL injury. They have a tough stretch with Green Bay at home, followed by east coast road games with Baltimore and New Orleans. Tough home games against Cleveland, Seattle and Atlanta don't help either. I'll pass on the 49ers and would lean taking the under of 8 wins at +100.
My favorite bet for NFC West win totals is OVER 8.5 wins for Seattle. The Seahawks haven't recorded less than 9 wins in any of the past 5 seasons. QB Russell Wilson finally has the massive contract that he craved, and the big signing of defensive edge rusher Ziggy Ansah makes it easy to get excited about Seattle. The Seahawks have winnable home games against Cincinnati, Baltimore, Tampa Bay, Arizona, and the 49ers. Soft divisional road games with Arizona and San Fransisco should also be two straight forward wins. If they can win two of their four most difficult home games (Rams, Saints, Ravens, Vikings), then I think they easily get to 9 wins. I wish the over wasn't juiced at -120, but I feel good enough about this Seahawks team heading into the season to play it with confidence.
Best Bets
Washington Redskins Under 6.5 Wins (+100)
New York Giants Over 6 Wins (+115)
Chicago Bears Over 9.5 Wins (+115)
Carolina Panthers Over 7.5 Wins (-115)
Seattle Seahawks Over 8.5 Wins (-120)